Are you 100 percent sure your customers know where you are located? If you are like me, you think the answer is an obvious "yes." But in reality, I did not have a clue because I wasn't aware of local SEO.
SEO, traffic and ranking on the "first page of Google" are what marketing agencies stress to physicians, but I found out there is a side branch of SEO called local SEO.
So, I started asking questions like:
Why doesn't my hernia practice ever show up in that map box on Google?
Why am I getting such a small amount of phone calls when I am the top website hit on Google?
The short answer: Google (and people searching for hernia and Utah) couldn't tell whether I fix hernias or sell mobile homes.

Can you imagine people thinking you are a plastic surgeon, but wondering why Google says you sell plumbing supplies?
I would consider that a good example of "flushing your marketing efforts and potential patients down the drain" — literally.
How did it happen to me?
It is simple: Google does not actually know for sure where my practice is located.
You're probably wondering how is that even possible?
The problem started years ago.
Many moons ago the site the Hernia Center of Utah was born. Someone had the foresight to see a niche, which was wide open in Utah, and they took advantage of it.
It started when doctors at the Hernia Center (before me) started practicing in different locations around Salt Lake. So, one of our employees started listing multiple locations for the Hernia Center.
Now, I only practice in one location. But nobody ever updated that information with Google.
So, what does this mean exactly? It means no one ever updated the business name, address, and phone number with an automated listing service like Yext.
Yext does exactly what it says: You can now sync your location information with Google directly from Yext!
Put simply there are hundreds of listing services and directories which need to know your business name, address, and phone number. Imagine if you change your address, name, or phone number. You'd have to go to every directory and update your listing.
Luckily certain directories like Infogroup, Acxiom, Factual, and Localeze feed information to many other directories. So if you want to find the source of the problems it usually goes back to those four directories.
If these directories don't know where you are, then no one will! This is because Google is where most people start their search for anything. And Google relies on these local directories when it comes to discovering information about local businesses. Here is a great diagram from Moz on how these directories are connected: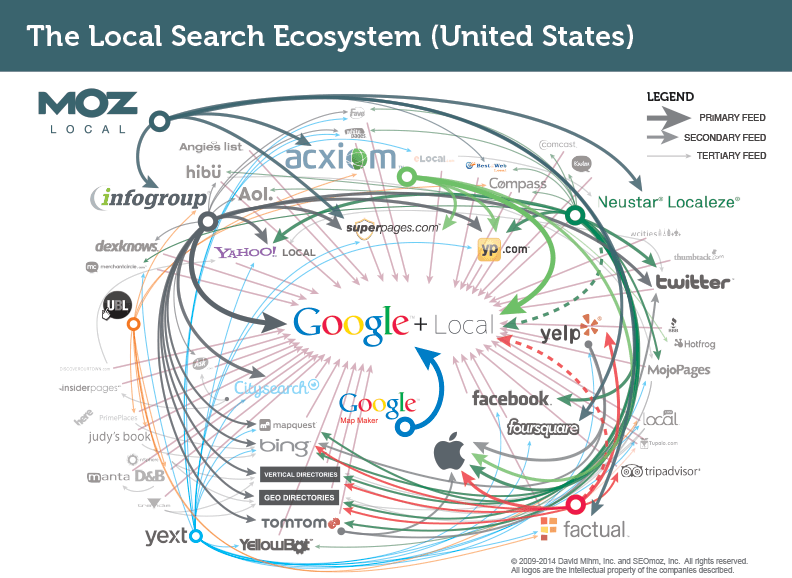 What are the consequences of not fixing this issue?
There are a couple of major consequences to not addressing this local SEO problem.
The first is that your practice, like mine, will not show up highly on the Google map box (called the Google map pack by SEOs), and therefore you won't get as many patients as you could.
Do just about any local based search on your mobile phone, and you'll notice the Google ads and the Google map pack are about all you can see. So if you aren't paying for Adwords, and you aren't in the map pack, it's like you almost don't exist.
Today 60 percent of Internet traffic is coming from mobile. By 2019 it will be 75 percent. So this means 60 to 75 percent of your audience when searching Google would have to scroll down on their phone in order to find you.
The second consequence is that people may not come into your practice because they don't trust the information about you.
For example, Google tells people I sell mobile homes, and that plants a seed of doubt about me. I never know how many people search, find me, and never contact me because of this error.
Finally, the third and most annoying consequence is that people will call the wrong number or drive to the wrong address for your practice.
Imagine how frustrating that would be to call a doctor's office phone number and it is not the right number. Again I have no way of knowing how many people have silently turned away from doing business with me because of these simple local SEO errors.
Each of these consequences leads back to this: potential patients will go elsewhere since they can't find and/or trust the information about you.
How do you fix it once and for all?
Yext seems like a great service to fix this problem. You pay the fee, and all your directory listings are synced with the right information. I found out there are two problems with that.
The first is if you stop paying Yext's yearly fee, your listings will no longer be synced.
Second, Yext doesn't always fix the other incorrect listings on the directories. Yes, you read that correctly: You can have multiple incorrect listings on each directory (I know I do). Incorrect information can crop up from Infogroup, Acxiom, Factual, and Localeze among other places.
OK, so if Yext isn't the answer, do you have to manually correct every listing? The answer is yes. Now I don't have the time to sit there and correct five listings let alone 100. So I have begun the search for the best listing corrections company and will post an update when I find them.
Local SEO isn't the end of the road.
This whole process of discovering local SEO has opened my eyes to all kinds of things. For example, local reviews of me on directory sites, semantic markup on Google, and the search results on my own name when searching in Google.
For years, marketing agencies have been knocking on my door to do SEO. However, none of them ever explained my problem clearly, what the consequences were, and how to fix it.
If they had, I would have gotten out of the mobile homes business a long time ago.
Jeff Eakin is a surgeon. 
Image credit: Shutterstock.com, Jeff Eakin, Moz