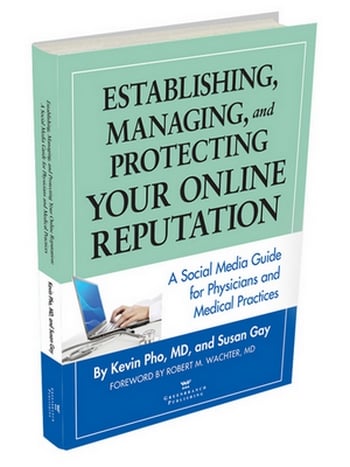 By Kevin Pho, MD and Susan Gay
Foreword by Robert Wachter, MD
Read the New York Times review

Online health information combined with social media channels like Twitter and Facebook has created a new generation of patients. They are empowered. They have a voice in their own care that they never had before. And more are using social media and physician review sites to choose their doctor or medical practice. Given these stakes, you can't afford to leave your online reputation to chance.
Kick off your social media efforts today with Establishing, Managing, and Protecting Your Online Reputation: A Social Media Guide for Physicians and Medical Practices, a comprehensive resource not available anywhere else. In addition to unique insights from practicing physician and social media pioneer Kevin Pho, MD, this book offers doctors a step-by-step guide on how to use social media to manage an online reputation. It also provides insider tips on how to respond to online ratings and a guide to work with all of the major physician review sites. Don't let others define you on the web. Take control of your online reputation now!
From the Foreword, Robert Wachter, MD says, "… whether we like it or not, our online reputation is becoming the main prism through which we will be known – to colleagues, to friends, to patients, to prospective employers … With this realization comes the recognition that we can no longer afford to be passive observers of our online persona."
Notable features
Written by Kevin Pho, MD and Susan Gay.  Dr. Pho's blog, KevinMD.com, is social media's leading physician voice, with over 100,000 subscribers on Facebook, Twitter, Google+, LinkedIn, and RSS.  He is a contributor to USA Today, CNN, and the New York Times, and has been cited regularly by major media.
Backed by evidence, enhanced with stories! Dozens of anecdotes and case studies from social media leaders like Vineet Arora, MD, Katherine Chretien, MD, Natasha Burgert, MD, Dave deBronkart, Susannah Fox, Kerri Morrone Sparling, Wendy Sue Swanson, MD, and Bryan Vartabedian, MD.
The Foreword is written by Robert Wachter, MD, Professor of Medicine at the University of California, San Francisco.  His blog, Wachter's World, is one of the nation's most influential, and Modern Physician has ranked him as one of the 50 most influential physicians in the U.S. for each of the last five years, the only academic physician to achieve this recognition.
Endorsements from Abraham Verghese, MD, Eric Topol, MD, Jerome Groopman, MD, Pamela Hartzband, MD, George Lundberg, MD, Paul Levy, Sandeep Jauhar, MD,  Mike Sevilla, MD, and many others.

What the book covers
Why an online reputation is important for doctors.
How patients use social media to find physicians and medical practices.
A step-by-step guide for how practices can brand themselves on major social media platforms (LinkedIn, Facebook, YouTube, Twitter, Google+, blogs) and drive Google traffic through content.
Profiles of the major physician rating sites, including Vitals, Yelp, RateMDs.com, Angie's List, ZocDoc and Google+ Local.
Tips to protect and manage an online reputation.
How to respond to online reviews.
Online professionalism guidelines and best practices.
Benefits
Unlike guides written by professional marketing gurus, this book offers dozens of stories and case studies from the perspective of practicing physicians and engaged patients.
Online reputation management advice is often scattered on the web, requiring time and effort to find.  This book consolidates this information in a single, handy resource.
Doctors and office managers know they need to "get involved with social media" but don't know how or where to start.  This book allows them to immediately tap into authoritative insight – in a calming way – not in an alarmist manner.
Instructions on how physicians can proactively create content and harness the power of social media to define an online reputation and provide better care for patients.
The practical format allows the reader to pick and choose from the sections most important to their practice.

Reviews
"For the physician contemplating the use of social media, this lovely volume is a precious and invaluable guide."
Abraham Verghese, MD
Author, Cutting for Stone


"As the digital era inevitably invades the medical cocoon, there is a vital unmet need for physicians to adapt, especially to new challenges such as dealing with one's online reputation. Kevin Pho, a leader in the convergence of social media and healthcare, with Susan Gay, provide a comprehensive and extremely useful roadmap for doctors. Instead of default, sitting duck status, this information and perspective enables physicians to take charge."
Eric Topol, MD
Author, The Creative Destruction of Medicine

"An insightful and thought-provoking examination of the changing landscape of medicine, filled with practical advice for clinicians."
Jerome Groopman, MD and Pamela Hartzband, MD
Authors, Your Medical Mind: How to Choose What Is Right for You

"The book is an excellent and helpful resource. But what elevates it beyond the category of valuable how-to manual is the passionate call to arms that resonates from all those well-enumerated directions and clearly labeled diagrams. Like it or not, the authors warn, the Internet has profoundly changed the patient-doctor relationship, and doctors must embrace its effects on patient care — or risk losing their own influence. This is a social media manifesto for physicians."
Pauline Chen, MD
Author, Final Exam: A Surgeon's Reflections on Mortality

"As one of the most prolific practitioners in the world of social media, Kevin Pho's insights for doctors and other health professionals are soundly based on experience. His ability to demystify this arena for others comes from a clear and concise exposition of what is fact and what is fear. His book is an important contribution to creating a more patient-centric healthcare system that is also highly respectful of the knowledge and good intentions of physicians and other clinicians."
Paul F. Levy
Former CEO, Beth Israel Deaconess Medical Center

"This book is sensational. It provides an argument that wins hands-down on how doctors no longer have the luxury of ignoring social media and its impact. This book will help physicians understand and prepare themselves for social media's impact on their future."
Judy Capko
Author, Secrets of the Best-Run Practices

"This must-read book is a primer on the essentials about why your medical digital footprint is important and how to best manage it. It also chronicles the path of Dr. Pho from the beginnings as an internal physician and patient advocate from New Hampshire to today as social media's leading physician voice via his very popular website, KevinMD.com."
Mike Sevilla, MD
Family physician

"Social media is the wave of the future in medicine, and I can't think of a doctor more qualified to write about this phenomenon than Kevin Pho. This book is essential reading for any doctor or medical practice looking to establish an online presence."
Sandeep Jauhar, MD
Author, Intern: A Doctor's Initiation

"Dr. Pho has compiled his years of experience and knowledge into a fantastic book that should be considered required reading for all doctors. Social media is the future of doctor–patient communication, and this book provides a comprehensive guide to navigating the social media arena. From LinkedIn to Facebook, to Twitter, to Google+, readers will learn how to become the maestro of their online reputation, marketing, and communication with patients."
Anthony Youn, MD
Author, In Stitches

"With new technology comes new challenges, and that's especially true for medical practice managers as they look to evolve their practices in innovative and responsible ways. Social media channels, physician-rating sites, and other digital communities can directly affect your practice's online reputation – and reputation management is now within the purview of the practice management profession. But where do you start and how do you go about influencing something as nebulous, fast-changing, and splintered as online reputation? This book provides practice managers with the tools they need to feel more informed and equipped to take actionable steps recommended by some of the industry's leading experts."
Susan L. Turney, MD, MS, FACMPE, FACP
MGMA President and CEO
Englewood, CO

"I Google myself periodically, which has taught me about some of the misinformation on doctor review sites. I've since corrected a few errors. Now I realize I should do it more often and am considering starting a LinkedIn account!
This book gave me a new perspective on the relationship between doctors and social media. For those of us who feel timid, the authors remind us that we already have online profiles—written by other people. The authors give us easy, practical advice to help us manage our profiles and prepare ourselves to interact with our patients in a virtual community within which we already live."
Mollie Davis, MD, MPH
Physician, Internal Medicine & Pediatrics
Johns Hopkins Community Physicians
Baltimore, MD

"Medical practice reputation and branding by social media has been on my high-priority list. This book will be significant for every healthcare executive, physician leader, and governing board member! The content is clear, concise, and highly informative. It summarizes benefits, business opportunities, and threats, and provides specific go-to resources. The content calls out social media influences, both positive and negative, generating an awareness of the need to address the opportunities and risk immediately. The case examples are brief and resonate the must do implementation of policy and guideline structure within the practice and for physician members. This implementation planning guide responds not only to the 'business' of medicine but to the progression regulatory mandated transparency.
The time investment in reading (significantly quick and interesting … not tedious in any manner) becomes a double pay back. I found it stimulated me to take immediate action while the information was fresh and I plan to keep it close at hand as a book shelf resource reference and coaching material as my social media policies and procedures evolve. Dr. Pho and Ms. Gay have provided the busy healthcare executive with the tool kit of content for governance regarding social media exposure and a comprehensive resource list to build the policies.
After reading this material I was curious and compelled to immediately investigate resources suggested. I was astonished what I learned about our practice at social media sites. No more resting on our 'reputation and laurels' of 26+ years of community contribution and service!
I recommend every administrator read and suggest this book be distributed to governing boards to better clarify their understanding of discussions of opportunities and threats evolving with social media to include those involving patients and staff social media activities. In summary, this is a very timely, noteworthy and must read to understand the critical business knowledge required to manage the impact of social media on the medical practice industry!"
Rebecca S. Dean, MA, FACMPE
Chief Executive Officer
Sportsmedicine & Orthopaedics Fairbanks
Fairbanks, AK

"Every physician and practice marketing manager will find value in this book—from the techno-skeptic to the sophisticate. You'll get perspectives and references that will help you form your own online strategy. I know I did!"
Karen Zupko
Karen Zupko & Associates
Chicago, IL

"A doctor's greatest strength is his or her reputation. We spend our entire professional lives creating and protecting this valuable asset. Dr. Pho and Ms. Gay have provided the necessary steps and techniques to guard and protect your online reputation. I highly recommend their book and believe that everyone who reads it will have the tools and techniques to keep their reputation polished and pristine."
Neil Baum, MD
Author, Marketing Your Clinical Practices: Ethically, Effectively, Economically, 4th Edition
Clinical Associate Professor of Urology
Tulane Medical School
New Orleans, LA

"Social media is here to stay! Establishing, Managing, and Protecting Your Online Reputation is a must-have book for every physician and/or medical practice involved in social media. Dr. Pho (KevinMD.com) has once again proven that his knowledge is valuable in today's technology-driven world. I would highly recommend every medical office manager and physician read this book before getting heavily involved in social media!"
Desiree R. Baylin, CPM, CHRS, COM
Executive Director
Physician Office Managers Association of America (POMAA)
Dallastown, PA

"It takes a lifetime to build a reputation but only a single act, blog, email, online comment, Facebook post, texted picture, or Tweet to destroy it. That's because online communication may go massive instantly. And it's the reason the 'mainstream media, including medical journals and medical television, have editors and peer reviewers and build in a delay factor. Keeping egg off authors' faces, protecting authors from themselves, and protecting readers are key roles for editors and peer reviewers.
Physicians want to succeed. They often adopt new technology very quickly if it will help them do their jobs better and faster, and especially if it generates new revenue. If not, they wisely drag their feet. They became rapid adapters of Internet 1.0, one-way communication, rapid digital access to the world literature. But physicians have been very slow at adopting Internet 2.0, bi- and multi-directional messaging. They like to speak; to listen, not so much. To judge, a great deal; to be judged, very little.
However, social media will not go away. In some form, or many forms, it is here to stay. And it refuses to be ignored. Most of the social spheres have adopted it; many have embraced it. It can bite you, doctor, badly, and you may not even know it unless you are plugged in. It may be as virulent to your reputation and welfare as rabies, and there is no vaccine, save your informed involvement.
This book is the newest, most comprehensive, most detailed and up-to-date reference source available to American physicians and medical practices. Richly nuanced by America's most popular and authoritative physician blogger and social media expert, it can guide you through this swamp – maybe not clean, but ready to move forward."
George D. Lundberg, MD
Editor in Chief, CollabRx
Editor at Large, MedPage Today
President, The Lundberg Institute
Consulting Professor, Stanford University
Los Gatos, CA

"Establishing, Managing, and Protecting Your Online Reputation: A Social Media Guide for Physicians and Medical Practices is written as both an educational and instructional tool to help medical practitioners understand and manage their online reputation in the medical sector. In today's world, this is absolutely crucial and these authors have simplified the process. This is a must-read for medical practitioners and all others in the medical field."
Chad Schwarz
President/CEO
Integrated MedReps, LLC
Morganville, NJ

"In this new online social media age, it is imperative that everyone, but most especially professionals looking to build, grow, and maintain a business or a practice, establish a good reputation online. And even more importantly, to make sure that their online presence is properly monitored and maintained, as this can be the life blood of their business and can truly provide a 'make it or break it' opportunity. I would recommend that all physicians, no matter where they are in building their practice, or even for those who already have a well-established practice, read this book and strongly consider the excellent ideas and direction it could take their practice."
Reed Tinsley, CPA, CVA, CFP, CHBC
A Houston-based CPA and certified healthcare business consultant
Houston, TX

"This book provides valuable insight to physicians and their staff… a virtual roadmap to navigate the digital age of establishing a positive online presence, developing marketing strategies, and addressing social media identities. It's a must-read for today's 21st century digital medical practice!"
Rebecca Umberger, CMA (AAMA), CPM
Aultman MSO, Aultman Hospital
Maternal and Fetal Management
Canton, OH

"The insights that Dr. Pho and Ms. Gay share in their book are instrumental in learning how social media will impact an outpatient practice and more importantly the physician's reputation. They provide great content and examples to help physicians have a strong and positive Internet presence. A must-read for healthcare administrators and healthcare providers."
Danielle DeMaio-DeAngelis, MHA, COPM
Administrator
Jefferson University Physicians
Department of Otolaryngology-Head and Neck Surgery
Philadelphia, PA

"For private practice physicians, reputation management is here to stay. In this ground-breaking book, Kevin Pho and Susan Gay provide you with the language, the players, and the smart techniques to take control of your reputation online. The energy of these authors (and their purpose) translates into winning techniques you can use in your own practice. The book includes practical stories and up-to-date references. It is beautifully researched and edited. Take control of your own reputation now!"
John Guiliana, DPM, MS and Hal Ornstein, DPM, FASPS
Authors, 31 ½ Essentials for Running Your Medical Practice
Blairstown, NJ and Howell, NJ

"Establishing, Managing, and Protecting Your Online Reputation: A Social Media Guide for Physicians and Medical Practices could not have come at a better time. Dr. Kevin Pho and Susan Gay have written a book that will be a great service for practice administrators and business managers. Administrators know physician reputation has an impact on the success of the practice. We also know that monitoring and managing the physician reputation is a growing concern for all medical practices. Patients don't look for doctors in the Yellow Pages like they used to! Now it is all online. Read this book and you'll have the both the inspiration and a blueprint to help your doctors with this new element of medical practice. The case studies of how other physicians manage their reputation are particularly useful, as are the extra resources in the Appendix."
Todd Blum, MHA, MBA, CMPE
Chief Executive Officer
Ear, Nose and Throat Associates of South Florida
Boca Raton, FL

"Social media is a powerful tool to help you build relationships with new patients and deepen relationships with people who know you. This book shows you 'online bedside manners' that will get you off on the right foot."
Vicki Rackner, MD
President, www.medicalbridges.com
Seattle, WA

"We live in a very interesting time – a period of rapidly accelerating change and transformation in how human beings communicate in fundamentally different and infinitely more powerful new ways. Dr. Pho and Ms. Gay demonstrate a deep understanding of how this phenomenon is affecting medical practitioners and offer a clear-eyed approach with specific strategies to empower doctors to use these new media to build and support their personal brands in their markets. In an age when most doctors are not even aware of the critical need to manage their reputation online, and some are even being extorted with threats of reputation attacks, Establishing, Managing, and Protecting your Online Reputation: A Social Media Guide for Physicians and Medical Practices offers the most comprehensive and positive approach to managing and protecting our precious online reputations that I have seen. Managing your online reputation is not something physicians can opt out of. This new work is their guide to ensuring they protect their good name now and in the future."
Rem Jackson, President and CEO
Top Practices Lititz, PA

"Social media and online information are embedded in our culture and getting more so every day. Informed consumers, including payers and patients, use the Internet to research potential providers. This book will take you from an understanding of the basics to developing usage strategies. It will also help you recognize the negative aspects, including damage to provider reputations and what can be done to prevent and repair this when it occurs."
Steven Nelson, CPA
Chief Financial Officer
Panorama Orthopedics & Spine Center
Golden, CO

"Dr. Pho's book provides great insight into online reputations. For those who are uncertain about an online presence, he suggests methods to become more familiar with social media, such as lurking. The book is very well laid out and covers almost anything you could want to know about social media and your online reputation. It's a good read for those who are new to social media as well as to those who want to take it to the next level!"
Melissa J. Pitchford, CPA
Chief Financial Officer
Katzen Eye Group
Baltimore, MD