Health eCareers cares for those who care for others. By connecting physicians, advanced practitioners, and nurses with meaningful opportunities at premier health care organizations, we help assemble the care teams of the future, where optimal care is delivered to patients, and career goals are fulfilled.
Since 1993, we've offered unmatched career resources, including job boards, news, salary insights, and more exclusively for health care recruiters, physicians, and providers. We thrive at uniting top talent with top employers through the nation's most extensive hiring network of health care partners, medical communities, hospitals, health systems, and associations.

Join All Global Circle (AGC) for an exclusive bonus of up to $50 (or equivalent in your local currency). Share your professional opinions and insights by participating in our surveys to improve patients' lives and earn honoraria. Your privacy is protected, and your information will never be shared. Sign up today to receive up to $50 in bonuses and earn more by referring your colleagues to AGC. Participate in anonymous surveys to see how your opinions align with others and receive a summary of the results. Get started and be a part of the AGC community.

Contract Diagnostics is dedicated solely to physician contract reviews, empowering physicians to maximize their compensation. Our comprehensive, customized approach has served over 12,500 physicians, leveraging 90+ years of health care experience. Our unique educational method ensures physicians understand their contracts, while our extensive datasets on compensation and benefits guarantee up-to-date information. With flat rates starting at $250, deferred invoicing, and exceptional customer satisfaction, Contract Diagnostics is your trusted ally for navigating your physician contract and securing your financial success.

Doc2Doc is a financial lending platform created for doctors by doctors offering personal and commercial loans to physicians and dentists. Personal loans up to $100,000 are available with fixed interest rates, no prepayment penalties, and funds are available within days. Unlike traditional banks, Doc2Doc understands the financial obstacles doctors must overcome and uses a proprietary doctor-specific risk profile that considers more than just a credit score. The streamlined application process was created with a doctor's busy schedule in mind. Complete your online application in just 4 to 5 minutes.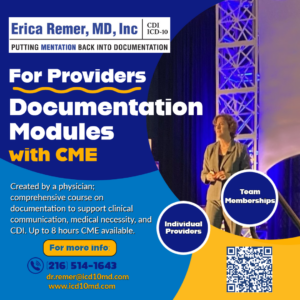 "Why did no one ever teach us this before?" is a lament Dr. Erica Remer, a nationally renowned expert on documentation and ICD-10, repeatedly hears at the end of a course she gives for providers who have gotten in trouble with their medical boards. In response, she created icd10md Documentation Modules for Providers with CME. View any or all of the 11 modules that pertain to your practice at your convenience, and learn actionable ways to transform your documentation to improve clinical communication and patient care and optimize your quality metrics and reimbursement. Packaged at one low price and viewable on any device, obtain up to 8 hours of CME. Clinical documentation specialists and physician advisors will also find them invaluable in guiding their medical staff. Put mentation back into your documentation.

Forme Financial is a wealth management platform exclusively for physicians. We handle a 360-degree view of your finances, placing everything from career advisory, insurance, cash management, estate planning, investing, and taxes, all under one roof. We've created our own proprietary technology so that you can access your net worth and view your financial health easily through our app whenever you want. For a limited time, try us out for free with our Complimentary Wellness Review. We'll take a look at your current finances and offer you potential ways to improve. Speak to a senior advisor today.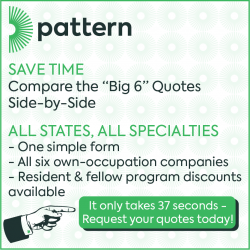 Navigating the world of disability insurance can feel overwhelming, but at Pattern, we understand the struggles of insurance shopping and the frustration of getting ripped off. That's why over 20,000 doctors have trusted us to help them compare and buy insurance.
Our team of specialists will work with you every step of the way to find the best coverage at the most affordable price. The process is simple: Request quotes, compare options, and secure your policy. We'll even handle the boring paperwork for you.
Don't let disability insurance stress you out any longer. Trust the experts at Pattern to find the best coverage for you.

The Prepared Physician laceration repair kits are hospital-grade, disposable, and sterile kits designed to manage different types of wounds, from scalp and facial lacerations to abscesses. The kits are convenient because each component is individually packaged, making it easy to replace only what has been used. The company offers four kits, including the popular Complete Laceration Repair Kit that contains all the necessary materials for laceration management, such as Dermabond, sutures, skin stapler, and irrigation. By having a kit at home, physicians can save time and money by avoiding unnecessary trips to the ER to treat lacerations. The kits also offer peace of mind and an opportunity to demonstrate physician skills to family members.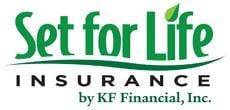 Set for Life Insurance specializes in individual life, disability, and long-term care insurance. As brokers, they work with a variety of companies to find the most suitable and cost-effective products for their clients. What sets Set for Life apart is its client-centric approach, exceptional reputation, and special relationships with companies, which provide clients access to exclusive services. They focus on helping high-income professionals get the coverage they need, and they are licensed in all 50 states. Set for Life Insurance is committed to providing exceptional customer service and creating lifelong clients.