If the U.S. medical system is a chessboard, and providers are the game pieces, America is playing those pieces with one column, row, and role instead of using the whole space. Several journals, economists, and medical professionals forecast physician supply to be dangerously low in 10 to 20-plus years. They're 100% correct that supply won't meet demand (as things stand now), but the reasons are flawed. Alarmists have been complaining about doctor shortages for decades. Physician retirement and burnout don't explain predicted gaps. The physician shortage everyone worries about is not a lack of new graduates but a grand misallocation of resources.
In terms of raw supply, there are just over one million licensed physicians. According to a Federation of State Medical Boards census, the number of doctors grew by 20% from 2010 to 2020. Most of that growth (+168K physicians) is from new graduates. In the same period, the U.S. population rose ~7% to ~330M. The seemingly reassuring headline numbers are misleading. Younger millennial doctors are seeking work-life balance; late-career doctors and burned-out providers put in fewer hours at the clinic. The number of doctors aged 60+ grew by 48%. Those aged 49 and below gained 16%. In terms of fresh supply, annual medical graduates rose 32% from 2011 to 2021, but in absolute terms, there were ~28K grads last year. The U.S. population is a slow-growing mega-fountain, while medical providers are a fast-growing sink faucet. It's not practical to expect both to balance each other without help.
More data gathered by the Kaiser Family Foundation imply that one primary doctor serves on average 665 people, and one specialist serves 584 people. The doctor-to-patient ratios appear extremely low in a vacuum, but most physicians can handle patient groups in the low thousands. There's a critical difference between real capacity and max capacity. If the U.S. population doubled tomorrow, one average PCP would oversee ~1,300 patients, and one specialist would care for ~1,100 patients. So why do both patients and economists keep worrying about doctor capacity? The answer: shortage isn't the same as supply.
Physicians don't magically pop into clinics, see patients, and then poof away. Amazon.com is better at delivering packages anywhere in two days than we are at having doctors in the right place and right time. Hyper-urbanized regions have too many doctors chasing relatively concentrated patients, and in turn, rural areas have too few doctors for spread-out patients. Most physicians in private and public settings, except in inpatient medicine, practice during the traditional workweek—some professionals stuff their patients into a few weekdays. Physicians have to do paperwork alongside patient care. Even if a physician has the availability to see thousands of people, that doctor may still reject Medicare and Medicaid patients because such plans' reimbursements are much lower than private insurance.
To remedy some of these health care delivery woes, our doctor supply needs to be realigned instead of rebuilt. Expanding AI office solutions, targeting more patient demographics by redefining availability, and carefully expanding the non-physician workforce (e.g., nurse practitioners and physician assistants) can increase each doctor's max patient panel enough to keep up with demand. Tuning the available times when primary care office doctors see patients while embracing technology and easing administrative hassles (i.e., vertically integrated disease/drug literature banks, chart notes, insurance claims, and payment systems) are the most appropriate supply-side adjustments. Offering additional time over weekends or after usual hours gives certain demographics of patients opportunities to get otherwise inaccessible care.
Supply must reach demand somewhere. Our country's true medical care needs create the shortage in the first place. The Association of American Medical Colleges, or AAMC, publishes a 25-year forecast of physician supply. In their 2019 to 2034 review, the authors calculated demand based on demographic changes, the incidence of diseases affecting the related demographics, and care delivery setting. Current U.S. medical needs suggest a lack of ~38K to 124K physicians and ~18K to 48K primary care doctors by 2034. Those are massive gaps compared to ~28K expected new medical graduates in 2021, but the AAMC lowered both top ends of those ranges by 12 to 14% year over year from their last report. The report highlights four nationwide scenarios for improving real medical capacity (and reducing shortage forecasts).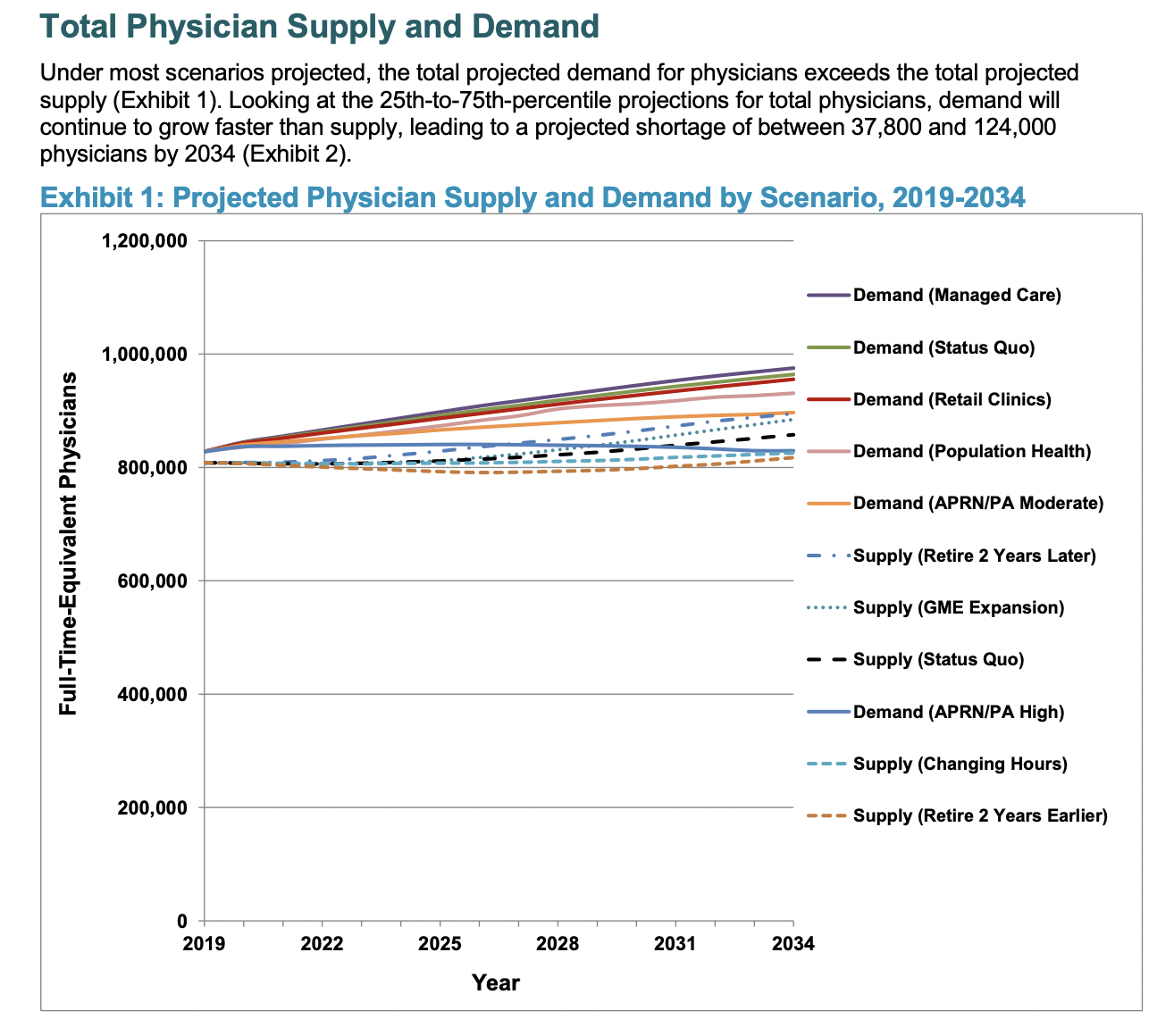 Source: AAMC's The Complexities of Physician Supply and Demand Report June 2021
The first interesting but impractical change is all covered patients joining an HMO or ACO insurance network. In this world, medicine, doctors, and money are vertically integrated like how companies may own their whole supply chain. Unending political gridlock precedes this outcome based on current U.S. health care policy, insurance trade groups, and physician organizations. The next demand scenario involves magical thinking but remains a helpful reference point. The AAMC modeled what may happen if we all decided to lose weight, cut glucose, quit smoking, and reduce cholesterol. Population-wide health improvements prevent shortfalls, but we're human.
The next two possible futures appear somewhat reasonable. Drugstores like CVS and Walgreens are sprouting their clinics. The proliferation of these retail clinics introduces alternative primary care facilities treating minor but acute issues. It's efficient for patients to get basic goods, prescriptions, and routine medical exams at the same place. If referrals are necessary, patients can still get those permissions and then move on to see a specialist rather than wait too long for a traditional office's advice. Adding more registered nurses and physician assistants under strict oversight is another overarching trend for plugging the gaps of care that doctors can't easily reach. Combining all these scenarios may ensure that providers can heal Americans faster while preventing the need to grow doctors on trees.
Whatever the consensus definition is for the U.S.'s physician shortage, cleaning up health care delivery, opportunity, and patient demographic targeting is how supply and demand can rebalance closer to each other. Patients who understand these needs will better handle whatever changes happen next to our fragmented medical system.
Rushi Nagalla is co-founder of a dermatology practice.
Image credit: Shutterstock.com