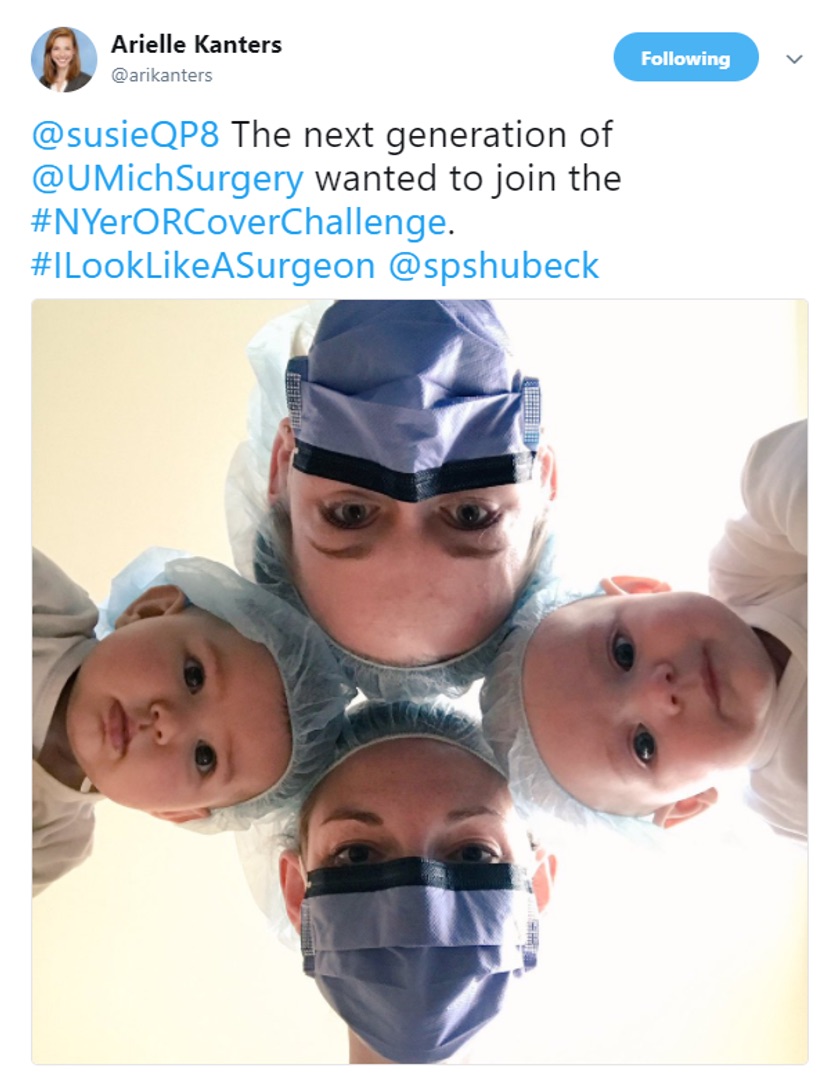 In early April 2017, a cover of The New Yorker depicting four medical providers sparked a movement within surgery. Women surgeons claimed this illustration as a rallying cry; recreating it proudly with colleagues in the operating room and sharing their images on social media tagged with #NYerORCoverChallenge and #ILookLikeaSurgeon.
We were in our fourth year of general surgery residency when we became the mothers of two bright, curious, and strong baby girls. They were four and seven months old when we decided to capture our own photo to contribute to the growing social media movement. We thought sharing our photo would celebrate our friendship, show our support for one another as new mothers and commemorate our journey together as surgical trainees.
A few hours after tweeting our image, we were stunned to realize that our small contribution to this social media movement meant a great deal to many people. Individuals interpreted our image as a nod to family balance, an attempt at depicting "having it all," and a feminist statement about motherhood and surgery. We were honored when people called our image "inspiring," touched when medical students reached out for advice and called us "role models" and flattered when people said our kids were cute (although we prefer "beaming with potential").
What we hadn't anticipated was how these reactions and interpretations of our photo would stand in contrast to elements of our own stories. This carefully choreographed photo did not reflect instances when we remained silent while experiencing or witnessing gender-based mistreatment, our challenging journeys to becoming mothers or our failure to contribute to improving equity in surgery. It felt like we were being celebrated for something we hadn't accomplished.
We are incredibly fortunate to have the opportunity to train in a department of surgery committed to equity and inclusion and to be afforded immeasurable professional opportunities, but our stories are still clouded with experiences similar to many surgeons. We've been told that our "estrogen" is an impediment to our surgical performance, we have operated through experiencing pregnancy complications and loss, and we have experienced feeling humiliated and harassed in our workplace. We have also fallen victim to self-imposed pressures to "not complain" and "just keep our heads down" with resulting impact on our performance at work, our physical and mental health, and our families' well-being.
But we are looking forward, and we have grown. We are proud that our daughters have made us bolder than we were before. They have taught us that we are resilient and have greater potential than those experiences have made us feel. They have given us clearer senses of purpose, stronger motivation to improve the future, and renewed dedication to ensuring equity in their future endeavors.
Our experience with the #NYerORCoverChallenge movement and the recent national outcry against gender-based mistreatment and sexual harassment (#MeToo) have given us the encouragement and an opportunity to step up. We feel it is time we acknowledge our roles in improving our environment beyond social media. We entered this conversation with a simple tweet and photo, but we now choose to embrace our opportunities as advocates in the path toward equity. We have been given a platform as surgeons, trainees, women, and mothers, and it is our privilege to accept and join this movement.
We will intentionally acknowledge that the new normal has arrived. Surgeons are now as diverse as the patients they serve. This diversity extends beyond what is visible and represents varying perspectives, beliefs, life choices, and stories. We will challenge our own implicit biases and dedicate ourselves to learning about one another.
We will stand up for ourselves and one another. We will "put our money where our tweet is": we will lead by example and commit to speaking up, doing the right thing, and making it clear that disrespectful and misogynistic behavior is not tolerated.
We will be authentic in the image we portray. We won't just share or retweet about respecting one another; we will act. We will champion causes that level the playing field (parental leave, lactation workplace support), write about our experiences, support our colleagues, and call on our leadership to do the same. Our social media reputations and activities will mirror our daily lives. By "liking" and "tweeting," we commit ourselves to this movement.
We hope you will join us in committing to these tasks. Imagine what we will accomplish together if each person who liked, tweeted about, or retweeted our photo truly embraces this movement. #theFutureisBright.
Sarah Shubeck and Arielle Kanters are general surgery residents.
Image credit: Sarah Shubeck and Arielle Kanters