Imagine that you come home to find your daughter in tears. She's been acting strangely for the past year, but she never tells you what's going on. This time she finally tells you: She can't stop thinking about killing herself with a knife in the kitchen. After an hour of talking, you realize that she doesn't want to die, but she has obsessive thoughts about hurting herself. She's overwhelmed, and neither of you know what to do. Your pediatrician tells you to find a child psychiatrist and gives you a list of numbers of doctors who supposedly take your insurance. You call ten of the numbers, and none are taking new patients. When you finally reach one, the receptionist tells you that the psychiatrist doesn't accept insurance anymore. You can't afford the thousands of dollars a year it would cost to take your child to the doctor.
There are 15 million kids in the United States who need a child psychiatrist. There are only 8,300 practicing child psychiatrists in the country. Many are clustered in major cities like San Francisco, New York City and Boston, leaving less densely populated areas without any child psychiatrists at all. The map below, created by the American Academy of Child & Adolescent Psychiatry, breaks the shortage down by state: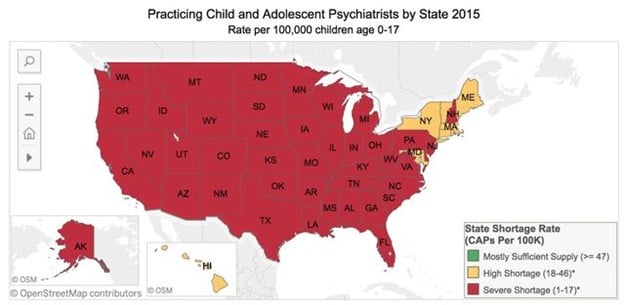 Source: Reprinted with the permission from the American Academy of Child and Adolescent Psychiatry ©2017. All rights reserved.
The shortage means some of the most vulnerable children in our country will go without help. According to the Centers for Disease Control and Prevention, suicide is the second most common cause of death among U.S. teenagers. Despite this, only one-third to one-half of children who need mental health care have access. The situation is only projected to get worse.
The Washington Post interviewed pediatrician Dr. Karen Rhea last year about what this means in the real world. She called it "gut-wrenching" to watch young people in crisis: a teen who overdosed, a mentally ill child who landed in jail, a high school senior who tried to kill herself by crashing her car. Her town of Franklin Tennessee did not have a single pediatric psychiatrist to care for these kids until she became one herself.
As if this weren't devastating enough, most child psychiatrists, even if you find them, will not provide an appointment. Researchers at Harvard University conducted a study this May in which they called 312 child psychiatrists in Boston, Chapel Hill, Houston, Minneapolis and Seattle. All physicians were listed as taking Blue Cross Blue Shield insurance. And yet, when the researchers called pretending to have a child with the insurance, they were able to schedule appointments only 17 percent of the time.
Why the shortage? Part of it is that there is a high demand. There are just too many children with significant mental health concerns. The other side is that there is low supply. The pipeline of medical students interested in careers as child and adolescent psychiatrists is low. Psychiatry is one of the least-reimbursed fields in medicine, with salaries dwarfed by procedural specialties like anesthesia, dermatology and ophthalmology, which have historically been much more popular and competitive. Insurance companies continue to reimburse high rates for procedures and a fraction of that for office visits. While a dermatologist can get paid nearly $200 for a one-minute skin biopsy, insurance may pay half this for an hour-long psychiatry appointment. To top it all off, within the medical profession, psychiatrists are stigmatized by their colleagues. Dr. Wesley Boyd, psychiatrist at Harvard Medical School explains:
I think that those with psychiatric illness are stigmatized. I also feel that some medical students feel stigmatized if they choose to enter psychiatry. I have heard more than one psychiatry resident say that attendings told them that if they chose to go into psychiatry it'd be a waste of their brains and talent. Additionally, psychiatry is relatively underpaid compared to other medical specialties and facilities/hospitals that offer psychiatric services do so at a loss. If pay were better and if it weren't known to be a money loser for institutions, more might choose to enter psychiatry.
The American Academy of Child and Adolescent Psychiatry has implemented a number of strategies to improve the situation. The Academy offers mentoring programs and scholarships to help medical students explore the field. They have lobbied for loan forgiveness programs to increase the financial incentives for students to go into the field. Given the current state of health care policy, however, it remains unclear what the financial future is for those who choose the field.
For now, we are faced with a serious dilemma. Suicide is the second leading cause of death in teens, and it's nearly impossible to find a child psychiatrist who can help those teens at risk. In the midst of emerging health policy under the Trump administration, I hope we find a solution soon.
Jack Turban is a child and adolescent psychiatry resident and can be reached on Twitter @jack_turban. He writes at the Political Minds blog for Psychology Today, where this article originally appeared. 
Image credit: Shutterstock.com