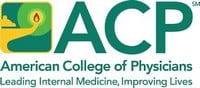 A guest column by the American College of Physicians, exclusive to KevinMD.com.
This September, I reached a milestone, the tenth anniversary of my electronic health record (EHR) "go live." Note that I did not write "I celebrated my tenth anniversary," because while the event was the most disruptive change in over 25 years of practice, the word "celebrate" connotes something joyous, which EHR adoption was not. For that matter, I can't describe it as regrettable either.
As I've written before, my EHR experience has been mixed. I thought about writing another "report card," as I did in 2012 and 2014, but I realized that very little changed from the previous ones, which is both amazing and disappointing, given the advances in other technological tools that we use daily (exploding smartphone batteries aside). There have been version upgrades, sometimes introduced with great fanfare, but the fundamental issues remain.
Early in September, Annals of Internal Medicine published an article that quantitated the biggest problem with EHRs, which is that they take away from time with patients and add to physician workload. Dr. Christine Sinsky and colleagues performed a time and motion study of how ambulatory physicians spend their workday. The researchers observed physicians in the office and collected self-reported diary data on after hours work.
There were several interesting findings, but the one that garnered the most attention was that for every hour of face time with patients, physicians spent two hours working on their EHRs or at their desks. Even when in the exam room with patients, the physicians spent over one-third of their time on "EHR and desk work."
The notion that physicians spend a lot of time on the EHRs isn't particularly newsworthy, but what is important about this study is that it measured that time in a scientifically rigorous fashion in several practice settings. It took the anecdotes that we've been sharing for years and put evidence behind them.
I wonder if the EHR vendors performed similar studies while developing their products. If not, would things have been different if they had? One thing is certain: There is a difference between documenting a typical case of chest pain in a conference room, which was the popular demonstration when we were shopping for an EHR, and using an EHR in real-life situations, as was studied in Sinsky 's and colleagues' paper.
There were limitations to the study as well as questions that the study did not address. We don't know what the time and motion study would have shown pre-EHR. Recall that one of the problems that EHRs were supposed to help us with was the burden of documentation. I suspect that time spent at the desk was less before the EHR, but it probably was still substantial.
Also, were there tasks that the EHR made more efficient and less burdensome? Lab result review comes to mind as something that takes me less time with the EHR, since I'm not waiting for charts to be pulled and can easily report results via my patient portal. How has the EHR affected performance measurement? Quality measures existed before the EHR, but were based on claims or manual chart review. While there are too many measures and many of them are irrelevant, there are some that physicians find useful, such as influenza immunization rates or cancer screening rates. Does the EHR help or hinder getting that information?
Regardless of whether the EHR helps with some functions, the reason that physicians look forward to coming to work every day is the time that they spend with patients, and there the EHR has a negative effect, which trumps any benefits elsewhere.
Dr. Susan Hingle, Chair-elect of the American College of Physicians' Board of Regents, wrote an accompanying editorial that includes a "call to action" for us to finally do something about the hassles of practice, including EHR "unusability." While it feels good to read this and fantasize about how we might achieve that, what options do we actually have?
As much as we complain about our EHRs, I hear very few detractors talk about going back to paper charts. Changing EHRs is a growing phenomenon, but an expensive one. What leverage do we have with the EHR vendors short of ditching their products? Can one withhold maintenance payments, as might be the case if your landlord wasn't clearing the snow in your parking lot? Should we boycott those "infomercials" known as users' conferences? It doesn't seem that public shaming of vendors is having much an effect, since we're still complaining about the same things.
Workarounds like scribes might take some of the hassle away, but introduce a different set of issues. Delegating some of the keystrokes and clicks to other members of the care team has made my life a little easier, but increases their burnout risk.
One action that might not be easy to implement but makes sense, given trends in physician payment, is to change the role of documentation in how physicians are paid. After all, documentation was a major driver of the dysfunctional EHRs in the first place. If an increasing portion of physician payment will be based on outcomes, cost, and patient experience, then why should we still have to document "ten point reviews of systems" and other such nonsense that might have been necessary when we needed to "prove" what we did in a face-to-face visit in order to get paid?
If we take good care of patients, spend less money doing so, and our patients are happy, then we should be able to return to the forgotten days when the medical record was a clinical tool, not an audit and billing tool. Now that would be a disruptive change.
Yul Ejnes is an internal medicine physician and a past chair, board of regents, American College of Physicians. His statements do not necessarily reflect official policies of ACP.
Image credit: Shutterstock.com