My USA Today op-ed was recently published: Burnout hurts doctors as well as their patients.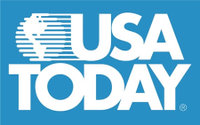 I discuss physician burnout, and how patients suffer from medical errors by burnt out doctors.  Furthermore, doctors leaving medicine won't help the tens of millions newly insured patients that will be looking for care in the coming years:
Burnout affects more than half of doctors, according to researchers at the University of Rochester School of Medicine. Beyond mere job dissatisfaction, these doctors are emotionally exhausted to the point where they lose focus. They tend to be more depressed — perhaps one reason why doctors have a higher suicide rate than the general population.

While burnout can happen in any profession, the performance of stressed-out doctors can hurt someone else: patients. Studies show these doctors exhibit less empathy that erodes the doctor-patient relationship.

More ominous is how physician burnout can lead to medical mistakes. A Mayo Clinic study released last month found that burnout in surgeons correlated to a higher rate of major medical errors. That corroborated last year's conclusion in the Journal of the American Medical Association that found a similar effect among internal medicine doctors.
Enjoy the piece.