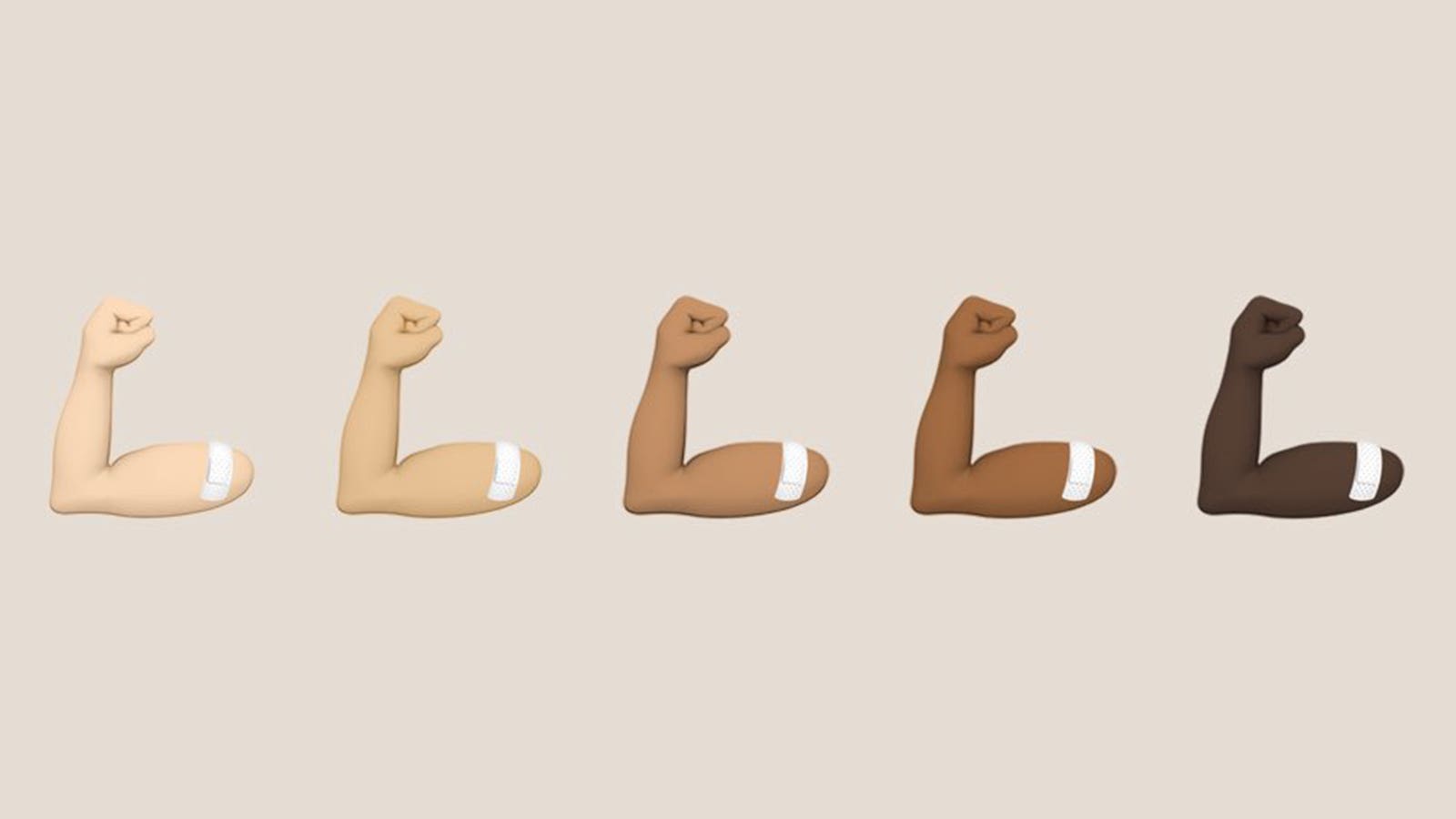 A public health expert and a web developer have created a new digital communication tool to get more COVID-19 shots into arms — a vaccine emoji.
Social media users have been using the syringe, microbe, or mask emoji in their posts to talk about the pandemic. The new vaccine emoji, however, will display a flexing bicep patched up with a Band-Aid, representing an empowered post-vaccination goal.
"Everybody should have access to vaccines," tweeted Sonia Boender, PhD, a field epidemiologist from Berlin who helped create the emoji with web developer Gideon Duschek. "We hope that the @VaccineEmoji supports communication."
The duo designed the new emoji to aid in public health social media messaging. The emoji has yet to be approved by web text organizations, but if it's adopted, experts say it will make vaccine communication easier, more accurate, and more positive — encouraging people to go out and get the jab.
The new emoji has gained traction among health care workers and public health experts, getting more than 320,000 views in the last few days, according to supporters of the effort. It has also attracted the attention of high-profile public health experts such as Tedros Adhanom Ghebreyesus, MD, director-general of the WHO, who supported the icon on World Emoji Day last weekend.
"I hope next #WorldEmojiDay we will have a #VaccineEmoji and that people in all countries will be able to use it after getting their #COVID19 vaccine," he tweeted.
The emoji emerged on Twitter in January. Boender and Duschek crafted a design proposal to submit to the Unicode Consortium, the organization that regulates web text standards before companies like Apple, Google, Twitter, Facebook, and other platforms decide how they will look on their websites and devices.
"We want a new #emoji for #vaccination," Boender tweeted. "No blood dripping syringe, but an accurate representation of life-saving vaccination."
For the bulk of the pandemic, the syringe emoji had become synonymous with vaccination on social media. But that wasn't its intended meaning. The syringe icon was initially created to represent blood donation as a part of the first set of emojis in 1999.
As a symbol for vaccination, experts say the syringe emoji is really not all that accurate — it has a red barrel and a drop of blood spurting from the needle.
In the beginning of the vaccine rollout last year, however, more and more people started using the syringe emoji on social media with phrases like "COVID," "vaccines," and "Pfizer." This spring, Apple redesigned the syringe emoji, removing the droplets of blood and swapping the red barrel of the syringe to a blue-gray to represent the vaccine dose.
"BREAKING: they finally got us a vaccine emoji that looks right!!!" Jeremy Faust, MD, an emergency physician at Brigham and Women's Hospital in Boston, wrote on Twitter. "No more inaccurate bloody syringe!"
"Now we need a post-vaccination emoji," tweeted Cleavon Gilman, MD, an emergency physician based in Arizona, over a retweet of Boender and Duschek's new flexing bicep emoji.
Other supporters say the @VaccineEmoji is one of the few positive icons regarding vaccinations available on social media.
"There was nothing really out there that was really positive about vaccines," said Gabriella Corrigan, a spokesperson for the Task Force for Global Health, an organization that promotes vaccine accessibility, and one of the supporters of the new emoji. This icon, with its flexed bicep, represents strength and empowerment in the global immunization effort, she added.
Corrigan said any messaging tool that helps experts convey the facts more succinctly and efficiently is going to influence how the public thinks about public health.
"It seems like an emoji wouldn't be something that's really that important to a health intervention," she said. "But as we've seen with previous vaccines, and now during the pandemic, messaging can be really important, and plays a big role in public health."
Amanda D'Ambrosio is a reporter, MedPage Today. This article originally appeared in MedPage Today.
Image credit: MedPage Today