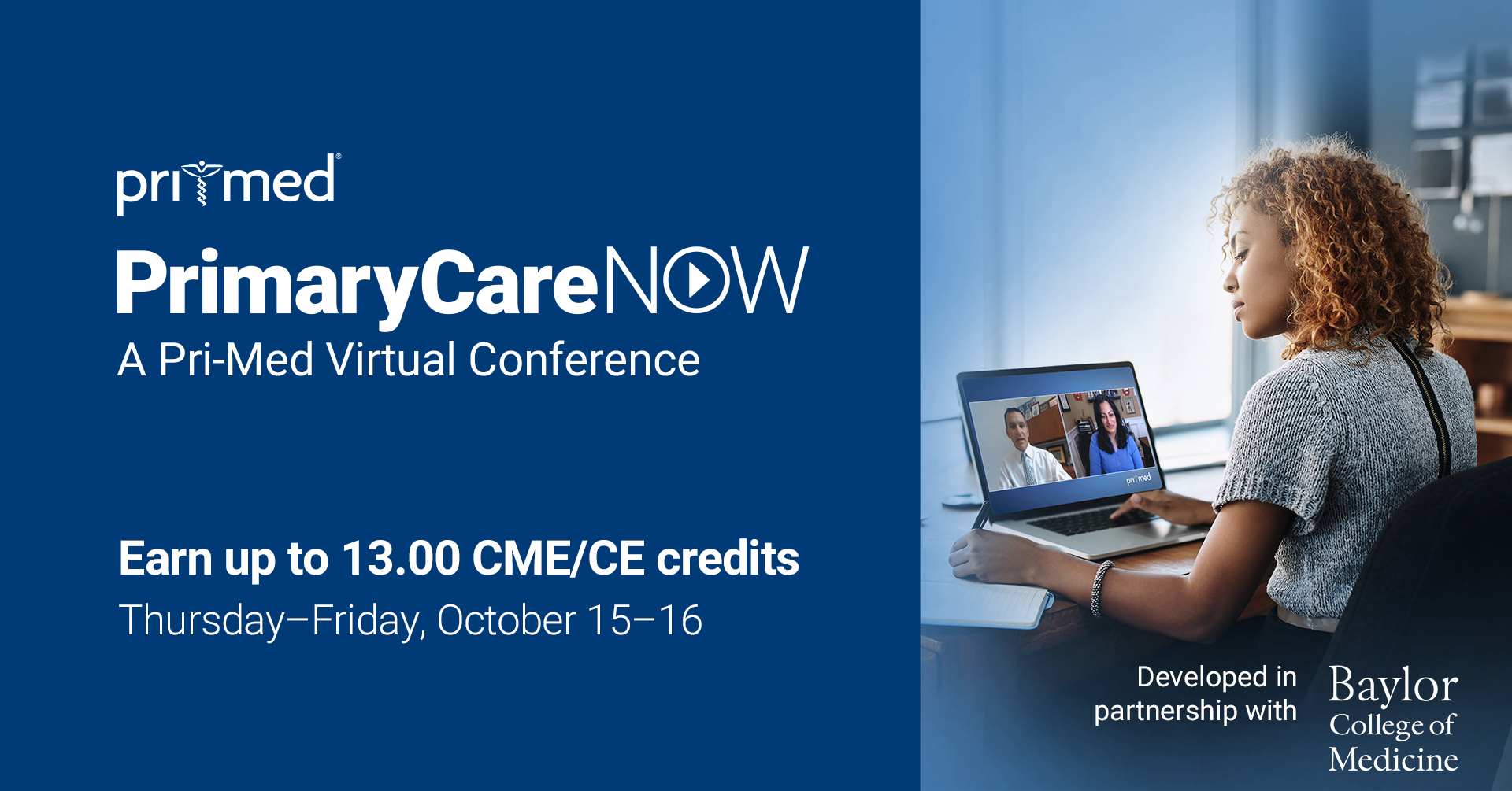 This article is sponsored by Pri-Med.

As a clinician during this challenging time, it's critical to have access to timely, reliable information. Pri-Med, a leading medical education provider, has developed new courses on COVID-19 and other relevant topics each week to meet the educational needs of today's primary care clinicians. Included in this review are key takeaways from top free CME/CE courses your colleagues are completing on Pri-Med.com.
Atrial Fibrillation Update
Dr. Ty Gluckman | August 4
Atrial fibrillation is a common condition with a prevalence that is expected to increase significantly over the next 10 years.
It is associated with a significantly increased risk of stroke, regardless of whether the patient is symptomatic.
The risk of stroke and systemic embolism should be assessed in all patients, regardless of the treatment approach pursued.
Preference is now given to direct oral anticoagulants over warfarin for most patients in need of oral anticoagulant therapy.
Left atrial appendage closure represents an alternative means to reduce thromboembolic risk, particularly among those at heightened bleeding risk.
A Head Start on Migraine: Emerging Approaches to Acute Management
Drs. Jessica Ailani, M. Susan Burke, and Rashmi Halker Singh | June 26
A good history and exam can differentiate migraine from other headaches.
Triptans are first-line medications and come in non-oral forms.
Avoid opioid- and barbiturate-containing medications.
Remember to try nonpharmacologic and self-management measures.
Gepants (ubrogepant and rimegepant) and ditans (lasmiditan) are effective new oral options for patients with vascular disease or for those who don't find triptans helpful.
Neuromodulation devices are approved, but they have unclear efficacy.
Mental Health During COVID-19: How to Prepare for a Crisis
Dr. Shirah Vollmer | July 23
Discuss limiting media consumption to one hour per day as well as avoiding media before sleep.
Inquire about changes in the patient's relationship with substance use during the pandemic.
Ask patients what they think about online mental health services compared with in-person services.
Deep breathing, meditation, and mindfulness can help patients relax their bodies.
Ask questions based on the patient's symptom history. For example, "I know in the past you have struggled with obsessive thinking. How is that going for you now?"
Updates for Primary Care Clinicians: Pearls from the ADA Scientific Sessions
Drs. Martin Abrahamson and Charles Vega | July 30
Flash glucose monitoring (FGM) and continuous glucose monitoring (CGM) have come of age and are being used more frequently, especially in insulin-treated people.
In addition to monitoring A1c, we now review "time in range" in people who use CGM.
CGM has been shown to help reduce A1c by increasing time in range and reducing hypoglycemia, regardless of the type of insulin delivery employed.
CGM and FGM have been shown to improve A1c in people with type 2 diabetes who inject basal insulin or no insulin at all.
Pain Points: Nonpharmacologic Management in Older Adults
Dr. Katherine Galluzzi | May 30
When treating pain in older individuals, think about the six A's:
Analgesia – How much pain do they have, and how much relief are we able to get for that pain?
Activity – This can be measured by activities of daily living.
Adverse events or effects – Is the individual having bad side effects or problems with the medication or the modalities that we're using?
Aberrant behaviors – Are we prescribing medications that might be diverted?
Affect – What is our patient's mood? How can we help make that mood as beneficial as possible so the patient can get the best outcome from the therapy?
Action – This is your response to how you're evaluating the patient for his or her pain.
Pain Points: Non-Steroidal Anti-Inflammatories in Clinical Practice
Dr. Oscar de Leon-Casasola | August 20
Current guidelines position NSAIDs as first-line therapy for low back pain.
The Osteoarthritis Research Society International recommends oral nonselective NSAIDs for the treatment of all osteoarthritis phenotypes.
COX-2 selective oral NSAIDs were deemed appropriate for individuals without comorbidities and for multiple joint osteoarthritis without moderate-to-severe comorbidity risk.
The 2020 American College of Rheumatology Guidelines strongly recommend oral NSAIDs for knee, hip, and/or hand osteoarthritis. However — and this is a very important issue — the risk of thromboembolic phenomenon and congestive heart failure significantly limits their long-term use in patients with high risk and potentially those with low risk.
COVID-19 Web Series: Pediatric Concerns and Multisystem Inflammatory Syndrome in Children
Drs. Ty Gluckman and Charles Vega | July 21
Compared with adults infected with COVID-19, children experience less dyspnea and nearly 20% are asymptomatic.
Overall mortality < 1:1000 children with COVID-19.
MIS-C was found in 0.14%. The mortality rate is 2%. Kawasaki-like syndrome has been found in 40%. The best treatment is not yet clear.
The mechanisms underlying MIS-C are unclear and may be related to genetic differences in the host/immune response.
Immune-mediated diseases with COVID-19 have also been reported in adults. While infrequent, they usually occur within one to two weeks of symptom onset.
Weight Loss Best Evidence 2020
Dr. Frank Domino | July 8
Kids should drink water and whole milk, not fruit juice.
Avoid non-nutritive sweeteners; one teaspoon of sugar is only 15 calories.
Don't skip breakfast: This increases the risk of obesity, CV disease, and all-cause mortality.
More than 8,000 steps/day can decrease mortality, CV disease, and cancer risks.
Diets high in fiber are beneficial.
Limit antibiotics in the first five years of life unless absolutely necessary.
One egg per day is safe; for Asian populations, it is protective.
Exercise: Resistance is cardioprotective too.
The best diets for T2DM are low-calorie and low-carb meal replacements.
Are you interested in more CME/CE from Pri-Med? Create your free account now, which takes less than two minutes, to gain access to 500+ courses across 1,000 topic areas.
Join your clinician colleagues for PrimaryCareNOW: A Pri-Med Virtual Conference on Thursday–Friday, October 15–16. This free remote learning experience offers up to 13.00 CME/CE credits and engaging evidence-based sessions, including "COVID-19: Ask the ID Expert" with Dr. Paul E. Sax. Learn more and register: www.pri-med.com/primarycarenow