Health care reimbursement in the U.S. is frighteningly complex. We have federal payers, like Medicare; state/federal payers, like Medicaid; private, for-profit insurance companies, like Aetna; private, not for profit insurers, like many local Blue Cross Blue Shield networks. Oh yes, and we have private insurance companies managing reimbursement for many Medicare and Medicaid recipients.
This complexity comes with costs. Doctors and hospitals need to hire armies of people to process bills for all those different payers. By one estimate, in fact, physician offices spend 30 billion dollars a year on billing-related costs.
A recent study shows which payers are most likely to reject the bills submitted to them by physicians' offices. The winner, in case you haven't guessed it already, is Medicaid, regardless of whether the program is run by the government or private insurers.
Here is a picture of that finding. In orange, it shows how often payers challenged bills; in blue(ish), it shows how often they rejected the bills. The highest proportion of challenges and rejections come from fee-for-service (FFS) Medicaid programs; that's the traditional Medicaid programs run by each state. Next highest rates of challenges and rejections come from Medicaid managed care programs, which typically involve private insurance companies managing Medicaid recipients' health care costs. The picture below shows the proportion of bills challenged and the proportion of those denied: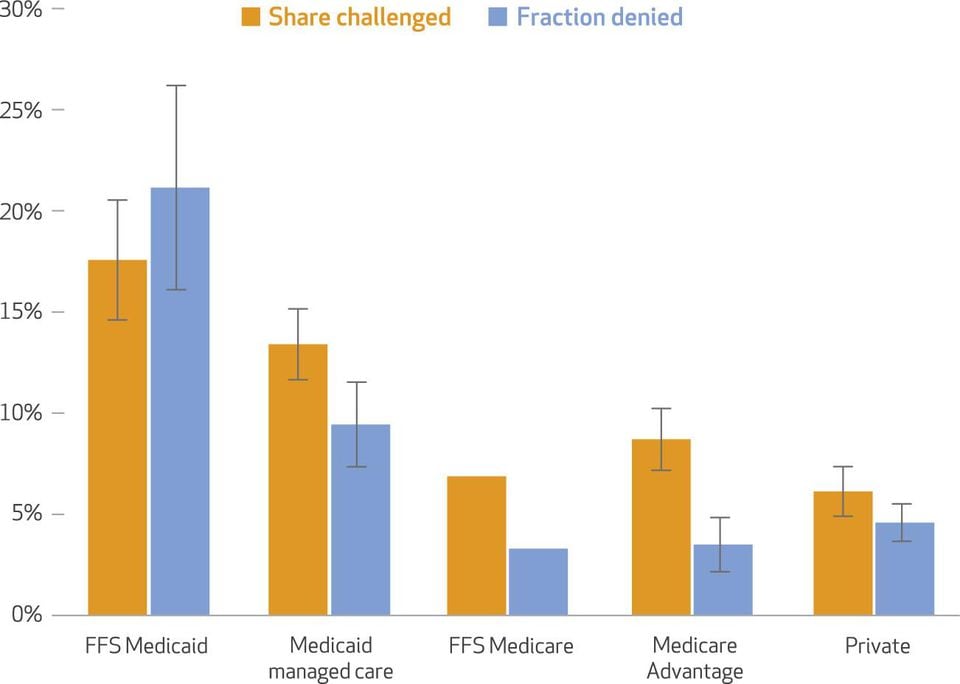 Measures of billing complexity, by insurance type, with patient characteristics and physician identity controlled for
These data were reported in Health Affairs and come from a database capturing billing information from around 70,000 physicians, during 2015. The data don't have enough information to show whether these payment denials were appropriate or inappropriate. But they do give a sense of how burdensome it is for physicians' offices to receive payment for their services. Responding to payment denials costs effort and money, sometimes requiring clinicians to take time away from patient care so they can explain to an insurance company why a specific service was indicated.
As the above figure shows, private insurers are far less likely to challenge bills than government payers. Add to that the higher reimbursement offered by most private insurers, and it is easy to see why so many doctors limit the number of Medicaid and Medicare patients they see.
To make matters worse, even when Medicaid does reimburse for physician services, the program takes longer to do so. Here is a picture of that result: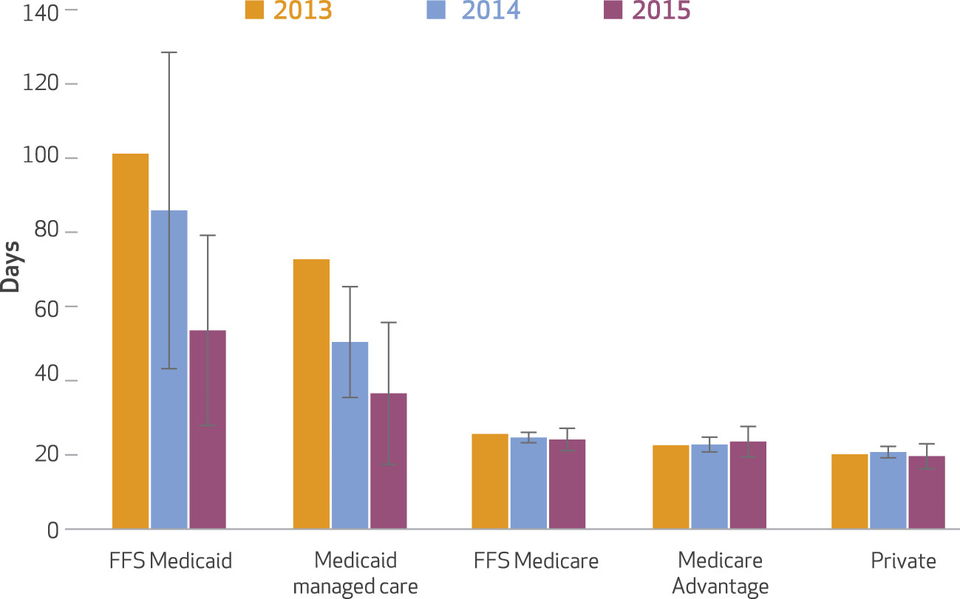 Changes in time to payment over time, by insurance type, with patient characteristics and physician identity controlled for
Americans deserve health care coverage, whether from private or public coffers. But American physicians also deserve timely payment when they provide needed care to their patients.
Peter Ubel is a physician and behavioral scientist who blogs at his self-titled site, Peter Ubel and can be reached on Twitter @PeterUbel. He is the author of Critical Decisions: How You and Your Doctor Can Make the Right Medical Choices Together. This article originally appeared in Forbes.
Image credit: Shutterstock.com