Dr. Tara Zandvliet was inundated with calls and emails from parents last year, after California passed a law nixing personal beliefs as an exemption from school vaccinations. Suddenly, many parents sought exemptions for medical reasons.
Someone even faked two medical exemption forms purportedly written by the San Diego pediatrician, copying a legitimate document she'd provided for a patient and writing in the names of students she'd never treated, she said. She learned of the forgeries only when the school called for verification.
Only 1 in 10 families contacting her for such exemptions could cite a legitimate reason, such as a severe allergic reaction to a previous vaccine, Zandvliet said. Of those kids with valid health problems, she estimates, only about a third merited the exemption.
Families who oppose mandated immunization for schoolchildren may be seeking medical exemptions to get around the new state law, which requires kindergartners entering public and private schools to be fully vaccinated regardless of families' personal beliefs, according to a study published Tuesday in JAMA, the Journal of the American Medical Association.
Before the 2016-17 school year, parents who opposed vaccination, or anti-vaxxers as they are often called, could enroll their unvaccinated children in school citing the personal belief exemption, based on religious or philosophical convictions, for example.
After a rampant measles outbreak originating at Disneyland in 2014 that resulted in 147 cases reported across seven states, California scrapped the personal belief exemption. The law, which was hotly contested by some parents, left in place waivers for medical reasons.
Such a stringent policy is fairly unusual. Eighteen states have personal belief exemptions and 47 allow parents to opt out of vaccinations for their children based on religious beliefs, according to the National Conference of State Legislatures. Besides California, Mississippi and West Virgina allow exemptions based on medical concerns alone.
Michigan also recently tackled this issue and required families seeking an exemption to meet personally with local public health departments. After instituting the new rules, state officials reported that the number of waivers fell 35 percent.
The increase in California medical waivers suggests that anti-vaccine parents may be finding doctors willing to exempt their kids from the mandate, according to the researchers.
The study, which used data from the California Department of Public Health, shows that the number of medical exemptions among kindergartners, though small, tripled to 2,850 in 2016 from the previous year. Meanwhile, the number of exemptions for personal beliefs was about four times lower in 2016 than in the year before. (They did not plunge to zero in part because some pre-kindergartners had exemptions that were grandfathered in under the law.)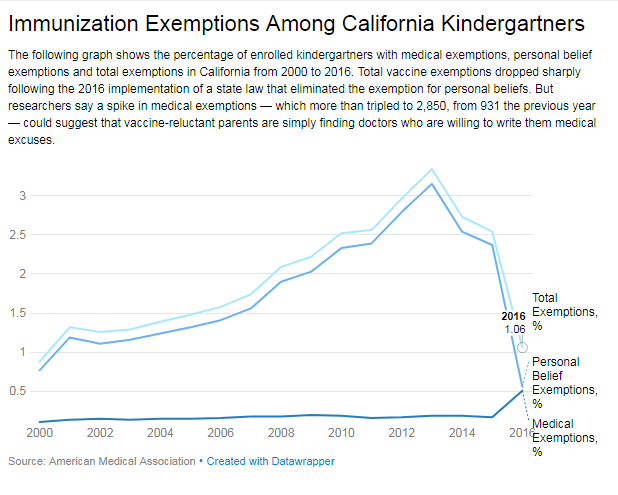 The state's law, however, gives doctors more wiggle room to authorize medical exemptions — for example, for children with a family history of adverse reactions to vaccines.
Paul Delamater, an assistant professor at the University of North Carolina-Chapel Hill and lead author of the JAMA study, said this reason is inconsistent with the recommendation from the American Academy of Pediatrics. The academy states that medical exemptions should be reserved for students who could truly be harmed by vaccination, such as those with a weak immune system because of chemotherapy or a known dangerous reaction to a vaccine ingredient.
Many of the California counties with the biggest increases in medical exemptions since the law took effect are in Northern California, including Shasta, Plumas, Sonoma and Marin. Some with high percentages of personal belief exemptions before the law had among the greater increases in medical waivers afterward, Delamater said.
In one Southern California county, Orange, the number of medical exemptions went from 92 in the 2015-16 school year to 348 in 2016-17, according to state data. Meanwhile the number of personal belief exemptions decreased from 1,270 to 269 in the same period.
"The medical exemption increase is concerning," said Catherine Flores-Martin, executive director of the California Immunization Coalition, a public-private partnership that promotes vaccinations and co-sponsored the state's vaccine law.
Flores-Martin said health professionals expected a short-term rise in medical exemptions because parents previously may have obtained the easier-to-get personal belief exemptions for children who actually qualified medically. But the rise in medical exemptions is greater than she had anticipated, and Flores-Martin said some doctors may be inappropriately offering them to parents on a broad basis.
"It would be unusual for a child to be exempted from every vaccine forever, because that's pretty extreme. You see patterns [of such exemptions] in some of these schools. I don't think that's a coincidence."
Her group is encouraging people to contact the Medical Board of California if they encounter doctors writing medical exemptions for conditions like asthma that aren't included under the state law.
"It really isn't up to the parents," Flores-Martin said. "Some doctors may feel emboldened if they … feel they can do that without scrutiny or consequence. It's an issue that physicians need to address with their peers, and we're going to help start that conversation. It's up to the doctors to behave professionally."
Many parents who don't want vaccinations for their children, including some vocal opponents from affluent, well-educated regions of the state, say they are concerned that  vaccines are linked to autism, despite overwhelming scientific evidence that this is not the case.
Zandvliet, the San Diego doctor, tries to take a judicious approach. Unlike some other doctors, she doesn't charge extra for writing exemptions. She does, however, require families asking for an exemption to provide medical documentation of the child's condition before she'll write one.
Although she said she has not yet written a permanent medical exemption for all vaccines, she has written "medical exemptions lite," which spare the students from one or more vaccines for a limited period. Sometimes, she will write these for students with siblings who experienced an adverse reaction to the vaccine, although she acknowledges there are no studies showing that it's useful to do so.
For families seeking exemptions without a health reason, perhaps because they're misinformed or philosophically opposed to vaccines, Zandvliet takes the opportunity to educate them. Sometimes, she succeeds in getting reluctant parents to partially vaccinate their children, or to spread out vaccines over a longer period than the U.S. Centers for Disease Control and Prevention recommends.
"If we stop listening as doctors, we're going to turn people off," Zandvliet said. "Doctors are saying, 'If you won't go by the CDC schedule for vaccinations, get out of my office.' So they didn't vaccinate, and they didn't protect that child."
Pamela Kahn, president-elect of the California School Nurses Organization, who works in Orange County, said California has a strong record on vaccinations and there is only so much school nurses can do to educate parents who oppose them.
"Overall, the vaccine rates are really high in the state of California after this law went into effect," Kahn said. "When you compare the amount of kids that were exempt between both pools, we're still way ahead of the game."
Ana B. Ibarra and Barbara Feder Ostrov are correspondents, Kaiser Health News, where this article originally appeared.
Image credit: Shutterstock.com