COVID-19 changes everything — even, or especially, love. It demands that we love differently and in new ways. For me, this is what #loveinthetimeofcovid19 looks like.
My husband, Lunan, and I are both doctors. Lunan, a urologist, is completing his final year of training in New York City, and I am a family-physician educator at a medical school in Miami.
We are living separately this year — one of the many sacrifices we've made in pursuing our medical training over the past twelve years. Since August, he and I have been traveling back and forth to see each other two or three times per month. Now we're not sure when we'll be together again–and for us, that has been the most painful and personal part of the daily reality of COVID-19.
I love being a family physician and caring for my patients, but the mobile health center where I work was shut down this week as we transitioned to telehealth. Without personal protective equipment, we couldn't safely care for our patients within our clinic's tight confines.
My patients are nearly all uninsured; the majority are immigrants, and they are usually hard to contact, given the uncertainty of their phone plans.
A lot of my time is spent managing the so-called social determinants of my patients' health — giving them referrals for food assistance, social-work support, and immigration counseling — and helping them with their anxiety and depression, which are exacerbated by their difficult lives.
Over the past few weeks, many of my patients have suffered panic attacks brought on by the stress of the COVID-19 pandemic. Their pain and fear are unimaginable. I wonder how, with their pay-by-the-minute cell phones, they will manage with telemedicine. I hope they don't feel like I'm abandoning them.
I also spend much of my time teaching medical students, and I love working with them as they get ready to be doctors. In March, the medical school where I work celebrated Match Day — the culmination of years of education and hard work — when medical students across the country find out where they'll be heading for their next stage of training.
But this year, COVID-19 meant we had to celebrate in a new way.
This year, Match Day took place in a socially distanced parking lot because we couldn't let our students totally miss this rite of passage. The students' cars snaked toward a tent, where they were handed an envelope with their match results via an extender pole held out by the Dean. The five faculty members in attendance stood spaced out throughout the parking lot, cheering for the students as they honked their car horns and yelled for a few seconds, then drove away.
I choked back the tears as I remembered my own Match Day celebrations, full of love and hugs from my parents and boyfriend and shared joy with my medical-school roommate, an anesthesiologist, and intensivist who's now on the frontlines of COVID-19 in Boston. Every year I cry on Match Day. But this year I cried a little more, thinking of what our students had missed.
Lunan and I speak more often now, during the heartbreak of COVID-19.
He spent last week as the urologist on call at his hospital, seeing patients coming into the emergency room with kidney stones and bladder perforations and other emergent issues. (Yes, "normal" emergencies continue even amid this pandemic.)
My usually quiet, focused husband called me after every patient consult, every visit to the hospital's inpatient floors, every stent placement, or small surgical procedure.
Each time the phone rang, I'd answer and hurriedly ask, "What's wrong?"
The fear was palpable. He'd pause, then say, "I just need to know you're still there."
He called me when he found an N95 mask that he decided to save just for his visits to the ER, where his patients sat among others, coughing patients waiting to be seen. He called me when one of his patients with a bladder problem was determined to be at high risk for COVID-19 and got tested. He thought he'd worn a mask every time that he'd seen this patient, but could we really be sure? In the midst of social distancing, we reached out to one another, desperate to remain connected across physical space.
This is what #loveinthetimeofcovid19 looks like. We have given twelve years of our lives to our joint medical training. We are committed to our patients, and to each other, above all else. But nothing remains the same.
This is our own small story, two doctors in the midst of a pandemic. We are changing, as love itself has to change. There are more calls, more video chats; we miss each other viscerally. And we are waiting for what it will be like after the first, acute crisis of COVID-19 has passed.
Right now, there is only life before COVID-19 and life with COVID-19; there is no clear after. But I know that love will still be there, on the other side.
And I'm already thinking of how great that first hug is going to feel.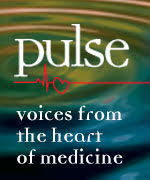 Sarah E. Stumbar is a family physician. This piece was originally published in Pulse — voices from the heart of medicine.
Image credit: Shutterstock.com