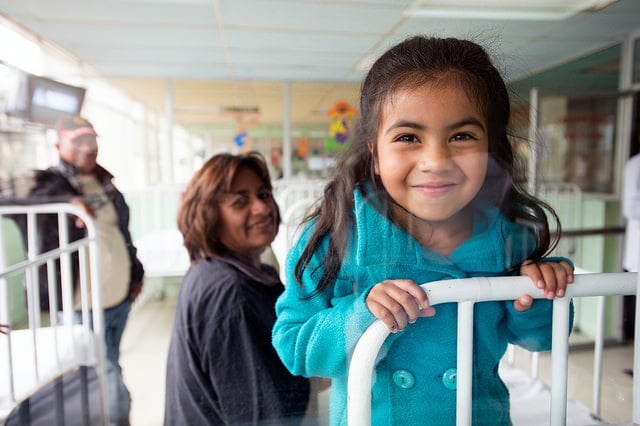 In the arms of every parent who waited on the long line outside the clinic in Mexico was a child born with a facial deformity, usually a cleft lip or palate. Many of these mothers and fathers had walked long distances, carrying their child. Some families included grandparents, aunts and uncles, and others, just a mother, and her baby. Most of these families had arrived the day before. All hoped their child would be scheduled for surgery and restored to a normal appearance.
The third patient in line was different: an older man, all alone, with a blue bandana covering his mouth and nose. No wife, no parents, and no child. When he entered the examination area, he turned his face to the wall and removed his bandana. He put his hand over his mouth and kept it there the entire time, except for the few moments when we inspected and measured his cleft to determine the best operative plan.
Because he was an adult, surgery was less risky, and so we decided he was the perfect first patient for surgery the next morning. Though nearly all surgeries go well, it's especially important that the first operation of a trip be completed without a complication. Local doctors would be working alongside our team, watching closely and evaluating our abilities. If anything went wrong, we would be denied a second chance.
As trip leader, I had selected a team of experienced clinicians eager to make a difference. We were flown from the United States to Mexico by the Flying Doctors, pilots who volunteered to transport teams of surgeons, pediatricians, anesthesiologists, nurses and other staff to help children with cleft lips and palates. For weeks in advance of our arrival, hundreds of patients and their families had heard through word of mouth and radio announcements when we would be coming.
The families knew the surgical team would be on hand for only five days. They also realized there would be more patients who could benefit from surgery than operating room slots. Yet the line outside the clinic was perfectly orderly, free of the chaos and pushing and shoving that might be expected.
Early the next day, we operated on the man with the blue bandana as planned. Afterwards, before he went home, I walked down the hospital corridor to check the repair. And there I saw him, standing in front of a mirror in the bathroom with tears streaming down his face. Concerned that he was in pain, I asked him what was wrong.
"This is the first time in 60 years that I have stood in public without a bandana over my face," he explained. "People are smiling at me in a way they never have."
In that moment, he taught me a lesson no physician should ever forget – that being a physician, and getting the training and the opportunity to transform lives, is an extraordinary privilege.
A week later, when he returned to the clinic to have his sutures removed, he asked the local medical staff to thank me, and let me know that he now would be looking for a girlfriend and hoped to get married.
Performing a single surgery, requiring but a few hours of time, changed his life forever. Doing so is a privilege and reinforces the mission-driven spirit that motivates physicians to choose medicine as their life's work.
How global volunteering educates doctors
I have had the opportunity, as a plastic and reconstructive surgeon, to volunteer in many countries, including Ecuador, Mexico, Honduras, Peru, Palau, and Samoa, to name a few. Each time I went, I thought I was the one doing the giving by providing clinical expertise to patients and training to other surgeons. But every time, I ended up being the one who received and learned the most. And most frequently, the best teachers were the patients.
For the past two years, I've written about the business and culture of American health care. In looking at these blogs, I realize that if we want to overcome the health care challenges we face as a nation and seize the opportunities that exist, we need to begin by understanding and building on the mission-driven spirit of physicians.
To see how powerful this spirit can be, talk with any doctor who has volunteered to work in medically under-served communities across the globe. Although they earn no income and often must pay their own expenses, to a person, they will, to a person, describe how much richer they are for having had the opportunity. Ask them why, and they will tell stories about life-changing experiences that remain deeply etched in their hearts and minds years after the trips were complete.
This week, I focus on three life lessons I have learned on trips to other nations. The first came from the patient in Mexico who helped me to understand and experience how privileged physicians are to care for patients. And next week I will describe my experiences in a village, high in the Sierra Madre Mountains, and how what I learned can be applied to improving our nation's health care system.
Understanding how much physicians have to learn
A resident in plastic surgery trains for six years after medical school. In my last year as a resident, I spent a week caring for people in a rural village high in the mountains of Mexico.
Nearly all of the villagers were very poor, living off the basic staples they could grow. Most mornings I would come back from an early-morning run to the three room hut where I lived with my host family to find the young mother bent over a small fire, preparing breakfast for her children. Each day she cooked tortillas from flour she had ground by hand, along with beans and a fried vegetable dish she made from a large squash that resembled a green pumpkin.
To harvest this squash, she had to climb for 45 minutes, high up the mountain to the small plot of land her family owned. I felt the least I could do after enjoying a week of her hospitality was to help carry down one of these pumpkin-sized squash.
As we got ready to leave, I had what I thought was an ingenious idea. I would bring my backpack and thereby be able to carry two of these squash down. I would repay her generosity by teaching her how to double her carrying capacity. We hiked through the heat, the trek beautiful but taxing. At our destination, she harvested two of the squash. I presumed she would give one to me and carry the other back herself. With a bit of bravado, I explained that I could carry both, one in my backpack and one in my arms.
She thanked me, harvested two more and went to a tree. With her machete, she cut down two vines. She tied a squash to both ends of one and repeated the process with two more squash and a second vine. She then harvested a final two – six in total. As we prepared to leave, she draped one vine over each shoulder with a squash at each end. Then she balanced one on her head and placed the final one in her arms.
I never felt more foolish.
I had climbed up confident I could teach her how to transport two squash at a time, and she already knew how to carry three times that number.
As physicians we often assume we know everything. Remembering how much we can learn from others is a second important lesson I learned on my travels,
Compassion can be as powerful as any technical skill
Dr. Donald Laub, during his tenure as Chairman of Plastic Surgery at Stanford where I was a resident, founded Interplast. This organization, now called Resurge International, sends teams of volunteer surgeons to other countries to operate on children with cleft lip and palate.
Don led hundreds of trips, shared his surgical expertise across the globe, and served as a clinical ambassador for American health care to dozens of nations.
Nearly all of these volunteer missions went without complication, but one threatened to undermine all of the great work. Don took an experienced team from the United States to Honduras, and for the first few days, every case went well. Early in the morning on the fourth day, the surgeons scheduled an infant girl with a wide, but repairable cleft lip.
As the anesthesiologist began to administer the general anesthetic, her temperature started to skyrocket. The OR team immediately recognized what was happening — an extremely rare problem called "malignant hyperthermia." They removed the drapes and packed the child in ice. Still, her temperature continued to rise, first to 104 degrees Fahrenheit, then 105, then 106, damaging her vital organs. Soon her brain and heart stopped functioning.
When her parents were told of her death, the screaming from the waiting area was loud and haunting. All remaining surgeries that day were canceled. The OR team packed up the instruments and supplies and returned to the homes where they were staying. The child's body was placed in a cadaver bag in the morgue.
Sometime that night, around midnight, Don went to the hospital and unlocked the morgue. Alone, he removed the baby from the cadaver bag and positioned her on a table. He reached into a backpack he had brought and removed the instruments and supplies he needed.
As originally planned for earlier that day, Don marked out on the child's lip the cleft repair and made the incisions. But this time there was no bleeding from the cut edges. I can imagine each of the subsequent steps he took as though I were looking over his shoulder. He freed the displaced tissues from the underlying bone, and rotated them into their anatomical place. Then, using clear sutures under the skin, he repaired the defect, leaving little more than a scalpel's width line where the wide cleft had been an hour earlier. He then gently put the child back where she belonged and went home to sleep.
The next morning, the parents arrived to carry their baby's body back to their village for burial. As the child was removed from the bag, screams once more could be heard, but this time of wonder and amazement. For now the parents were certain their child had been touched by God and healed in the process.
Death is tragic, and this child's passing devastating. But a compassionate surgeon completed the task he had come to undertake, and gave these grieving parents a gift that enabled them, supported by their faith, to cope with the unfathomable loss of their daughter.
It is not enough for a physician to be a great diagnostician or technically excellent. Compassion and caring are powerful tools for healing, gifts we can extend to all of our patients. And when we do, we touch the souls of those who have entrusted us with their lives.
Three lessons
When frustrated by the challenges of American medicine, I remind myself of these three lessons. First, it's a privilege to be a physician and have the power to change people's lives for the better. And when the mission-driven spirit of physicians is released, amazing outcomes can be achieved. Second, no matter how much we know, as physicians we can learn much from others. Finally, caring and compassion often are the most powerful forces for healing.
The solutions to American health care will require expensive drugs and advanced medical technology, but they also will call for the human touch. And physicians will not only need to lead, but also learn from business school academics and policy experts. And most importantly, as much as the answers to the problems we face will be based on analytic tools, advanced information technology systems, and operational expertise, unless the solutions align with the mission-driven spirit that drove physicians into medicine at the start of their career, they will fail. And remembering this may be the most valuable lesson of all.
Robert Pearl is a physician and CEO, Permanente Medical Groups. This article originally appeared in Forbes.
Image credit: Resurge International / CC BY-NC-ND 2.0