"If you insure them, they will come."
Those words might as well be the mantra of hospitals across the country, because they can expect an onslaught of customers thanks to the expansion of health insurance under Obamacare. A recent study published in Science showed increased emergency room use among people in Oregon who became eligible for Medicaid, compared to others who, literally by the luck of the draw, were not chosen to be eligible. With many ERs already overcrowded, emergency room clinicians will be forced to send some patients home that are not ready and to admit other patients to the hospital that do not need such care. In fact, Medicare analyses show that almost half of unnecessary expenses result from brief and unnecessary hospital admissions.
How can already busy emergency rooms efficiently handle all this extra business? According to a recent study in Health Affairs, the solution is simple: Protocol-driven observation units.
That's a mouthful, so let me break it down. An observation unit is typically a suite of beds or rooms adjacent to the ER, where patients might stay from a half dozen hours up to a full day, so clinicians can evaluate the progression of their symptoms. Clinically speaking, these patients are "tweeners" — neither sick enough to need full on emergency services, nor healthy enough to go home, nor so seriously ill that they need to be hospitalized. An example of such a patient might be a middle-aged man who becomes dehydrated from a gastro-intestinal illness or an elderly woman with chest pain atypical for heart disease. A little treatment (IV fluids for the first person) or observation (to make sure the elderly woman's chest pain doesn't progress to indicate a heart problem) might be enough to comfortably discharge the person home without a hospital admission.
A protocol-driven observation unit is one in which clinicians follow guidelines for how to care for specific health conditions, akin to the checklists currently touted by many medical experts. The Health Affairs study involves a comparison of observational unit length of stay in three groups of emergency rooms:
the U.S. as a whole
the state of Georgia
three hospitals associated with the Emory/Grady healthcare system near Atlanta, GA, hospitals with protocol-driven observation units
As shown in the accompanying figure, the Emory/Grady system was more efficient in treating the patients cared for in their observation units: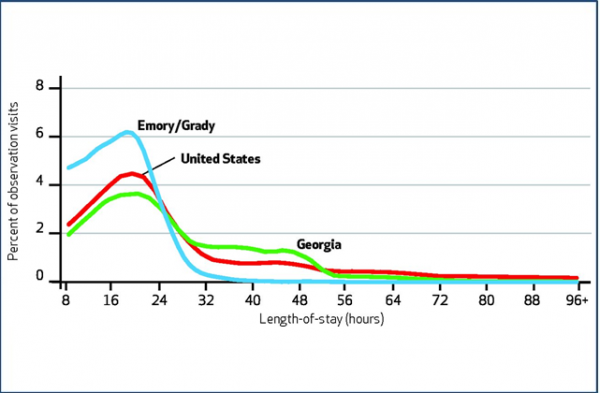 The vast majority of Emory/Grady patients were discharged from the observational unit within twenty-four hours, either to home or the hospital, whereas other hospitals (in Georgia and in the U.S. overall) included a sizeable minority of patients who lingered in these units for days on end.
The researchers estimate that if all hospitals utilized protocol-driven observational units, the U.S. healthcare system would save $5.5 billion to $8.5 billion annually.
What is keeping hospitals from adopting such units? Besides inertia, they are slowed by the incentive system. Currently, many hospitals make lots of money providing expensive emergency room care to patients with private insurance or even Medicare. We need to change incentives, so it is not in hospitals' best interest to prolong observational care.
Policy makers need to make it worth hospitals' whiles to utilize protocol-driven observational units. If they do not, the rush of new patients coming their way in 2014 will cost the system billions of unnecessary dollars.
Peter Ubel is a physician and behavioral scientist who blogs at his self-titled site, Peter Ubel and can be reached on Twitter @PeterUbel.  He is the author of Critical Decisions: How You and Your Doctor Can Make the Right Medical Choices Together. This article originally appeared in Forbes.