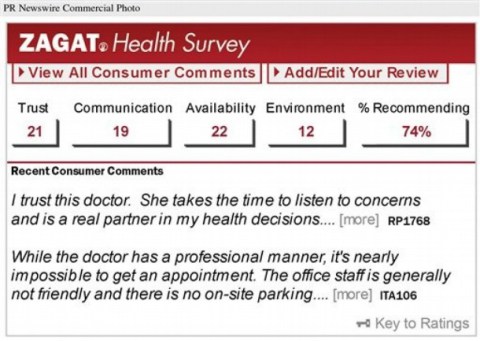 In the new book, Establishing, Managing, and Protecting Your Online Reputation, physician ratings are highlighted.  This is a topic that gives many physicians some pause, and for some, causes tremendous anxiety.
Whether doctors know it or not, they already have online profiles. Third-party rating sites, like Vitals or Healthgrades, already have web pages of most physicians, and they rank high on a Google search.   But what they contain is often out of the control of many doctors.
It's no wonder that doctors worry about how they're portrayed online. More patients are Googling their physicians.  According to a 2011 study from Pew Internet, 44% of Internet users look online for information about doctors or other health professionals.  I've been keeping track of how new patients find me, and about 10 to 15% of these patients say it's because of my online presence: my blog, LinkedIn profile, or activity on Twitter, for instance.
An online reputation is just as important as a reputation in the community.  It's time for doctors to take control of physician ratings.
Consider what the University of Utah Health Care system has done.  Earlier this year, they started posting results of Press Ganey surveys online, accompanying their physician profiles.  Their rating system is similar to popular 5-star scales found on competing sites, with an average physician rating is 4.7 stars out of 5: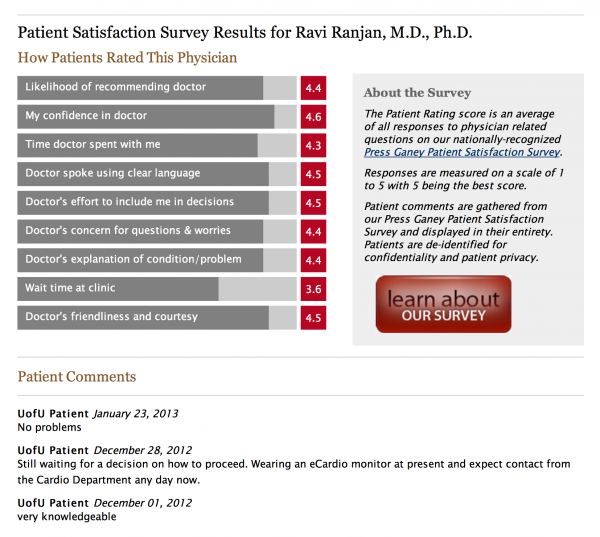 More importantly, ratings show up prominently on a Google search: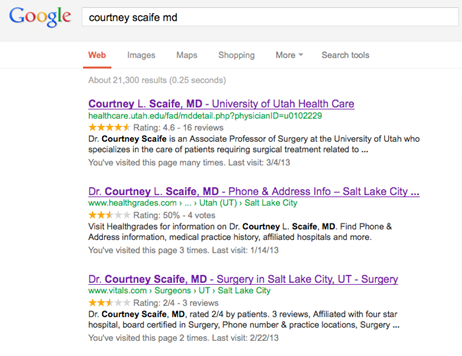 Every medical system in the country should embrace online reviews.  This solves two problems.  First, studies show that many physician rating sites have scant number of reviews for doctors.  Drawing from over 40,000 patient surveys, the University of Utah makes ratings more useful for patients by providing more data for them to consider when choosing a physician.   Second, many physicians fear slanderous or negative comments online.  Studies show that physician ratings are better than most doctors think, and that's evident in the University of Utah system with most physician ratings being closer to a "5" on the 5-star scale.
Healthcare transparency isn't going away.  Rather, it will only grow in importance.  Instead of leaving physician ratings in the hands of third-party companies, who have business interests that may not align with those of doctors', hospitals and physicians themselves need to embrace transparency and stop letting themselves be defined online.
Doctor ratings need to be physician driven.
Kevin Pho is co-author of Establishing, Managing, and Protecting Your Online Reputation: A Social Media Guide for Physicians and Medical Practices. He is founder and editor of KevinMD.com, also on Facebook, Twitter, Google+, and LinkedIn.