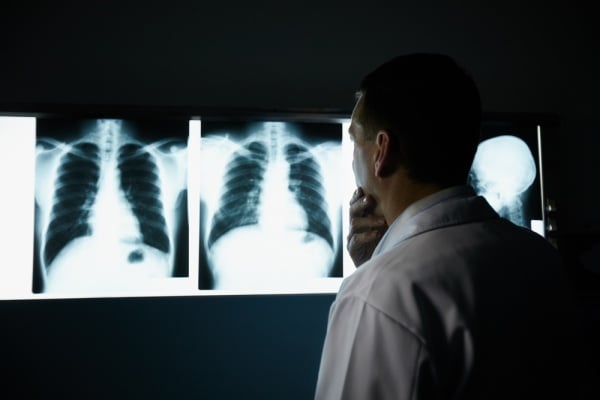 It used to be that radiologists mainly helped out your doctor so that they could figure out what was ailing you. Such is no longer the case.
Nowadays, with the easy access to almost any doctor of any specialty, you can visit your radiologist, obtain a needed study (or procedure, in the case of an interventional radiologist), and never even see your primary physician.
Of course, the main problem with increased access to specialists, is that patients become more acutely aware of the many nuances of health care terminology.
Which brings me to the point of this post.
We radiologists are here for you patients. You are not alone. You needn't try to decipher our medical jargon using only Google and your high school thesaurus.
If you or a loved one is in need of a radiology imaging study or procedure, don't be afraid to ask questions. You will undoubtedly be anxious, nervous, or worried. These are perfectly understandable emotions. After all, "The oldest and strongest emotion of mankind is fear, and the oldest and strongest kind of fear is fear of the unknown." (H.P. Lovecraft)
A friend asked me recently if I could reassure him about a test his wife had recently undergone. Unfortunately, I had not seen the study and indicated to him that I could not even hazard a guess without more information. He was clearly nervous and hesitated to ask anything else. He did, however, state that a follow-up appointment was scheduled almost two weeks from the original visit. I went home, contacted the director and asked that her appointment be moved up, if it wouldn't inconvenience other people.
I found the report and images from my friend's wife's study. As was originally reported, the findings were indeterminate and she will need another study, an ultrasound, for further evaluation. However, a picture is worth a thousand words, right? I noted that the "spots" that were identified had some "reassuring features." I described what I saw to my friend and asked him to try to relax as best he could until the follow-up appointment.
He could barely contain his tears of joyful reassurance as he gave me a quick, and unexpected, hug and rushed inside to chat with his wife.
Now, I didn't do anything profound. I just wanted to help a friend. But it struck me, as seemingly innocuous events sometimes do, that most people go through each day with far less surety than they would like regarding their health care. It is imperative that we help each other to the best of our abilities.
We radiologists train for many years: as many years as general surgeons and more years than primary care and internal medicine physicians.
We work together with your doctors to help you. And we work with you to help you.
So I reiterate, don't be afraid to ask for your radiologist by name. Find out what they are doing for you.
Thanks for letting us help.
Paul Dorio is an interventional radiologist who blogs at his self-titled site, Paul J Dorio, MD.
Image credit: Shutterstock.com