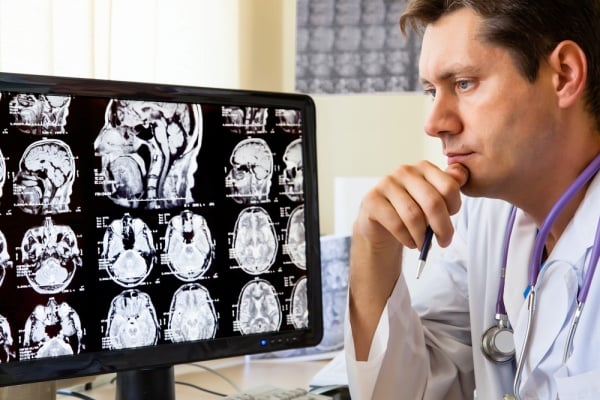 Radiologists care about their patients, even though most diagnostic radiologists don't meet and greet their patients the same way direct-care clinicians do.
Some people have the erroneous perspective that radiologists and pathologists don't care about the welfare of their patients. It is possible for us to understand that view if we look at radiologists and pathologists as isolated workers who work in dimly lit rooms. But that perspective is woefully short-sighted and anachronistic. For this post, ignore the fact that I see patients daily as an interventional radiologist. We are the "surgeons" within the radiology community and I greatly enjoy the hands-on nature of my sub-specialty.
As a radiologist, I am reminded daily that an interpretation of an imaging study such as a CT scan or an ultrasound could send a patient to surgery or change their life forever with an unexpected diagnosis of cancer. My colleagues and I discuss various studies daily in order to learn from "interesting" interpretations. There are learning points to take away from many studies that pass in front of my eyes each day.
Sometimes, though, we view a study and there are findings which are "indeterminate," or are otherwise unable to be neatly categorized into "known" entities. This fact is the nature of the beast, unfortunately. We are all human and humans do not always fit neatly into understandable categories. So why should we expect every imaging finding to be clear and understandable?
Also, cancers start from one cell. So, one should be able to readily understand that, until a cancer becomes a certain size, it may be "too small to further categorize." A surgeon, used to dealing with tangible structures such as a liver, gallbladder or kidney, may not readily accept that a 4 mm vague "splotch" on a chest x-ray is not able to be categorized as more than "indeterminate." In fact, the Fleischner society has published clear and concise recommendations for indeterminate lung nodules.
It is a fundamental truth of life that humans are not categorized into neat little groups. What we try to do, as radiologists and as physicians, is make definitive diagnoses where possible, dismiss benign, irrelevant findings whenever possible, and offer helpful suggestions about the remaining "indeterminate" findings. Understanding that radiologists and pathologists attempt to restore order to that chaos may help you understand what we radiologists wrestle with when findings are indeterminate.
Paul Dorio is an interventional radiologist who blogs at his self-titled site, Paul J Dorio, MD.
Image credit: Shutterstock.com