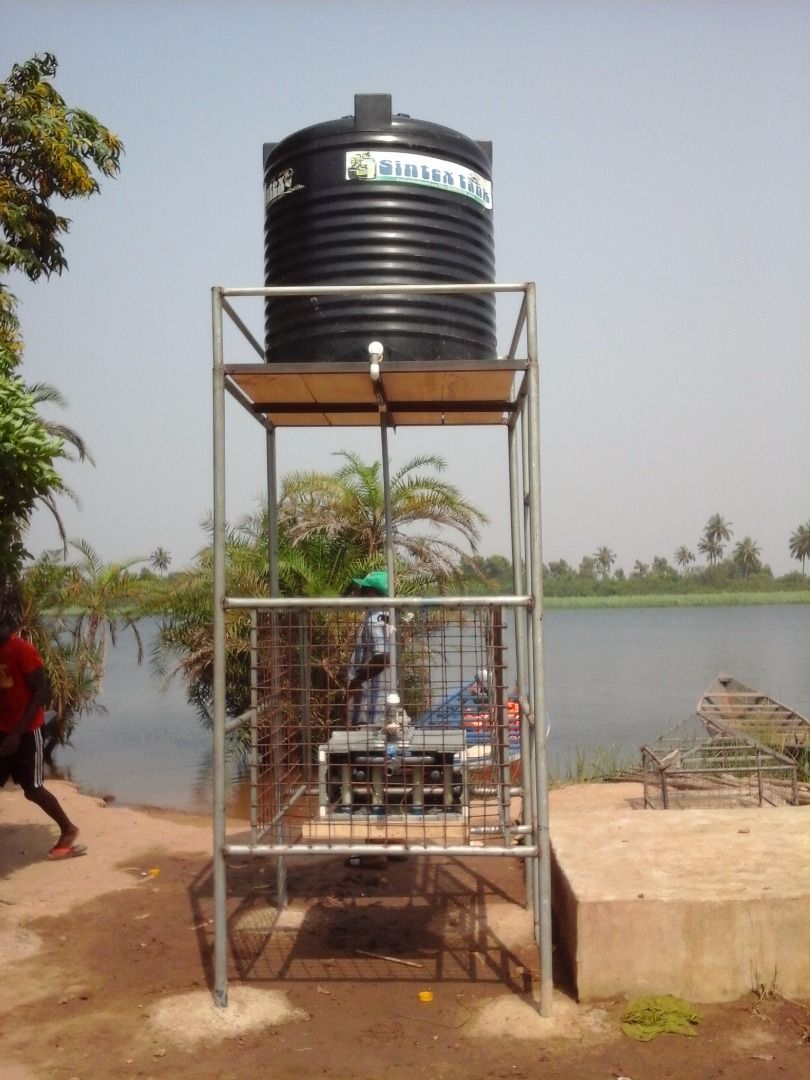 Those of us who live in developed nations generally take for granted that we have ready access to clean water. Yet, the World Health Organization estimates that over two billion people worldwide must drink unsafe water. This problem is often greatest in remote areas of developing countries. Ingestion of water from rivers, wells, and other sources that feces have contaminated induces diarrheal diseases usually caused by bacteria or viruses. Most small rural villages cannot afford to purchase imported clean water, lack electricity, and cannot install systems such as reverse osmosis machines.
Remarkably, it has now been shown that hollow fiber polysulfone hemodialyzers widely utilized in developed countries to remove toxins from the blood of patients with kidney failure (which are routinely discarded after use) can be sterilized and repurposed to purify water. A simple, readily affordable system can provide ongoing relief to an entire village.
In 2014, nephrologist Nathan Levin and his wife Linda Donald observed that an Israeli company was using an industrial device containing hundreds of dialysis filters to clean sewage water. They collaborated with NUFiltration Ltd to devise a much smaller version to purify source water in remote villages. The new apparatus incorporates only eight 10-inch dialyzer filters and does not require electricity. Contaminated water is stored in a large (1,000 to 4,500 liter) tank that is suspended 3 meters above the ground. The tank is filled using a hand- or gasoline-powered pump. Gravity can then propel the water through the filters (which have pores of only 3 nanometers) on demand, yielding filtrate water free of bacteria, viruses, and parasites at the faucet. The system can provide up to 500 liters per hour. It costs only $3,100 to procure and install the system (tank, pump, tubing, and filtration device), and the average maintenance cost is as low as 60 cents a day with long-term use.
Drinking contaminated water in remote villages results in recurrent episodes of diarrhea that cause loss of school or work days and may be complicated by dehydration, malnutrition, acute kidney injury, and even death. Young children are particularly vulnerable. Women are often called upon to walk long distances to retrieve water, losing educational and occupational opportunities. And mothers typically stay home to care for sick children. Dr. Levin and Ms. Donald established the non-profit organization Easy Water for Everyone (EWfE) to provide, install, and repair the novel filtration systems to alleviate such suffering and sacrifice, at no cost to the villagers. (I formerly served on the Board of Directors of EWfE.)  The system has been proven to reduce diarrheal episodes by 73 percent, as published in the peer-reviewed journal Scientific Reports Nature Research. To date, the units have been implemented in 32 remote villages in Ghana, Senegal, and Uganda, serving more than 18,000 people in aggregate. The approach has proven quite sustainable; the first village has now employed its system for seven years. Occasionally the hemodialyzers need to be replaced. But trained villagers are vigilant in their regular flushing of the system, and the original set of filters may last for years. No village has switched to an alternative source of clean water.
Dialyzer filtration requires no disinfectants. Hence, there is no issue with the unpalatability of the drinking water, as may occur with the practice of water halogenation with agents like chlorine. It is unnecessary to monitor disinfectant levels.
The remote villages served by EWfE lack plumbing and toilets. Over 90 percent of the households practice open defecation. Digging deep wells to provide water is often prohibitively expensive, and even these sources are vulnerable to contamination, particularly during flood seasons. EWfE is in the process of initiating handwashing stations in the villages that it serves, and it is expected that improved sanitation and hygiene practices will further reduce the incidence of diarrhea.
The challenge of attaining clean water persists for vast numbers of people living in rural areas without electricity. Remarkably, the simple hollow-fiber hemodialyzer ("artificial kidney") typically discarded after use can be repurposed to provide a highly effective, low-cost remedy to this problem. It is hoped that with greater financial support to enable the wide application of the system, many more lives can be improved by this innovation.
David A. Goodkin is a nephrologist.