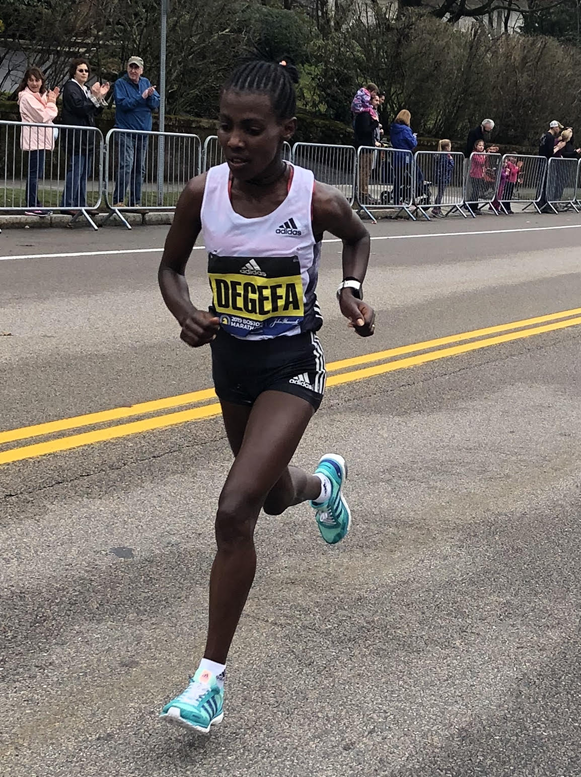 We physicians often feel as though we are running up Heartbreak Hill. For many of us, the spring in our step just ain't what it used to be.
Pictured above is Ethiopian runner Worknesh Negefa, the fourth-fastest female marathoner in history and the winner of the 2019 Boston Marathon.  We all understand why Boston 2020 was canceled and Boston 2021 is delayed until the fall.  What do marathons have to do with doctoring?
The pandemic has reinforced the notion that the practice of medicine is an extreme sport.  Despite the wiles of our current viral adversary and the bungling of many governments and bureaucracies, my opinion is that physicians, other health professionals, and those who employ and lead us, have stepped up selflessly.  But at what cost?  How are the stress, trauma, and losses of 2020 and 2021 going to play out for what remains of our careers?
In my former role as the director of a physician health program, I have spoken to hundreds of physicians, individually and in groups, on the topic of "Mastering the Medical Marathon."  I've explained that most medical careers are a 30 to 50-year marathon of sorts.  Like the Boston Marathon, many of the grueling uphill challenges occur in the latter half of our careers: new information and techniques to master; older and sicker patients (more and more of them); those pesky younger patients armed with lengthy internet printouts; and, then there are the double-edged swords of business and technology, at times threatening to degrade and diminish the integrity of the doctor-patient relationship.  The list goes on and on.  And as we age in this demanding profession, our own personal family stresses and health challenges inevitably loom large.
Although the COVID-19 pandemic has aggravated all of the above, it has also helped many of us reconnect to the sacredness of our calling.  I look forward to showcasing a variety of measures to help health professionals and leaders refine our technique to better master the medical marathon.
We all want to finish strong, like Worknesh Degefa.  What's good for us is also good for our patients, not to mention our loved ones.
Steve Adelman is a psychiatrist and can be reached at his self-titled site, AdelMED.
Image credit: Steve Adelman