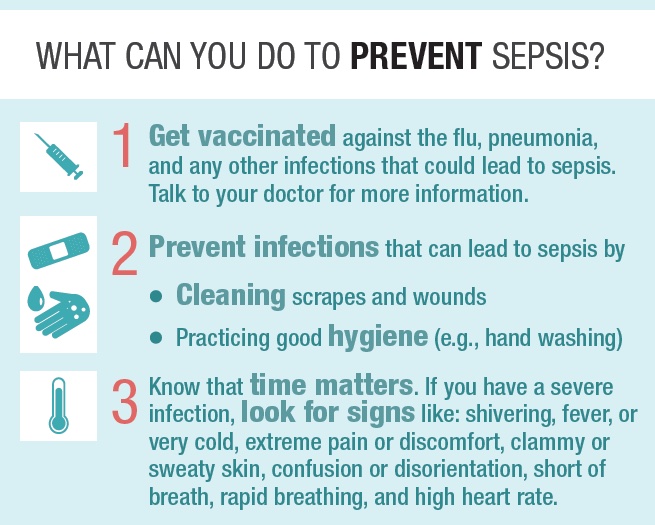 September is Sepsis Awareness Month, a month which aims to raise awareness of sepsis and strategies for prevention and treatment. Sepsis is a potentially life-threatening complication of an infection. Sepsis occurs when the body's response to infection becomes dysregulated and white blood cells and chemicals cause injury to organs throughout the body.
Earlier this year, the Society of Critical Care Medicine and the European Society of Intensive Care Medicine released a proposed new definition of sepsis and new diagnostic criteria for identifying sepsis. The new criteria rely on a change in Sequential Organ Failure Assessment (SOFA) with a score ≥ 2, or a modified "quick SOFA" for simpler use, while no longer focusing on the concept of the Systemic Inflammatory Response Syndrome (SIRS).
I argue this is a change we should not make. The criteria for initial detection of sepsis should not change, as recognition of SIRS allows for earlier detection and intervention, saving many more lives.
In the journal CHEST, I expressed opposition to adopting this new definition of sepsis and how it could cost patients lives, and I noted the concern from physicians of multiple specialties. Sepsis, which is associated with a high mortality rate, has variable clinical presentations and has few unifying pathophysiological features. Since the time of the original sepsis definitions conference in 1991, it is clear that the initial definitions of sepsis, severe sepsis, and septic shock, though imprecise, provide a useful framework for clinical intervention that, when used systematically, save lives.
The new criteria are based on sophisticated and well-executed retrospective analyses of very large patient databases. The authors sought to optimize the diagnosis of sepsis by determining which clinical signs were most predictive of mortality or an ICU stay of 3 or more days in spite of receiving treatment. On its face, this sounds like a good definition because we are obviously identifying really sick patients.  However, death and prolonged ICU stay are exactly the consequences that we hope to avoid by detecting sepsis earlier, when it is most treatable. If we adopt diagnostic criteria that are fine-tuned to predict the worst consequences of sepsis, then we will, in essence, be waiting until sepsis is more difficult to successfully treat, as the authors' data show to be the case.
For over a decade, the current diagnostic criteria were mostly known and used by intensive care specialists. Only with the advent of the Surviving Sepsis Campaign were serious attempts made to train non-intensivists to recognize and aggressively treat severe sepsis. The campaign's data show that regular use of the current diagnostic criteria, combined with evidence-based treatment, saves lives. I, and other like-minded sepsis experts, believe that the ubiquity and the lethal nature of sepsis demand that we approach any change in its clinical definition and diagnostic criteria with prospective studies that demonstrate improved outcomes for patients before attempting a wholesale change in our approach. Likewise, we believe that any modifications to our current diagnostic scheme should be aimed at earlier identification, not at improved specificity. There is no perfect diagnostic scheme for severe sepsis, and we will sometimes overdiagnose and sometimes underdiagnose. We must ask ourselves whether our patients should ever suffer the consequences of our failure to diagnose, when the consequences of diagnosing sepsis if the condition turns out not to be are so relatively benign.
Sepsis is complicated, and we're all working to save lives and improve care. While my opinion hasn't changed when it comes to the new criteria, I think Sepsis Awareness Month is a good opportunity to continue the conversation about the criteria change, raise awareness, and encourage our collective health-care community to continue to learn, understand, and rapidly identify cases of sepsis.
A few resources you might consider:
The CDC provides a great graphic on prevention of sepsis. I encourage you to share it on social media and within your own networks on how you can prevent sepsis. Join in the conversation on social with the #SepsisAwarenessMonth hashtag.
Are you up to date on research from the journal and other sources? During the month of September, the journal CHEST has made several important sepsis research articles free to view.
Sepsis Alliance is an organization whose purpose is to teach every American that sepsis is a medical emergency that needs aggressive treatment and to recognize its early symptoms. September is a great month to support that cause with $5 or $20 that you might otherwise spend on coffee.
Steven Q. Simpson is a pulmonologist.  He can be reached on Twitter @sqsimp.
Image credit: CDC