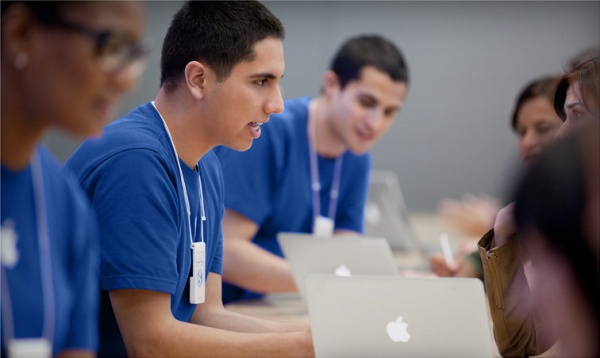 Have you ever been to a Genius Bar at an Apple store?
The last time I was there — checking out a pesky problem on my iPhone — I couldn't help but wonder: why can't we have something like that to deal with our common health issues?
Genius Bars are located in Apple Stores in  easy-to-access shopping areas, like malls. The Genius Bars are designed to allow for a quick discussion of symptoms, education and on-the-spot problem resolution. They're attractive, airy and fun, with new gadgets to try and people who can answer your questions.
Imagine if something like a Genius Bar were designed to treat everyday health issues we all face. What if the Genius Health Bar storefront was geared to let you stop in when you had a non-urgent question to wanted to get checked out?
For example, "Is this infected?"  "Is this strep throat?" "Does my child have an ear infection?" "Is my urinary tract infection gone or should I continue my antibiotics?" "Is this pink eye?" "Did I sprain my ankle?" "My knee hurts; should I wear a brace when I walk?" "Do I need to see a dermatologist for this?" "Could my dizziness be from my blood pressure medication?" "What should I do if I've accidentally skipped two pills?"
It's not hard to think  what it would take to create something like that for health care.
Here's what Apple says about their Genius Bars:
Geniuses have extensive knowledge … and they work with you face-to-face to provide technical support and troubleshoot any problems. Some repairs can even be completed right on the spot. Want to meet with a Genius? Make a reservation ahead of time to guarantee your spot. A limited number of walk-in appointments are also available …

… When you get to the Apple Store, ask a team member to check you in to the Genius Bar, or check in using the Apple Store app on your iPhone. During your session, your Genius will gather information about your system and answer your questions. If your product requires repair, the Genius will discuss repair options, explain any applicable charges, and prepare your equipment for repair. Most sessions last about 15 minutes, but some may take longer, depending on the issue.
I know, you're going to say that humans are far more complex than Apple products. That's true,  but you've got to admit there are a lot of common ailments that could be treated in a completely different way than we do now.
Nurse practitioners, physician assistants and physicians could be the "geniuses" available to see people on the spot, ask a few questions, and, if necessary, take them back to the examining room for more privacy. Many lab tests could be taken and analyzed instantly, so the genius and the person would discuss them together, virtually right away.  You'd leave with a printout describing the lab data or other findings and what you needed to do next. If you like, you could have that summary also emailed to your physician.
New tools to help people deal with diabetes, asthma, weight reduction, fitness monitoring and much more could be out in the front area of the facility for people to test out. Patients could even take and record their own blood pressure, temperature and related data before even approaching the Genius Bar, just using gadgets out on display.
Health education classes could be held in one corner of the storefront. There could be an area to test out new health apps designed to help monitor a wide range of chronic conditions from home.
The licensed health geniuses would provide basic primary care services and refer patients to specialists when they needed something more. The Genius Health Bars would be open weekends, and until 10 p.m., and they would be able to bill insurance and take Medicaid.
The model for emergency rooms has hardly changed since the first one was created in 1911 in Louisville, Kentucky. Not much creativity has been applied to the basic model. The newest modification has been the advent of "appointments," which, honestly, hardly fits the concept of an emergency.
Emergency departments have always typically been on the ground floor of a hospital, and they were designed to treat seriously ill and injured people. Over the years, however, most emergency rooms started seeing a high proportion of the not-quite-so-sick, including people with colds and flu, coughs, all sorts of minor infections, sprains and strains, and common stomach troubles.
While urgent care centers have sprung up to attract those who want quick attention but don't think they have anything too serious, the emergency room continues to serve a very, very wide range of ailments, especially after hours and on the weekends. Most urgent care centers are dreary and often still involve long waits.
If we want to increase access to health care, we need to make the process less frightening, more integrated into our everyday life, and truly more accessible. We also need to make learning about our health and how to monitor it less difficult.
The vast majority of pesky health issues could be dealt with through a healthcare version of Apple's Genius Bars. We'd still have our primary care doctors for total health assessments and regular chronic care management. But for the everyday issues that crop up after hours and between appointments, it's time to move health care into the new century of quick and accurate assessment and speedy data gathering.
If our iPhones and iPads can get this level of care, we can, too.
Barbara Bronson Gray is a nurse who blogs at BodBoss.