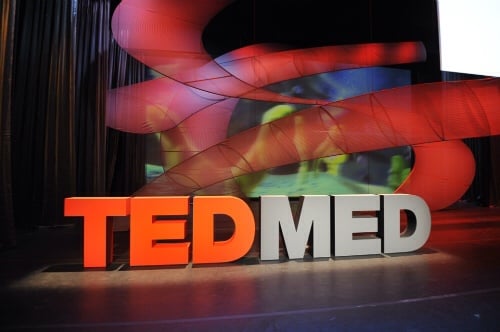 A few weeks ago I had the distinct privilege to attend TEDMED as a Front Line Scholar.  TEDMED isn't your usual medical conference; artists share the stage with scientists and your notions of what healthcare could be are shifted.
While the talks I attended were often inspiring and eye-opening, the interaction with fellow attendees was by far the most enriching aspect of the meeting.  I had discussions with the heads of major academic medical centers one night, and Richard Simmons the next night.  Everyone was excited to talk about healthcare, its challenges, and what we could do to solve them.  The diversity of people and ideas was incredible.
As I flew home from the meeting, I felt a let down because it felt like the conversation had ended.  A conversation about our healthcare challenges and solutions shouldn't end.  Even more importantly, this conversation shouldn't be limited to the few thousand people lucky enough to attend TEDMED.
So as I sat on that plane flying home, I thought about what ingredients would be necessary to continue the discussion in a broader way.  After all, everyone in America is united by the experience of being a patient, and we should all be a part of the discussion.  Everyone has something to contribute, and you never know where the next great idea might come from.  Here is what I came up with:
 Everyone must be at the table.  Everyone has an important point of view, and solutions that fail to take into account the diversity of views will fail.
Everyone at the table must be equal.  Healthcare matters to everyone, and your title should not determine whether you have a voice in the debate.
Specific healthcare challenges must be well-defined and solutions focused.  The idea that we will fix the system with a single sweeping change is naïve.  We have to fix the pieces that make up the system, one at a time.
The discussion about healthcare has to be free of sponsorship or special interests.  We have to discuss the problems and solutions as people.  Any ideas that the community develops must be freely available to all.
We must be willing to take action in support of the solutions developed.
I believe a conversation about healthcare following these simple rules has the best chance of success.  The power of the Internet and social media will be the enabling technology that will catalyze this conversation.  By coming together as patients and sharing our unique experiences and expertise, innovation is assured.  A patient revolution, with cohesive support of broadly-based ideas developed by a diverse set of healthcare innovators, can have real power in fixing our broken system.
Chris Gibson is a medical student and co-founder, Participate Health.