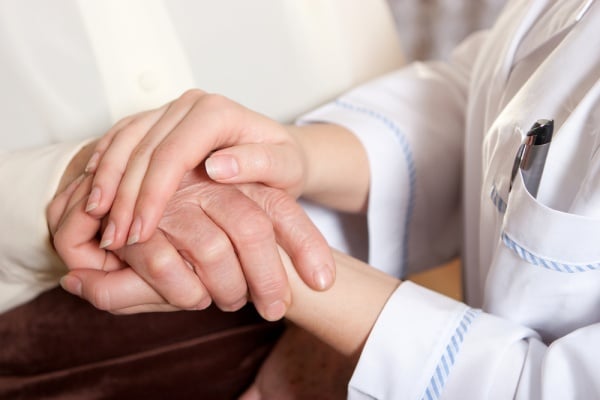 My elderly and infirm parents live 15 minutes south of my home in an assisted living facility.  They moved there after it became apparent that they could not manage their affairs in their own home, have some degree of independence and socialization with friends and receive the care and supervision they needed to stay out of the hospital.  Their cognitive impairment and dementia made it necessary for me to be in contact with their personal physician and to be able to reach him if he is needed.
It would be far more difficult if I did not live close by.  What would I look for in a physician for my elderly parents if they did not live close by? I would want the physician to have some experience in geriatric medicine. That would include being fellowship trained in geriatric medicine or having some training and certification from the American Geriatrics Society.  A board certified internist or family practitioner with experience in caring for the elderly could do fine as well. The doctor would need to be available by phone for questions and available to see my parents on the same day that they develop a medical problem needing the doctor's attention.  That physician should have hospital privileges at a local facility where my parents might be taken to by ambulance in an emergency so that he could follow them into an acute care hospital if necessary.
I also would prefer a doctor that had a professional relationship with a rehabilitation or skilled nursing facility so that they could be treated as they recover from an acute hospital stay in a rehab setting.  I love physicians who make house calls if the situation calls for it. While much more can be accomplished during most office visits than a home visit, sometimes the illness dictates the location where the care is provided.
The doctor should be a compassionate individual who is a great listener and who relishes the responsibility of being an advocate and champion for his patients.  It's commonplace for the elderly to languish waiting for evaluation in the emergency department or to be put off when trying to make an appointment for a test or specialty visit.  Patients need a doctor with a staff who will help them through this process.
To find such a doctor I suggest you start by asking at the local hospital medical staff office. They know who does what and who is accepting new patients. Word of mouth is the best advertising so a testimonial from a friend familiar with the doctor and the practice is priceless.
While Internet rating services provide some information they are less valuable than a personal reference. Local and county medical societies are another great starting place in the search for a physician.  If you are looking for a direct pay or concierge type practice, I suggest you perform a thorough Internet search and interview any physician you are considering.
Steven Reznick is an internal medicine physician and can be reached at Boca Raton Concierge Doctor.
Image credit: Shutterstock.com