One of the reasons there is such a movement against vaccines is the democratization of information, perpetuated by search engines like Google.
Do a search for "autism" and "vaccines," for instance, and you'll be greeted with a wealth of information linking the two, despite the fact that any connection has been scientifically disproven.
A fascinating piece in Slate asks whether search engines themselves have a responsibility to screen for scientifically credible information.
It's a tricky situation, one that only got to this point because of the ineptness of the scientific establishment to better utilize the online medium as a way to strengthen scientifically-sound claims. In its absence, celebrities like Jenny McCarthy, and outlets like the Huffington Post, have shrewdly used the web to popularize evidence-bereft alternative medicine, or to perpetuate the autism-vaccine myth. And they're tremendously influential, as the Internet gives them an audience of millions.
As the Slate piece says, it's unlikely that those who believe that vaccines cause autism will ever be swayed, no matter how strong the science is against them. The best strategy is to prevent more people to be convinced by their views.
No one is asking Google to censor anti-vaccination views. But, look at what they do for searches like, "how do I kill myself." Up top, you'll see a number for the National Suicide Prevention Hotline: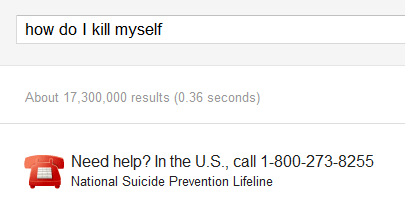 It would not be unreasonable to have similar warnings for those who do a search for "do vaccines cause autism," for instance, guiding readers to more scientifically sound claims.
However, with the introduction of social search in Google, it appears the trend is going the other way. Search results will soon be  populated by entries from within a user's social circle, potentially strengthening the echo chamber. Without hearing about contrasting views, more will potentially be poisoned by those who spread false health information.
But we only have ourselves to blame for this. If doctors and public health officials had established a strong web presence to counter the claims from vaccine denialists from the beginning, we wouldn't be relying on Google to clean up this mess.
Kevin Pho is an internal medicine physician and on the Board of Contributors at USA Today.  He is founder and editor of KevinMD.com, also on Facebook, Twitter, Google+, and LinkedIn.