Wednesday, December 1st was World AIDS Day — a day to raise awareness for the ongoing AIDS pandemic around the world and to remember the past. As a trainee intern I spent 3 months in Zambia, a time that really opened my eyes up to what AIDS was doing to the world.  Much has changed since then, antivirals have arrived in Zambia for instance, yet the disaster continues: 1 in 8 Zambians are HIV positive and the burden of AIDS has now persisted for 3 decades.
This is what I wrote about my experience and views on the AIDS crisis in Zambia back in 2002.
The AIDS crisis and Zambia
Before my time in Zambia, I knew that the AIDS crisis was a serious global problem. However, until my arrival at St. Francis Hospital (SFH) in Katete, I never fully realised what that meant. When personally confronted by it, the horror of AIDS defies expression.
In Zambia 1 in 5 adults are HIV positive. The life expectancy of a baby born in Zambia today is now thought to average as low as 37 years. Of 15 year olds in Zambia, 60% will die of AIDS.  When seeing Zambian children I often find myself wondering which of them number among the country's plague of orphans. It is hard to imagine that children can have AIDS, that they can have a life of sickness ahead of them – a Hobbesian life: "nasty, brutish, and short".
The italicised paragraphs below are excerpted from a letter published in the British Medical Journal. This letter was written by Dr A. W. Logie, who contracted HIV while working at SFH and later died of AIDS. The paragraphs describe the impact and some of the causes of the AIDS epidemic in Zambia and in Africa as a whole:
… AIDS in Africa is not merely a medical problem: it is having major socioeconomic effects. Industrial output is falling as a result of the premature death of many skilled workers. The traditional extended family care system has broken down. In Zambia, there are almost half a million AIDS orphans, of a total population of 10 million, and many of these are on the streets, easy prey to exploitation, especially sexual abuse.

More teachers are dying every day than are being replaced. Education is suffering, and many children, especially girls, are being withdrawn from school because of unaffordable fees. Poverty or abandonment or both is forcing many women to sell sex in return for food for their families. Lack of respect for female sexual rights, dry sex, poor facilities for the affordable treatment of sexually transmitted disease, unpopularity of the male condom, unavailability of male and female condoms, insufficient research, and development of safe, effective, and acceptable vaginal virucides and vaccines: these and many other factors are contributing to the inexorable progression of the pandemic throughout the Third World.
The stigma of HIV
It is hard to know how many patients on the wards at SFH are infected with HIV. On St. Augustine I would estimate three out of every four or five patients.  Before working at SFH I think I must have naively imagined that everyone passing through the hospital doors would have a sticker placed on them stating their status. In my experience, very few people will agree to have an HIV test performed, even after special counselling. A study found that "only 7% of couples invited for counselling and testing in Lusaka decided to have a test." One of the reasons must be that there is very little to gain from having the test done. In Lusaka the most common reason cited for declining a test was that "no medical intervention was available" – it seems that as long as a person's status is uncertain there is still hope. Of those infected with HIV in sub-Saharan Africa, 90% are thought to be unaware of their infection.
All that can be gained by an HIV test is stigmatisation. At SFH, if a patient is to be counselled about having an HIV test the identity of their bed-side attendants is always checked first. If the patient is a man and HIV is mentioned while his mother is present, the man's wife may be held to blame. It seems that the mention of HIV has the capacity to wreck someone's life, just as the virus itself can cripple a whole nation.
Abuse of authority
Stories of the abuse of authority abound in Africa. A commonly cited form of abuse is a male authority figure extracting sexual favours from females. Male secondary school teachers are often a threat to female students for this reason. A graphic example of this is the suspicion that a male teacher is responsible for HIV prevalence rates of 30% at a school in one of Katete's neighbouring districts. The average prevalence rate in secondary schools is thought to be less than 5%. Africa seems to be overflowing with horror stories like this.
Infertility and polygamy
Another aspect of sexually transmitted disease I had never fully appreciated before is the importance of infertility associated with pelvic inflammatory disease. At an infertility clinic I was stunned to see the vast numbers of women unable to get pregnant. The consequences of this are extreme. It seems that infertile women are considered next to useless, and their husbands often resort to polygamy. Ironically, almost all the semen analysis results that I saw at the infertility clinic seemed to contain pus cells, suggestive of infection. Thus, it is often the husband's sexual indiscretions that have actually led to the infection of his wife and her subsequent infertility.
AIDS education
I was overwhelmed by the prevalence of sexually transmitted infections when I started working at SFH. However, measures to fight the pandemic are in operation. SFH has an AIDS outreach programme that sends a group of trained health worker-come-actors on  tours of the local villages. They perform plays and encourage discussion to educate people about AIDS. Billboards carrying anti-AIDS information line Zambia's streets, and men roam Lusaka dishing out handouts on "genital leakage". However, there appears to have been little real impact in terms of changing sexual behaviors despite apparently widespread public awareness and health education. For instance, I found that many male patients seem to agree that the use of condoms is a good idea. However, their view is usually that it's a good idea for someone else – in other words, "the someone else who is HIV positive… not me."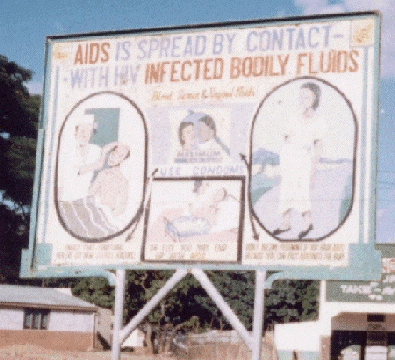 Denial and hope
AIDS in Zambia has been called "the silent killer – because people are too afraid to admit they have the disease" . On the wards the letters "H-I-V" are spoken only in hushed tones, if at all. Generally, euphemisms like "immune suppression" or "the virus" are used. It took me a while before I clicked onto to what "?RVD"  written at the bottom of an admission note meant – "possible retroviral disease". I've considered trying to establish my own euphemism in readiness for when the others take on unwanted connotations. Perhaps "an RNA-based life-form associated illness" would do, it could have a nice acronym like "ARNALAI."
Seriously though, such denial can only be damaging. In 1999 the Zambian government initially denied the UN estimates of 20% adult HIV prevalence rates. Furthermore, as stated by Dr A W Logie, "The Zambian government has largely abandoned responsibility for HIV/AIDS and tuberculosis to the non-governmental organisations. Now local supervision programmes for tuberculosis treatment do exist, but they are mainly organised by non-governmental organisations.". Also damaging in recent times has been the opposition of the Catholic church in Zambia to the use of condoms. Health workers need to face up as well, it has been reported that "HIV is rarely entered in African death certificates, yet treatment decisions are made on the assumption that a patient is infected."
Progress in the fight against AIDS will only be made when those on the battlefield face up to the disease. This can only happen when the stigma is taken away and local leaders rather than "meddling mzungus" lead the way. Benefits such as access to medical care and tuberculosis prophylactics need to be offered to HIV positive people to promote testing. The denial and stigma of HIV must be eroded away. I think there is some hope – not much, I admit, but perhaps enough.
Chris Nickson is a physician who blogs at Life in the Fast Lane.
Submit a guest post and be heard on social media's leading physician voice.