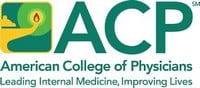 A guest column by the American College of Physicians, exclusive to KevinMD.com.
How many of you have heard a flight attendant or pilot announce, "We know you have a choice of airlines when you fly, and we want to thank you for flying with us"? Over the years, many other industries have adopted similar statements.  Continuing medical education (CME) should be one of them. There are more options than ever for physicians to stay up to date, including many online offerings that can be accessed at any time of day from any location.
Years ago, I predicted that the increasing use of technology to deliver CME would put "live" conferences out of business. So far, I've been proven wrong — professional medical societies, hospitals, medical schools, large group practices, and continuing education companies continue to produce CME programs, many of them low cost and local. But what about the traditional multi-day conference away from home? With so many choices in one's own backyard, why take time away from the office and family to travel to an out of town conference when you can get your continuing education in the comfort of your own home (or in your own neighborhood)?
Despite the proliferation of options, I continue to go to the American College of Physicians' Internal Medicine Meeting every year. I attended my first one in 1989 and have missed only a couple since then. The scientific content is second to none: updates in all areas of internal medicine, presentations on common problems that practicing internists encounter, discussions of clinical controversies, interactive sessions, and hands-on clinical skills courses are just some of the features.
But there is more to the Internal Medicine Meeting than the sessions. You could argue that you can get clinical updates and reviews at your home institution, so why travel to a meeting? A couple of reasons come to mind. Getting away is one of them. The fact that national scientific meetings are held in nice locations isn't an accident. Even if you attend the sessions, there is time to enjoy the local climate, culture, and cuisine. As a practicing internist, I know that it isn't always possible to disconnect completely while at a conference, but there is something special about being away from the day-to-day grind, even if I have to spend an hour at the end of the day on my EHR catching up.
Another attraction is the opportunity to reunite with colleagues from all stages of your career. At the ACP Internal Medicine Meetings, I often run into medical school classmates, colleagues from my residency days, former students, or acquaintances from previous years' meetings. Again, you might say that "online communities" let you do much of the same, but I would point out that chatting in person over a coffee in the exhibit hall or getting together for a meal is not the same as interacting online, which more often than not feels more like a shouting match than a conversation.
This year's ACP Internal Medicine Meeting will take place from April 30-May 2 in Boston. It will be a special meeting because the College will be celebrating its 100th anniversary. In addition to over 200 scientific sessions where you can earn CME credit (and up to 30 Maintenance of Certification points), there will be special events in honor of the Centennial. These include sessions such as "Defining Internal Medicine: The History of the ACP" and "History of Politics in American Medicine," which looks at ACP's role in health policy over the years. There will also be a Centennial Timeline Exhibit and previews of a book that will be published this year in honor of the Centennial titled "To Serve our Patients and Profession: A Centennial History of the American College of Physicians (1915-2015)."
I always find the Internal Medicine Meeting to be revitalizing and worth the extra work and expense from being out of the office. I come home feeling more enthusiastic about being a physician. It doesn't make the challenges of practicing in today's health care environment go away, but at the meeting I often learn new ways to deal with those challenges. The academic stimulation and camaraderie that I experience at the ACP meeting increases my professional satisfaction and reminds me why I chose internal medicine.
I look forward to seeing many of you in Boston this April.
Yul Ejnes is an internal medicine physician and a past chair, board of regents, American College of Physicians. His statements do not necessarily reflect official policies of ACP.