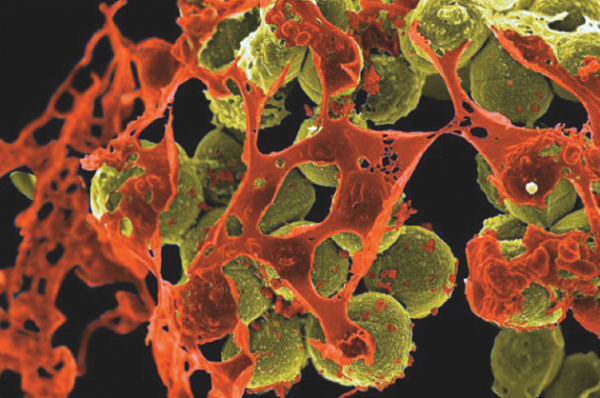 A new CDC report is bringing a lot of attention to the emergence of drug-resistant bacteria in hospitals and long-term care centers across the country. Carbapenem-resistant Enterobacteriaceae, or CRE, strike critically-ill patients in nursing homes and intensive care units where infections can be fatal in up to 50 percent of cases, according to the report.
Without being able to count on carbapenems, the "last resort" class of antibiotic that used to work against other antibiotic resistant Enterobacteriaceae, health care providers are forced to resort to old – and sometimes archaic — treatments. One such option is a course of treatment with colistin, an antibiotic that is 40 years old, extremely toxic, and which was essentially decommissioned due to the harm it can cause patients.  In the most serious cases, the only option may be to perform surgery to cut out an infection.
Hospitals are among the biggest culprits when it comes to antibiotic overuse, a serious problem because the more antibiotics are used, the more these bacteria evolve to resist them.  And research shows that a half of the antibiotics prescribed while patients are hospitalized aren't even needed.
A recent analysis by Extending the Cure shows that the problem started out on the East Coast, but carbapenem resistance is now increasing across all over the US.  Though the numbers of infections are still relatively small right now, the seriousness of infections and lack of proper treatment options demand that the problem be addressed swiftly.
Hospitals are scrambling to slow the spread of CRE through their wards.  At the University of Maryland Medical Center and Baltimore VA Medical Center, we've started to see a handful of CRE cases.  We do everything a hospital is supposed to do to prevent the spread of infection, including washing our hands after every patient we see and avoiding the unnecessary use of medical devices, like catheters, which can expose patients to infection.  In the ICU, we bathe patients in antiseptic chlorhexidine every day. We're poised for an extreme outbreak response, ready to close the unit to new patients and put up plastic walls to separate patients infected with CRE from those who aren't.
But containing outbreaks within hospitals isn't enough. Because CRE strikes the sickest patients, many must be transferred to other hospitals and health care facilities during the course of their illness.  The dangerous bacteria can be spread from one facility to another every time a patient with CRE is moved.
We routinely screen patients who come in from other health care facilities and keep a record of anyone found to test positive with CRE. When sending patients to other hospitals, we include that information as part of the transfer.  But when transferring patients, the records often exist solely on paper—we don't have electronic systems for sharing information between most hospitals—and information about CRE can get lost in the shuffle. And your neighboring health care facility may not be familiar with CRE bacteria, or even know that what they are seeing is CRE.
We need to make sure health care workers in all settings are on the lookout for CRE. We also need to put systems in place to better coordinate between hospitals and nursing homes.  Finally, we need to be good stewards of our current supply of antibiotics to prevent more deadly superbugs from emerging.
CRE is reaching a tipping point.  If we act quickly, we can stop it from becoming commonplace in hospitals.  But we must better coordinate our efforts – and use antibiotics wisely — to keep our patients safe.
Daniel J. Morgan is an infectious disease physician at the University of Maryland Medical Center and a staff physician at the Baltimore VA Medical Center. He is also a researcher on the Extending the Cure project at the Center for Disease Dynamics, Economics & Policy, funded by the Robert Wood Johnson Foundation.