I don't know what your destiny will be, but one thing I do know: the only ones among you who will be really happy are those who have sought and found how to serve.
– Albert Schweitzer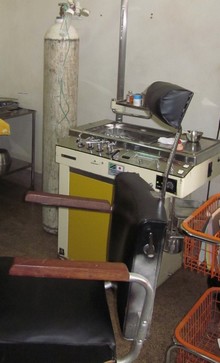 The middle-aged Tanzanian woman lived many hours away and had traveled to the academic medical center in Moshi. She had now waited all day to see the doctor. He would tell her why the neck mass was growing and if there was any treatment.
My host is a teacher at the Kilimanjaro Christian Medical Centre and the only fully trained otolaryngologist in Northern Tanzania. He is one of only six ENT physicians practicing in a country of 40 million people. He described her predicament. "She has had a growing neck mass for about one year," he told me. "Look here! There is also a mass in her tongue. That is the source of the neck mass, don't you agree?"
I peered over his shoulder as he focused the dim light from his head mirror in the back of her throat. They had taken a piece of the neck mass out at some point and I pointed out the scar in her neck. "Oh, the report from the biopsy shows that the mass is a cancer but the description is unclear. We don't have a pathologist here very often."
I looked at the two-sentence pathology report that described a type of cancer that made little sense. Clearly, though, despite the fact that her diagnosis had been made in a way that was not consistent with our standard of care and the fact that I doubted the diagnosis on the pathology report, she had an advanced Stage IV cancer of the throat. Today, she would learn her diagnosis for the first time.
The Tanzanian doctor finished up his brief examination and then spent five minutes discussing her diagnosis and options in Kiswahili. I am quite certain that he shared that her cancer was best treated with radiation therapy.
I watched as they talked. Back home, she would be seen immediately by a medical oncologist and radiation oncologist and be scheduled for treatment. In Tanzania, though, the only radiation therapy was located in Dar es Salaam, 350 difficult miles away. Chemotherapy is rarely available. In addition to the difficulty getting to treatment, most Tanzanians must pay at least 50 percent of the cost of any medical care. As a result, most people put off seeing a doctor for as long as possible and most cancers present very advanced.
The discussion between the Tanzanian doctor and the patient was remarkably brief and I surmised that the doctor told her that she had cancer and that the only option for treatment would be both far away and expensive. She smiled weakly and spent a few moments shaking our hands ("Asante sana, Doctor"), and then left. The doctor jotted a few notes in her chart.
"What did she say?" I asked. "What will happen next?"
"Oh, she is lucky," the doctor responded. "She has family near Dar es Salaam so she will have a place to stay during treatment. In addition, her family has some cows. They will sell two cows and she should be able to pay for some treatment. Still, without the cows, they might have trouble in the future."
I had a hundred questions, but did not know where to start. No matter. We were late and it was time to visit the inpatient ward where we would soon find many more patients with very difficult problems, grinding poverty, and no easy solutions.
Bruce Campbell is an otolaryngologist who blogs at Reflections in a Head Mirror.
Submit a guest post and be heard on social media's leading physician voice.