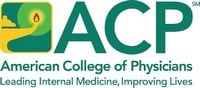 A guest column by the American College of Physicians, exclusive to KevinMD.com.
It has all of the features of a talk radio discussion that you might encounter in any US city: Commentators (many of them anonymous) at one extreme or the other of a topic, name-calling, blaming, and empty rhetoric overshadowing the real issues. I am referring to the recent hullabaloo over several recently published essays on physician career dissatisfaction.
If you missed them, you may want to read the following before going any farther: How Being a Doctor Became the Most Miserable Profession, by Dr. Daniela Drake, which started the recent uproar, A Doctor's Declaration of Independence, a similarly themed op-ed in the Wall Street Journal, and two responses to Dr. Drake, Tedious Paperwork, Government Regs: Why I Still Love Being a Physician, and Sorry, being a doctor is still a great gig. There are many more, but these will give you the general idea.
Like many other subjects, this one generated many passionate comments, but little conversation. Some physicians think that Dr. Drake was on target, while others feel she went over the top with her commentary. Some are piling on with their perspectives of how horrible being a doctor is and accuse those who challenge this view of being dismissive or insensitive. At the other end of the spectrum are physicians who see the criticisms as whining and opine that regardless of the challenges, there are rewards to being a doctor that far outweigh the negatives. Then there are those who are hitching all that's wrong with medicine to their pet peeve du jour, blaming Obamacare, maintenance of certification, electronic health records, the government, and organized medicine for all of our troubles.
Lost in the back and forth that followed Dr. Drake's piece are the real issues behind the dissatisfaction that many of us have felt at one time or another (or longer) about being a doctor. By "us," I include myself, since there was a time that I was unhappy enough to consider changing what I was doing. Very few of the causes of discontent are new. In fact, perhaps the first use of the term "hassle factor" to describe the administrative, regulatory, and paperwork burdens that physicians face was in a paper by the American Society of Internal Medicine (ASIM), America's Health Care System Strangling in Red Tape, published in 1990. In 1990, Barack Obama was a law student at Harvard, board certification was for life, there was no RUC, and physicians documented on paper (without having to follow documentation guidelines to support E/M codes), yet if you read the physician testimonials on page 6 of the ASIM paper, they could have been written in 2014.
Of course, since 1990, additional reasons for physician grief have emerged, but so have solutions to some of those problems. I know physicians who have reclaimed their professional satisfaction by becoming employed, while others have left employment to start their own practices and are happy they did so. Some converted their practices to direct pay ("concierge," "retainer-based") while others joined colleagues to form larger groups to take advantage of economies of scale, increase leverage with insurers and hospitals, and decrease isolation. While technology has dealt an additional blow to many physicians already under siege, it has made it possible for others to streamline their operations, reduce overhead, and manage a reasonable workload (so-called "micro practices").
My own professional redemption resulted from two events. The first was a business decision that reduced my overhead significantly and created a more stimulating practice environment, when my two-physician office consolidated with a three-physician office that was part of our large group. The second was practice transformation, when we became a patient-centered medical home and embraced the team-based care model. The consolidation improved my bottom line without my having to see more patients or find other ways to increase revenue. Team-based care reduced many of my hassles, by transferring many of the administrative tasks that I shouldn't have been doing in the first place to other members of the team.
These are not "one size fits all" solutions to physician career dissatisfaction, and they do not change the "macro" contributors to our unhappiness such as the dysfunctional payment system, an even more dysfunctional tort system, user-unfriendly electronic health records, and the angst over board certification.
These big issues need to be addressed, and while we can argue over whether we've made any progress since 1990, there is still much more to do. Nonetheless, there are many success stories out there. They do not sugarcoat the realities of practicing medicine, but offer hope to those who would like to get back to what they intended to do when they chose this profession, and deserve more attention than they're getting in the current discussion.
Yul Ejnes is an internal medicine physician and a past chair, board of regents, American College of Physicians. His statements do not necessarily reflect official policies of ACP.