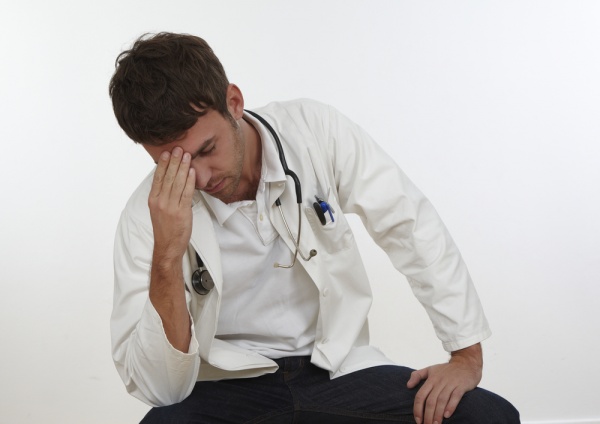 When I was a med student, the thing I loved most about primary care was continuity of care. I loved feeling like I had a sense of my patients' lives, of the intimate details of their day to day, of their fears and dreams. I thought that this connectedness was all I needed to have a successful career as a primary care doc.
Fast forward to two years later when I am in the depths of internal medicine residency. With two years of training behind me, I'm in what is known as the post-honeymoon phase of medical training. I've been a 'real doctor' long enough to see that primary care is just plain hard. I'm the "fall-back" doctor. My patients go to a specialist and when they need a letter for disability, they come to me for all the paperwork. Orders for commodes, bed rails, and insulin needles pile up in my mailbox. Medical equipment reps send me endless faxes to sign off on automatic scooters for patients who we know can walk just fine. Simply put, my to-do list never seems to end.
No wonder the rate of burnout is so high, I think to myself sometimes as I rush from my inpatient hospital duties to a clinic session overbooked with sick patients, some of whom have been waiting months to see me.
Certainly, this model of care in which a sole clinician is responsible for all the patient's needs is not sustainable. It's simply too much work for one person to shoulder. Doctors who sign up for this do it for some years, tire and leave, all the while watching their specialist friends enjoy the simple pleasures of more free time or fat paychecks or both. For these reasons, recruiting new doctors to primary care becomes more difficult each year, an issue that will come to a head as the Affordable Care Act expands access to preventive care for millions of previously uninsured Americans.
Still, none of the challenges or uncertainties of primary care practice make me any less certain that my choice to enter this field was absolutely, 100% the right one. All the paperwork and hurdles aside, my patient encounters are better than I dreamed. From counseling a family to obtain hospice care for a dying loved one, to helping a woman overcome her deep fears of discussing a history of sexual abuse, to working with newly released ex-convicts at key moments in their lives, I could not ask for more meaningful work. I feel sad for doctors who are so jaded by the system that they cannot enjoy beautiful encounters like the ones I get to partake in on a daily basis. So no, despite its hardships, I wouldn't trade this job for the world.
I will, however, offer some advice on how to make this whole business of being a primary care doc something that most of us young people will want to do for a long time: Fight burnout like it's the plague. Force yourself to take a break even if it means asking for time off, to have wellness days when you simply pamper yourself, and to seek activities that make you happy. For residents, this may mean opting for a research month rather than a specialty elective, allowing yourself a slower pace to work and play—it certainly won't affect your career, but it will enhance your happiness.  For me, when I started practicing yoga again, seeing my family more, and sometimes even leaving work early to go home and take care of my personal wellness, I felt more like the person before residency who knew that primary care would be fulfilling and worthwhile work. The things that were hard were still hard, but they were no match for the parts of preventive medicine that I adored.
As residency draws to a close, I look forward to a long career in primary care, likely focusing on primary care for HIV- and hepatitis C-infected patients in an urban setting. But most importantly, I look forward to a life in which I allow time for nonprofessional development, in order to ensure that burnout cannot take hold. For me this may mean taking time off to work in primary care in Ghana, spending time on hobbies like cooking and yoga, or simply working in a smaller, non-academic setting that allows for more personal time. Whatever the decisions are, I will make them knowing that primary care work is a marathon, not a sprint, and the road to longevity begins with self-care.
Stella Safo is an internal medicine resident who blogs at Primary Care Progress.
Image credit: Shutterstock.com