According to a report from the U.S. Department of Justice, 37 percent of the people in prison have a history of mental health problems. This was not always the case. The United States at one time had state mental health facilities, where those with mental illness could be treated. From 1870 to 1955, these numbers increased until it peaked at almost 600,000. This was 0.36 percent of the then population of 465,900,000. By that time, 50 percent of all hospital beds were psychiatric.
But these hospitals were chronically underfunded, and when politicians came under criticism for the decrepit state of these institutions, they started looking for an excuse to shut them down. As luck would have it, science came through for them, spurred in part by the invention of medications like chlorpromazine. Chlorpromazine, also called Thorazine, was the first antipsychotic to hit the market, and it changed everything. It was used to treat all forms of acute and chronic psychosis, including schizophrenia, amphetamine-induced psychosis, and the manic phase of bipolar disorder.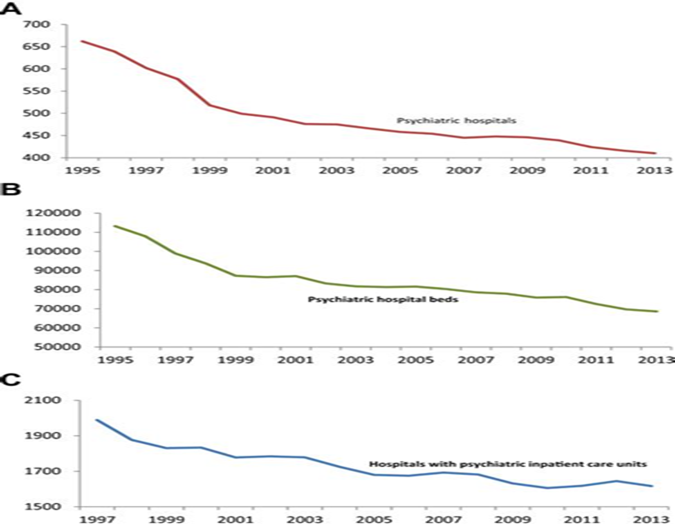 While chlorpromazine worked well on the positive symptoms, mania, and psychosis, it did nothing for the negative symptoms, such as catatonia and loss of motivation. And it had some serious side effects. Another innovation actually reduced psychiatric illness. This was the increased use of antibiotics. About 14 percent of the people in these institutions were suffering from "dementia praecox," which is now called tertiary or neurosyphilis. These could be cured with a good shot of penicillin. These were enough to give politicians an excuse to save those tax dollars and, since the 1950s, started a trend of "deinstitutionalization."
Deinstitutionalization took the U.S. from having thousands of mental health institutions to only having a few in most states. And for-profit hospitals didn't want to deal with the mentally ill; it was time-consuming and, when minutes are dollars, just not worth it. This led to an even steeper decline in available psychiatric beds.
But the public does not like mentally ill people running around in public. Awareness of how tenuous our own grip on reality might be created a lot of discomfort. It still does. While the mentally ill are not more likely to be violent than the general population, they have a hard time not breaking the law, especially laws like vagrancy and sleeping in public. Unless you are independently wealthy and have someone to watch over you, being mentally ill can make it hard to hold a job, and you end up broke and homeless. Being broke and homeless in America is illegal, as it causes you to loiter and be a vagrant.
Now it turned out that at the same time mental health institutes were being defunded, prisons were being built at a record rate, especially for-profit ones. Contracts were signed guaranteeing that a certain number of citizens would be delivered to the incarceration system, and no one designs a better industrial system than the good old US of A. Very quickly, the number of incarcerated Americans per capita came to closely match the number of previously institutionalized, and by 2001, it matched exactly. 600 per 100,000. By 2012, there were only 14 psychiatric beds available per 100,000 people in the U.S.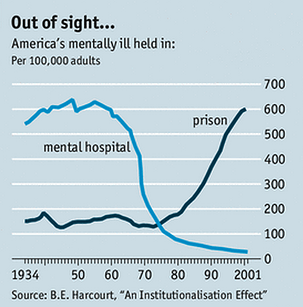 So now, if you can't afford private mental health care, which is outrageously expensive, you often end up in prison. And what is that like for the mentally ill? Usually, the first thing a jail or prison does is stop any psychiatric medications you might be on. This isn't just to save money, though that is a factor; it's simply because it's one more thing to take away from you. Prison guards are not selected for their compassion, and anyone with much empathy is quickly weeded out as being "too soft." There's also a danger of whistleblowers. The corrupt only trust the corrupt. What does this lead to? Larry Price was a schizophrenic in Fort Smith, Arkansas. He cursed at some officers and pointed his finger at them. They locked him up for "terroristic threatening" and took away his medications. His family was not allowed to see him. He slipped further and further into psychosis and died of malnutrition several months later. He was not the only one.
Lashawn Thompson was 35 years old when he died after being "eaten alive" by insects in a filthy jail cell in Georgia. Lashawn also suffered from schizophrenia. Maurice Monk, 45, was denied the medications his family brought to the jail for him. He lay facedown on the floor of his cell for three days without anyone helping him until he died. And these crimes against humanity extend to those with addiction also. Elisa Serna was a 24-year-old pregnant woman suffering from withdrawals. Medications to treat withdrawals have been available for decades, but she was left with nothing. She vomited so much that she was fainting and had a seizure, at which time they gave her one dose of Ativan, a benzodiazepine that treats seizures but does nothing for the electrolyte abnormalities that result from excessive vomiting. She fell and hit her head while talking through the door to the guards. Doctors and a nurse were called, but they, according to court records, laughed, propped her against a wall, and left her there for over an hour. In that time she soiled herself and slowly died.
State charges and lawsuits have been filed, but these are completely ineffective to create real change. It is always cheaper to let someone die than to provide medical treatment, especially when you only get sued for one in hundreds. And it makes no difference that the persons mentioned above had not been convicted of any crime. They were all in "pre-trial detention."
I have a question. If Americans are innocent unless proven guilty, then why are they held against their will in the same place and conditions that are used to punish? How is this not punishment without conviction? The solution is to form a three-tiered system. Pretrial detention centers should be separated and different from jails. They should provide amenities such as private cells, decent living conditions, libraries, and communications access. Communications should also be private without a warrant authorizing monitoring. This would allow those pretrial to participate actively in their defense, something that is supposed to be guaranteed by the constitution. Otherwise, they hold someone helpless and defenseless while the state spends thousands preparing to prosecute them. Jails can be reserved for those convicted with short-term punishments, and prisons for the rest. Finally, humane medical treatment must be provided to all incarcerated persons, by compassionate medical staff invested in the health and safety of the incarcerated. Until then, there are serious ethical concerns regarding the actions of American politicians and law enforcement in this matter.
L. Joseph Parker is a distinguished professional with a diverse and accomplished career spanning the fields of science, military service, and medical practice. He currently serves as the chief science officer and operations officer, Advanced Research Concepts LLC, a pioneering company dedicated to propelling humanity into the realms of space exploration. At Advanced Research Concepts LLC, Dr. Parker leads a team of experts committed to developing innovative solutions for the complex challenges of space travel, including space transportation, energy storage, radiation shielding, artificial gravity, and space-related medical issues. 
He can be reached on LinkedIn and YouTube.