Imagine you found your dream home and hired an inspector to check it out. They walked around for an hour, kicking the tires on the furnace, taking pictures of the roof, peering up the chimney. In the end, they informed you they were done. You ask, "When will I get the report?" They reply, "What report? You hired me to inspect it. A report would be an undue burden." Wouldn't you respond that it was part of the job? How else would you know what they found?
I practiced emergency medicine in the good ole days. It took three days for the old paper charts to percolate down to the ED after being requested; the patient was home, admitted, or dead by then. However, if you could decipher the handwriting, the longitudinal story of the patient was more likely to be ascertainable than it is now in the electronic health record (EHR). The chart was a blog detailing the patient encounter.
I don't think any of us would really return to the paper chart days. There are some very useful features of electronic medical records. They can be completed from anywhere; they can be accessed from anywhere. They are legible, although careless review and lack of edit can render them unintelligible and massively bloated. It is easy to locate specific notes or results; they don't get stuck in the tube system or get misfiled – they are just a click away. Data can be readily pulled from them for research or epidemiological purposes. Templating can be very valuable to ensure that important aspects are explored and recorded.
Nonetheless, if you are in the health care profession, I am sure you agree that there has been a serious degradation of clinical documentation. It directly impacts patient care and affects the determination of quality metrics. How did we get here?
In 2011, CMS implemented the EHR Incentive Programs, which ultimately became the Medicare and Medicaid Promoting Interoperability Programs in 2018. The original program was called "meaningful use" and had three intended stages of data capture and sharing; advanced clinical processes; and improved outcomes. In practice, we used to call it "meaningless use" because the hurried execution to capture the offered incentives resulted in a clunky, often non-user-friendly system. Templates were developed with an eye towards billing, specifically professional fee billing (gotta get ≥ 10 points on review of systems!). The EHR has evolved significantly since then, but many maladaptive features and practices became entrenched.
When I became a physician advisor, I recognized that copy and paste (C&P) was the bane of my existence. The administration considered turning off the function in the EHR. I spent a day interacting with the residents to observe their workflow. I was dismayed to find that they didn't even use the EHR copy-forward function. The residents CTRL-A, CTRL-X, and CTRL-V-ed into a Word document, manipulated and edited, and plopped the text back into the medical record. Turning off C&P was a pipe dream.
Why do providers lean so heavily on C&P? They think it is more convenient than generating text de novo. They think that higher volume of documentation affords higher billing. And they don't realize that it muddies the waters. The objective is to tell the story, and C&P is often antithetical to that goal.
I do an exercise with providers when I am teaching. I ask them to raise their hands if they like the convenience of copy and paste. I follow it up with, "Now, raise your hand if you like reading other peoples' copy and paste." They need to connect the dots that their convenient C&P is another person's I-hate-reading-other-peoples' copy-and-paste.
We didn't do C&P in the paper days. Why not? Because it would be time-sucking, not timesaving, to copy a previous entry into the medical record on a subsequent day by hand. C&P in the electronic environment, if done correctly (i.e., being meticulously read and altered to reflect today's reality), should be more time-consuming than composing new text would be.
Why hasn't this bad habit been squelched? Why do we, as a medical community, tolerate bad documentation practices?
There are several reasons. People don't respect that documentation is their way of clinically communicating to their colleagues what is going on with the patient; they view it as "a burden." They don't understand (or care) that what they write gets translated into (ICD-10-CM) codes, and those determine the quality metrics and reimbursement for both the hospital and the provider. And we learned to document by legend from providers who also were given no training in best practice documentation.
I give a two-day course in medical documentation for providers who have run afoul of their medical boards. They are mandated to be there and not happy. But, one by one, at the end of the course, they file out thanking me for the best course they ever attended, asking me, "Why did no one ever teach us this before?!" I don't know why.
We get some training on how to document to support the professional fee evaluation and management level of service for medicolegal purposes. In my residency, I was instructed to use the word "allegedly" liberally. When I became a physician advisor, one of my first actions was to devise a curriculum to teach residents documentation. I spent (and still do, as a consultant) a lot of time giving providers feedback and guidance on improving their documentation. But not everyone is, or has access to, a documentation geek like me.
However, I think the overarching reason why we do bad documentation is because we can, and no one seems to object. One of my suggestions is to have institutions/departments/service lines institute reciprocal auditing. Devise an audit sheet and have colleagues appraise their fellow providers' documentation at periodic intervals. At the bottom of this article, I am appending an example of an audit tool created by the University of Pittsburgh Medical Center. I personally love the color-coded rating. Good (and bad) documentation is a little like pornography; you know it when you see it! Shifting the culture in an organization to not tolerate substandard documentation is a step in the right direction.
One last suggestion is to consider a documentation timeout. Before composing a note, spend a moment thinking about what needs to be conveyed to a reader to help them advance patient care. Document that. This is what really got lost in the translation from paper charts to the electronic medical record. Documentation is not a burden; it is a responsibility. It is time to put mentation back into documentation.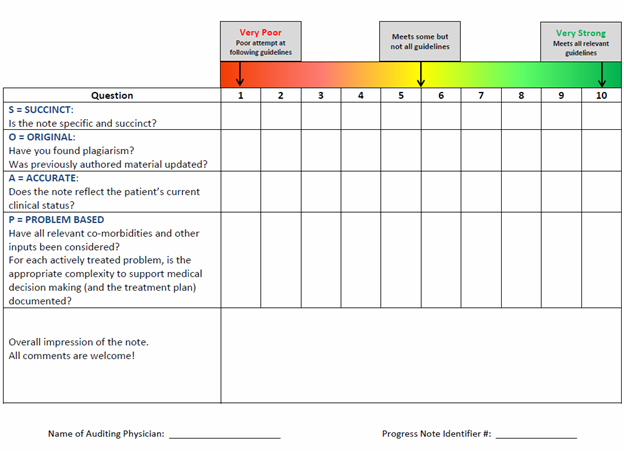 Erica E. Remer is a physician and clinical documentation specialist. She is creator, icd10md Documentation Modules for Providers with CME.