Doctors often find the electronic health record (EHR) time-consuming and annoying. However, quantitative estimates of physicians' time on EHR tasks are sparse and not collated. We assembled evidence on hours dedicated to the EHR each day by physicians. The result is impressive – 4.5 hours.
A little background: EHR systems started in the late 1960s. The federal government implemented VistA in the 1970s in the Department of Veteran Affairs. Since the 1980s, EHR systems have become near ubiquitous. The 2009 Health Information Technology for Economic and Clinical Health Act (HITECH) provided higher payments to health care providers meeting "meaningful use" criteria, including for the EHR.
Ninety percent of office-based physicians in the U.S. use an EHR system. However, many report negative experiences. Two recent studies have shown that physician EHR effort detracts from clinical focus and contributes to burnout. EHRs are often described as having poor usability and being unintuitive and inefficient, detracting from clinical focus and sometimes even leading to patient harm. These systems also decrease collaboration and communication between doctors and nurses.
Doctors spend a significant amount of time in the EHR, both during and outside of office hours, including reading, data entry, copying and pasting text, and clicking. This leaves less time to attend directly to patients. Recent analyses highlight a greater physician EHR time burden in the U.S. than in other countries.
Despite sporadic reports of EHR time burden, we found no overall reviews of what's known. In order to estimate the magnitude of EHR burden in the U.S. and potential savings with streamlined EHR function, we collated existing published evidence.
We searched PubMed using the terms "EHR physician time" and "electronic health record physician experience." We found ten articles (with 11 data points) that estimate physician time per day spent on EHR in varied clinical settings: family medicine, ambulatory care, primary care, general pediatrics, internal medicine, cardiology, orthopedics, endocrinology, geriatrics, psychiatry, rheumatology, and ophthalmology. Two studies used direct observation with time-motion data and video recordings. Eight used computer-based methods. Four of these studies used computer log files by task (e.g., order entry, progress note, and chart review). Two studies used web-tracking software. Finally, two used "meta-data" on user actions (keystrokes, mouse movements, clicks, scrolling, etc.), including up to five seconds of inactive viewing.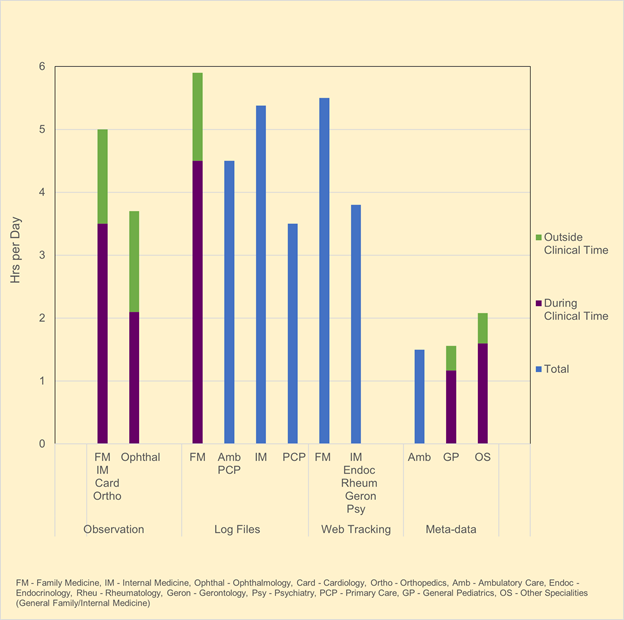 The figure summarizes what we found. Median daily physician EHR time ranged from 3.5 to six hours with the observation, log file, and web tracking methods. In meta-data studies, daily EHR time was 1.5 to 2.1 hours. The time burden of the EHR in the U.S. was significantly higher than in other countries, where the reported daily EHR time was one hour.
There was no relationship between specialty and result. The meta-data result was lower because it stops counting after five seconds of keyboard inactivity (e.g., during the review of screen content and contemplation of the next EHR action).
This is a striking amount of time.
Greater demands in the U.S. for billing and regulation-related documentation contribute to the excess time burden of EHR systems compared with other countries. A high volume of clinical alerts and other distractions in the EHR, as well as various other inefficiencies (such as locked computer screens and repetitive sign-in requirements), encumber physicians as they navigate the EHR.
As a result, physicians can spend half of their total EHR time on clerical and administrative tasks, and another quarter on inbox management. Only half of a doctor's day remains for direct clinical interactions with patients. Physicians spend about one-fourth of EHR time outside the clinical session.
The essential lesson from this EHR evidence is that the time burden it imposes on physicians is substantial in the U.S., occupying hours that could otherwise be spent building truly meaningful relationships with patients (not "meaningful use" metrics!) and providing quality care.
Thrisha Gogineni is a student intern. James G. Kahn is a health policy professor. Sigal Maya is a research associate.
Image credit: Shutterstock.com