Centers for Disease Control and Prevention (CDC) director Dr. Rochelle Walensky is in the eye of a storm after a controversial new guideline from CDC regarding the isolation of COVID-19 patients. The recent CDC directive suggested that everyone stay home for five days after a positive test regardless of vaccination status. If there are no symptoms or the symptoms are resolving after five days, you can leave your house. But the CDC asks you to continue to wear a mask around others for five additional days.
This directive is filled with numerous holes. It doesn't mention a negative test. The CDC claims the dramatic reduction in the recommended duration of the isolation is based on sound scientific studies. Where are they?
This guideline does not make any sense. It could even be quite dangerous in a pandemic with a potentially deadly virus such as COVID-19.
Dr. Walensky took a calculated risk. She reckoned that the omicron variant of the COVID-19 virus is not going to cause serious clinical disease based on limited data. She also fell into the familiar trap of deciding public health policy based on "what ifs." Apparently, one of the reasons for the current policy change was the anticipated lack of workers and pressure from major industries facing acute worker shortages.
On the surface, it may seem like Dr Walensky made a bad decision. In reality, this reflects the sad state of affairs in the CDC rather than the personal choice of the director.
Starting from the beginning of the COVID-19 pandemic in 2020, the CDC has made multiple questionable decisions or recommendations. This is not meant to be a condemnation of all the eminent scientists working there. CDC is a mammoth organization with 15,000 employees. Like any other large organization, time will lead to organizational decay, manifesting in various dysfunctional ways.
When Dr. Walensky took the reins of this much-maligned organization she promised to "fix" it. Little did she know that she was set up for failure!
She was an outsider suddenly in charge of controlling the largest pandemic in the history of Earth. She has to work with systems that were failing or not living up to expectations. Throw in our current toxic politics. The picture is complete.
The CDC's failure is not an isolated event. It reflects the broad decline of U.S. scientific superiority. In the last century, the U.S. used to produce more than 30 percent of all scientific publications. Currently, this contribution stands at a paltry 17 percent. In the COVID era, you can see several high-impact publications coming from various other countries, including China.
This report from the National Science Board science and engineering indicators shows the steadily increasing dominance of China and other countries.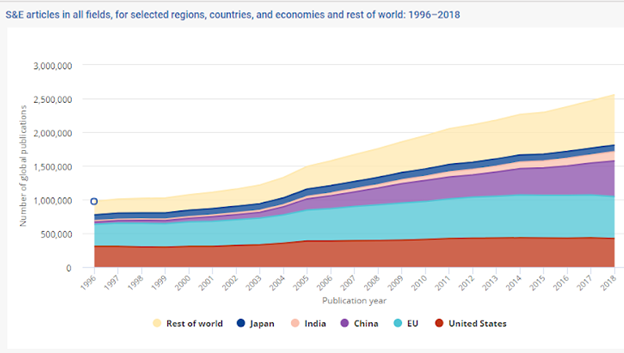 %
Source: The National Science Board science and engineering indicators
It is difficult to assert who failed us the most — academia or the CDC. Academia definitely failed CDC. But the CDC was also unable to direct or supervise academia in deciding and setting the tone of research direction (clinical and otherwise) amid the pandemic. To some extent, NIH is also responsible for this failure. And we ended up citing Israeli studies in approving COVID vaccine boosters. We were citing South African research about the emergence of new variants. We were waiting for the U.K. and other countries to finish COVID clinical trials.
What happened to our behemoth scientific-medical enterprise? Maybe the current tenure system is not working. Maybe too much inertia seeped into the inner sanctum of academics, rotting the very core of scientific Integrity and Inquiry. Maybe politics ruined everything. Maybe we are too divided.
A resurgent CDC is necessary to recapture the vitality of U.S. medical science. A scientific researcher alone cannot do this work. This will also require heavy managerial work and restructuring and charting a different course altogether. CDC will need a double-headed leader approach, one excelling in scientific expertise and another proficient in managerial miracles.
The current messaging algorithms at the CDC are misplaced. The CDC tried to placate diverse constituencies at different times without having a solid baseline policy. In some instances, the CDC came to wrong conclusions because there were no accurate scientific data to depend on. And the U.S. did not produce that data when COVID-19 was ravaging in 2020 and 2021.
Dr. Walensky is not the villain here. Dr. Walensky is the victim. CDC's failure is only a symptom of widespread disease. We need to fix them to regain the erstwhile glory of the premier preventative institution in the world.
P. Dileep Kumar is a hospitalist.
Image credit: Shutterstock.com