I looked at a free book chapter from Harvard Businesses Review today and saw a striking graph illustrating what we're up against in primary care today, and I remembered a post I wrote eight years ago about burnout skills.
Some things we do, some challenges we overcome, energize us, or even feed our souls because of how they resonate with our true selves. Think of mastering something like a challenging hobby. We feel how each success or step forward gives us more energy.
Other things we do are more like rescuing a situation that was starting to fall apart and making a heroic effort to set things right. That might feed our ego, but not really our soul, and it can exhaust us if we do this more than once in a very great while.
In medicine these days, we seem to do more rescuing difficult situations than mastering an art that inspires and rewards us: The very skills that make us good at our jobs can be the ones that make us burn out.
Doctors are so good at solving problems and handling emergencies that we often fall into the trap of doing more and more of that just because we are able to, even though it's not always the right thing to do – even though it costs us energy and consumes a little bit of life force every time we do it. And it's not always the case that we are asked to do this. We are pretty good at putting ourselves in such situations because of what we call our work ethic.
The Harvard Business Review piece listed four pitfalls and described two types of leaders, which in our case would be clinical leaders: Leader A and Leader B.
Dr. B is a walking recipe for burnout, and Dr. A may be the one whose job feeds his soul, at least to some degree (you still have to like people and medicine):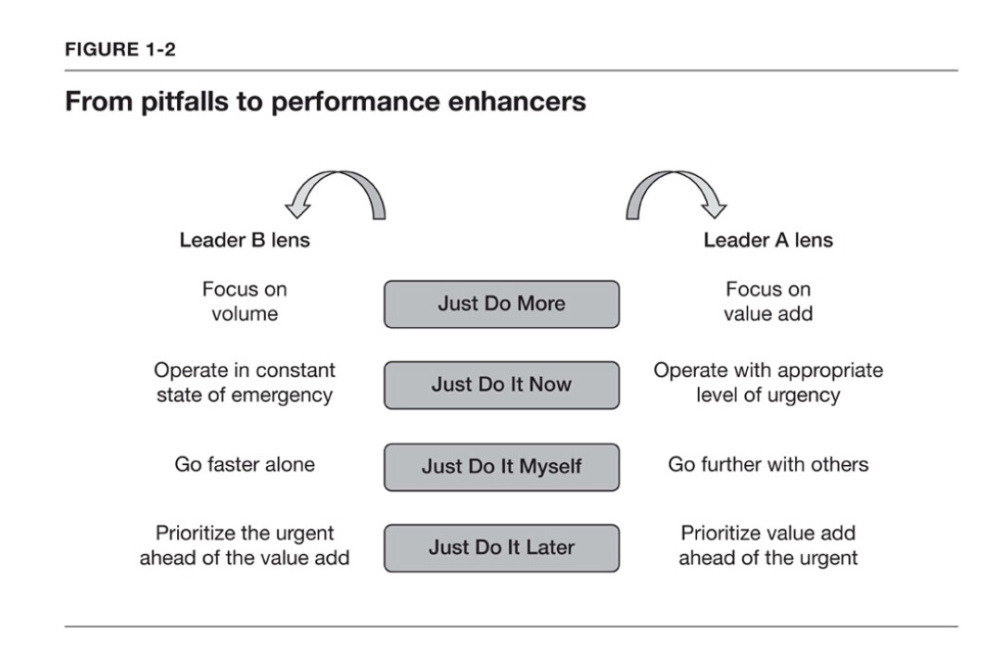 These four pitfalls run through the minds and daily realities of primary care doctors constantly, I dare say:
Just do more. The future reimbursement model is said to be based on value, loosely speaking. But clinics' quarterly cash flow is largely determined by patient volume. Doctors have patient quotas, and any quality-related incentives or requirements are typically tacked on top of the productivity targets without much infrastructure or time set aside for figuring out how to reach those targets in any kind of systematic way.
Just do it now. We certainly are operating in a constant state of emergency to at least some degree. Particularly the addition of quality targets is done in a not very proactive fashion, but much more reactive, with short term "fixes" that tend to be disjointed, as if we are all trying to make improvements to a moving vehicle while also trying to keep an eye on the road.
Just do it myself. Oh, yes, we have all heard about every staff member practicing to the top of their license, but everyone seems so busy, so how many times a day do we think "It'll take me longer to get this done if I delegate it to someone else, I'll have to tell them I need this done, how to do it and then – will I trust that it actually got done?"
Just do it later. Sometimes, now is the right time, and sometimes later is the right time. But who decides? Physicians tend to put what the HBR calls "value add" work on the back burner because changing how we work requires detaching from the short-sighted thinking of getting through the piecework of the day. We don't take enough time to think about what we're doing and why.
Hans Duvefelt is a family physician who blogs at A Country Doctor Writes: and the author of A Country Doctor Writes: CONDITIONS: Diseases and Other Life Circumstances.
Image credit: Shutterstock.com