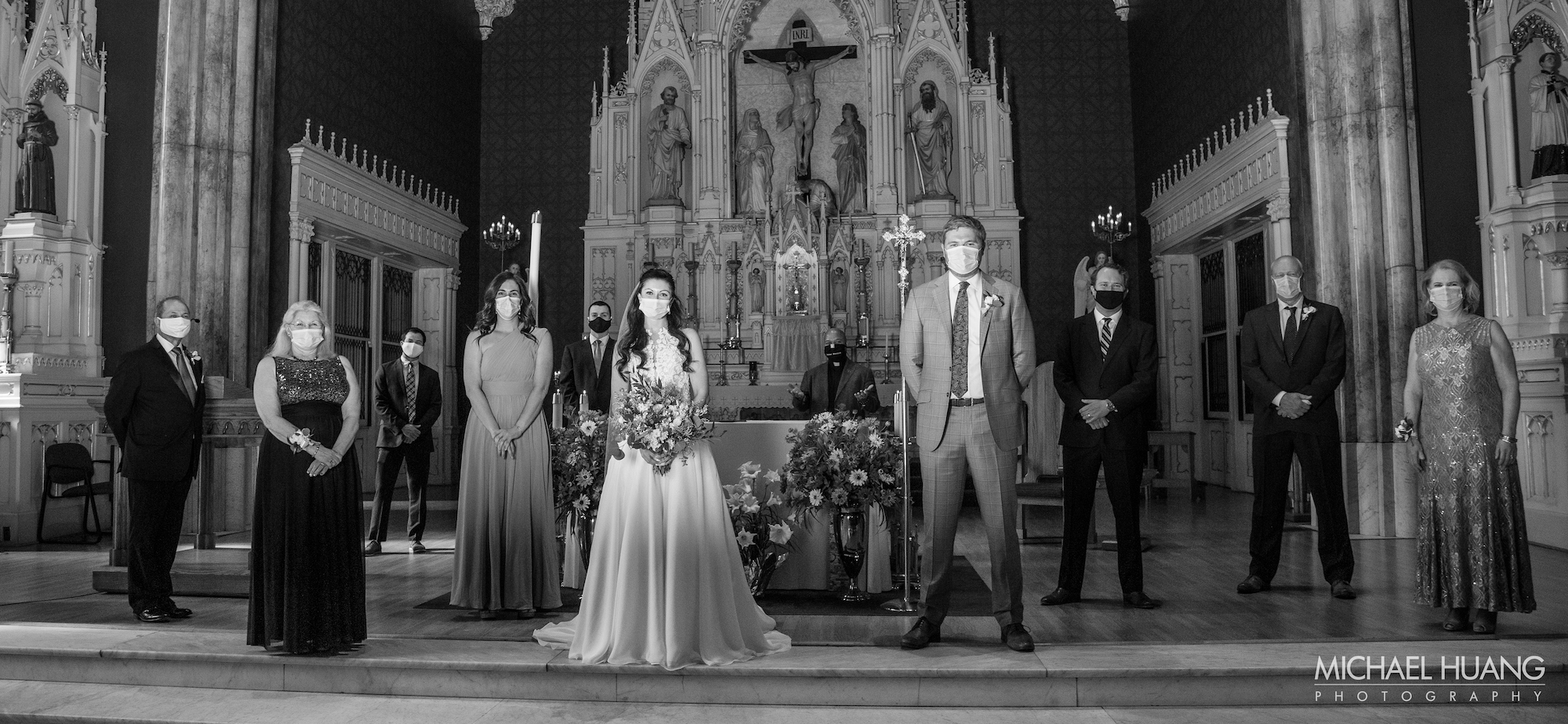 I am a full-time primary care physician and part-time photographer.  When my physician assistant and practice manager asked if she could take last week off to prepare for her daughter's wedding, naturally, I asked about the plans.  Her daughter, a registered nurse, and her fiancée were planning to go ahead with their wedding ceremony in front of only a handful of family members.  They originally had planned to have several hundred friends gathered at the historic St. Boniface Catholic Church to celebrate their marriage, but COVID-19 obviously had other ideas.  They decided that there wasn't a need for a professional photographer, so I volunteered my services. After all, my practice manager has saved my skin at work time after time, so I figured I owed it to her. Plus we already work together and have started seeing in-person patients again, and I would have no problem shooting from a distance with a mask on my face.
The wedding was beautiful but surreal. Imagine a stunning young bride and her handsome husband being married in a massively ornate cathedral with only ten people in attendance.
After finishing the post-ceremony family photos, almost as an afterthought: I suggested we take a group photo with everyone in attendance appropriately spaced and with a mask on.  I wasn't sure how it would turn out, but "Pandemic Wedding," as I affectionately named it, has joined the shortlist of my favorite truly memorable images of my career. It may make you sad that a young couple's big day was adversely affected by the horrible virus that has changed our lives in so many ways. It may give you hope that better days are ahead. It may even prompt anger if you object to the infringements on your personal liberty.  Or perhaps it may make you happy that above all else, love still conquers all.  It's ironic; it's serious; it's funny; it's sarcastic; it's beautiful; it's ugly; it's happy; and, it's sad.
I wish the resilient couple all the best and much joy and happiness in years to come. I trust that I have provided them with something special to remember the sacrifice they made on their wedding day, and remind them that their love carried them through it all.
Michael Huang is an internal medicine physician and photographer. He can be reached at Dr. Michael Huang Photography.
Image credit: Michael Huang