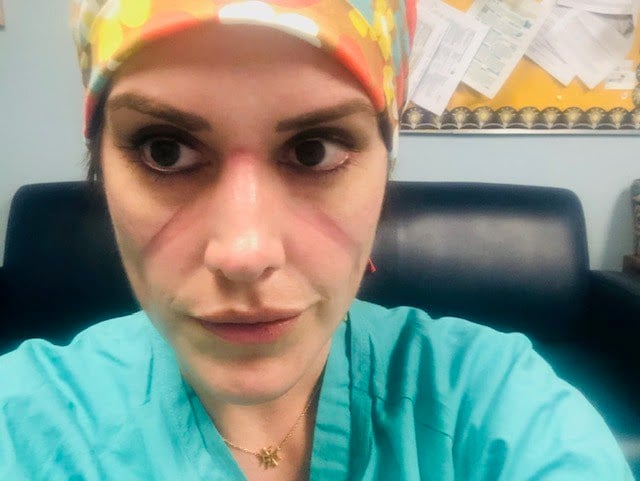 Elise loves this book. The protagonist is a girl who, due to a desire to fit in with her friends, denies her love of lima beans. Camilla awakens with stripes on her skin, and no one can explain it. The doctors are called in, then the specialists. The scientists and experts come next, but all are stumped. As the stripes worsen, her life spirals out of control until a wise woman happens by and advises that the real treatment for fitting in is to embrace yourself. Camilla eats lima beans, and the stripes are cured. Everyone lives happily ever after.
How creative, I've always mused. We see a lot of spots in medicine, things we call viral exanthems. There are chickenpox and Epstein Barr virus, measles, and rubella. They decorate their victims with polka dots of various shapes and sizes. Lyme disease paints a bullseye on the skin, or you can get endless sorts of pustules, macules, papules, plaques, petechia, and purpura. There are rashes of every shape and size, but I've never seen stripes.
Until lately.
Corona sounds like it would be a spot. Circular, like a crown or circlet. But despite its name, it makes stripes, and they manifest in interesting ways. Stripes are apparent on the cheeks of family members of the affected, streaking them with their tears. Stripes mark the faces of caregivers like myself, bruised edges from wearing PPE all day. They reassure me: I know I had a good seal.
And if you can look closely enough, you see them on the patients as well. I intubated a man in the ICU this morning who probably had COVID (test pending) and definitely had a heart attack, days ago, but he was too scared to come to the ER. He'd lost the function of a wall of his heart; it hung in a limp line, a stripe if you will, while the remainder of the cardiac muscle strained around it trying to compensate.
His countenance was resigned as I stood over him, assuring him I'd take care of him. I think we wondered the same question: Was mine was the last face he'd ever see? Was mine the last voice he'd ever hear, muffled as it was behind my PAPR. I wish I'd been able to tell him he would be okay, but that wasn't possible. All I could do was tell him that he mattered, and we would do our best. The muscles of his face were tense, with worry and fear, the wrinkles burrowing into deep stripes. Stripes everywhere before my paralytic took over, and my anesthetics wiped them away.
I wonder what will happen as we begin this process of relaxing restrictions. It is a difficult decision our society is making, and I don't have the answer. I just know I'll be seeing a lot more stripes, and unfortunately, we don't have enough lima beans.
Hailey Amick is an anesthesiologist who blogs at Facing Monsters. 
Image credit: Hailey Amick