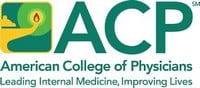 A guest column by the American College of Physicians, exclusive to KevinMD.com.
Of all medical specialties, perhaps the most difficult to understand is internal medicine.
While the name suggests that those who practice internal medicine focus primarily on non-dermatologic diseases of "Internal" organ systems (which in many ways is true), unlike other medical fields whose names reflect more the activities they undertake or the patient population for whom they care (such as surgery or pediatrics), what uniquely defines the specialty of internal medicine is certainly not fully captured in its name.
This makes it difficult for patients to know exactly what internal medicine is and does; indeed, I suspect that many of those who practice internal medicine are not aware of the unique history of their specialty and why it's called what it is. Therefore, with National Internal Medicine Day upcoming on Monday, October 28, 2019, in recognition of the largest global medical specialty, I thought it would be helpful to reflect on the question I am perhaps asked most often: how did internal medicine get its name?
As a specialty, internal medicine's historical and philosophical roots lie in the German medical tradition of the second half of the 19th century. Europe, and Germany in particular, was a locus of advanced medical knowledge and training at that time. Given the comparatively rudimentary state of medicine in North America, it was common for ambitious physicians here to seek training in Europe, which ultimately resulted in the importation of many of the ideas and approaches they experienced while there back to the United States.
Internal medicine's seminal figure, William Osler, was one of those young physicians who went to Europe for postgraduate medical training. Canadian by birth and educated at McGill University in Montreal, he traveled to Europe in the early 1870s, studying in London, Vienna, and Berlin. While there, he encountered and worked with many distinguished physicians and scientists, including the famous pathologist Rudolph Virchow.
What Osler and others found in Germany was a burgeoning wealth of scientific knowledge in fields such as physiology, pathology, and bacteriology that had advanced to the point where they were beginning to significantly impact the understanding of disease and the clinical care of patients. He also found a group of physicians who committed themselves to using this new information and understanding of disease to expand the scientific foundations upon which medicine is based and allow rational therapies to be developed using this knowledge.
This approach toward medicine differed markedly from the existing model of medical practice in Germany at the time, which was primarily observational, based heavily on describing clinical findings, and with treatments (if any) based typically on either tradition or otherwise untested theories.
The approach taken by this group of physicians required a deep understanding of the basic sciences, mastery of the physiology and pathophysiologic basis of disease, and the analytical, diagnostic, and problem-solving skills necessary to apply this knowledge to the care of patients.
By excluding surgery and the focus on the purely observational, external manifestations of disease, the concept of innere Krankheiten, or "internal diseases," emerged to encapsulate this new, scientific-based approach that these physicians took toward medicine, and the term innere medzin, or "internal medicine," was used to distinguish the type of medicine these physicians were practicing from the typical medical doctor at the time. It was this approach to medical training and practice, along with its German-based terminology, that was ultimately introduced and developed in the United States and expanded worldwide.
After returning to North America, William Osler ultimately moved to the University of Pennsylvania and then the Johns Hopkins Hospital, where he became perhaps the most influential force in developing the concept of internal medicine as a medical discipline. Not only did he help embed this approach to medicine into our system by creating the basic models for graduate and postgraduate medical training that are still in use today, he was also a diligent and astute observer of physicians and patients as they engage in the process of medical care and added a more humanistic component to the practice of internal medicine through a keen understanding of human nature and the impact of disease on individual lives. His thoughts and ideas regarding the attitudes, self-discipline, and interpersonal skills required to be effective in applying the underlying principles of internal medicine to patient care have resonated with doctors over the past 100 years and continue to serve as a philosophical ideal for internal medicine physicians today.
It is unfortunate that internal medicine's name does not fully reflect this rich history or the unique approach that internal medicine brings to the care of patients; indeed, not only can it be confusing, but even be a source of annoyance, down to the associated terminology that leads people to confuse the title of "internist" with "intern."
Yet despite the fact that its name does not intuitively capture the essence of internal medicine, the specialty has been able to grow and adapt to meet the needs of rapidly developing and changing healthcare systems around the world while remaining true to the "scientific attitude" and unique approach to applying medical knowledge to the humane and compassionate care of patients that formed its foundation over a century ago.
So that is how internal medicine got its name. And happy National Internal Medicine Day!
Philip A. Masters is vice-president, Membership and International Programs, American College of Physicians. His statements do not necessarily reflect official policies of ACP.
Image credit: Shutterstock.com