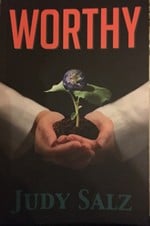 An excerpt from Worthy.
"Breakfast ready? Bacon smells good!" Mark finished buttoning his shirt and joined Linda at the kitchen table.
"I Googled funding for my clinic, but I didn't find what I was looking for," Linda said, filling their mugs with steaming coffee. "There has to be something out there for me!" She banged her fist on the table, and the mugs jumped. "Sorry." She wiped up the spill. "I'm grouchy because I'm frustrated."
"Maybe you didn't use the right buzzword." He blew on his coffee and sipped, careful not to burn his tongue.
"Feel free to try. Maybe you can pull a rabbit out of a hat. I couldn't."
"I'll give it a shot tonight when I get home. Don't sweat it. There's got to be something out there. I'm late for the office." He grabbed a slice of bacon, his jacket, and car keys, and bolted for the garage. "See you later! Love you!"
***
As usual, he thought, seeing the crowded waiting room. He picked up the chart on the door and flipped it open. Oh, Mrs. Janeway. Must be a blood pressure check.
"Good morning to you." He smiled as he entered the room. Gee, she looks awful. She's usually dressed to the nines.
He pulled his stool over to the table, where she sat, slumped over. "What's the matter? You look a little out of sorts this morning."
She said nothing, so he waited. "I know. I'm a mess," she said, shaking her head.
He waited some more.
Her hands tightened into fists. "My grandson's doing drugs." Her eyes filled with tears. "I just found out a few days ago. They arrested him yesterday for possession." She stared down at the floor, then sat up straight with tears now streaming down her face. "He's in jail. My Mickey's in jail! What do I do now? After my daughter died, his good-for-nothing father didn't want him. I've had him since he was five. What do I do now?"
Mark stood up and put his arm around her shoulder. "I'm sorry. I'm so glad you told me. You don't need to deal with this by yourself, you know." He handed her some tissues. "There's help for Mickey and for you. I'm going to see that you both get what you need. Okay? You're not alone. You have me and you'll have the people I'll refer you to." Poor kid. Addiction is the worst. I remember. "Your sister lives here in L.A., doesn't she?"
"Yes."
"Are you close with her?"
She nodded.
"Does she know what happened?"
"I don't know how to tell her." Mrs. Janeway bunched up her thin sweater in her hand.
"Would you like to bring her here tomorrow?"
"Could I?"
He saw her worry lines relax a little. "We can all talk about it together. Just tell her that Dr. Stewart would like to discuss something with both of you, but you're not dying of anything. We don't want to scare her to death!" Mark scanned her chart, flipping the pages. "Listen, when I took you on as my patient I took all of you, not just your physical problems. I'll help you in any way I can." He made a note in her chart. "Your blood pressure's a little up today, but I'm not surprised. I'll check it again tomorrow when you come with your sister." He moved toward the door.
She reached out to shake his hand, but gave him a hug instead. "Thank you for being who you are," she said. "I'm so lucky to have you for my doctor."
"Thanks for the compliment. I appreciate it more than you know. My receptionist will set you up for tomorrow, but before you leave today you're going to see our social worker. She'll help you start to sort things out with Mickey."
He gave himself a five-minute break before continuing on with his day. "Thank you for being who you are," he replayed in his head. That's what Linda told me last night.
"Yeah," he said out loud. "That's a keeper."
***
When Linda stacked up the dirty dinner dishes and headed for the kitchen, Mark scraped his chair back and stood up. "I'm going into the den. Maybe I can find something about funding the clinic." He settled into his favorite worn leather chair, looking at the dark paneling and the rich, soft Persian rug.
I love this room. It's like my father's office. Elegant, just like he was in those days, before he ruined it all.
He opened his laptop, Googling "clinic funding." He scrolled down, searching for anything about donations for counseling centers, but there were no promising leads. "Wrong buzzword," he muttered. Other approaches didn't help, either. After two hours, he slammed his laptop shut and headed for the living room.
"You were right," he told Linda, rubbing his eyes. "There's nothing here. Lots of webpages talk about how to fund a foundation, though. Too bad that's not what we need. Unlikely we'll ever fund a foundation."
Judy Salz is an internal medicine physician and author of Worthy.
Image credit: Shutterstock.com