There are some sad truths about being an aging male. Your muscle mass usually declines. You start feeling tired more easily. And there's a good chance either you start losing interest in sex or start experiencing a decline in sexual performance.
Here's another truth: Your testosterone level probably ain't what it used to be. Which raises a question: Would testosterone supplementation restore some of your youthful vitality?
That is certainly what manufactures of testosterone treatments wanted people to think when they began purchasing TV time to play ads encouraging men to get their testosterone level checked. But since the early onslaught of these "low T" ads, medical science has taught us that testosterone replacement is often unnecessary. Moreover, unnecessary replacement can potentially lead to heart disease. That makes it likely that those television ads, rather than restoring people's vitality, shortened their lives.
It's important to be clear that testosterone supplementation is not always harmful.
In people with diseases affecting their ability to produce testosterone, treatment can be very beneficial.
But in people with no such diseases who have normal age-related declines in circulating testosterone, there is no solid evidence that treatment makes them healthier or improves their quality of life.
And in people with normal age-related testosterone levels, treatment might—might!—increase the odds of heart attack or stroke.
In short, testosterone isn't the wonder drug some hoped it would be. That's why testosterone manufacturers voluntarily stopped direct to consumer advertisements in 2014.
By then, for some unsuspecting customers, the damage was already done. According to a study published in JAMA, testosterone testing and treatment rose in areas exposed to relatively large numbers of testosterone television ads. Some areas of the country, for example, had 30 percent more testosterone ads on television than other areas. It was those areas that had increases in testosterone testing and treatment. Here's a map, showing parts of the country with particularly high exposure to such commercials: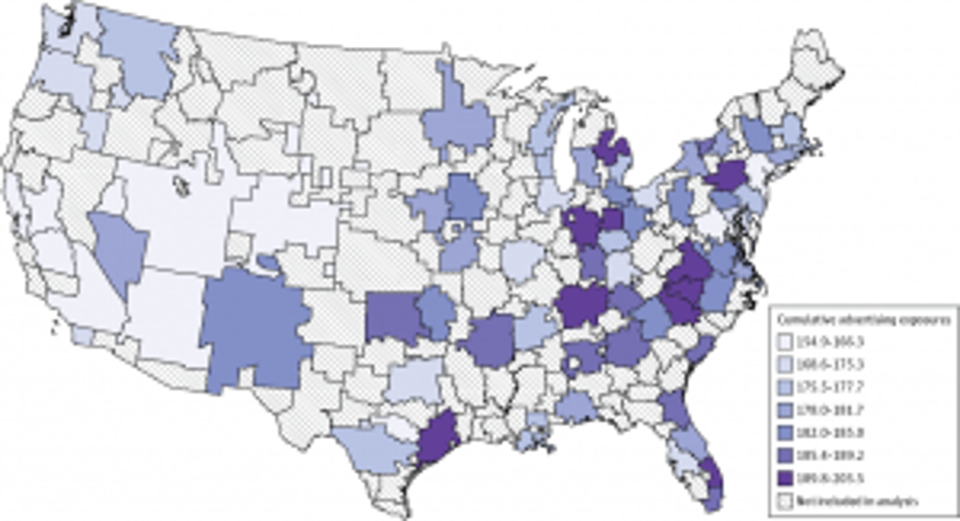 Association Between Direct-to-Consumer Advertising and Testosterone Testing and Initiation in the United States, 2009-2013
The researchers found that, in places where there were lots of testosterone TV ads:
Testosterone testing increased.
Testosterone treatment increased.
And some of those treatments occurred even though men didn't get their testosterone levels checked.
Basically, that means many men received an unnecessary and potentially harmful drug.
Whose fault is this?
Well, I don't blame the general public. When a television ad asks you to talk to your doctor about whether your testosterone level is causing you to feel sluggish or weak, why wouldn't you do that?
I don't blame direct-to-consumer advertising, either. At least, I don't give it the lion's share of the blame. Undoubtedly, we should require strong evidence of health benefit before allowing drug manufacturers to advertise their products. And the content of those ads needs to be scrutinized by the FDA.
But ultimately, physicians need to be less eager to prescribe medicines to patients who haven't been shown to benefit from those treatments.
What should consumers do when their television sets persuade them to get medical tests or treatments? Don't ask your doctor to prescribe that new wonder drug advertised on TV without also asking her whether she is confident that drug will do more good than harm. Remember: physicians are sometimes influenced by advertising hype, too.
Peter Ubel is a physician and behavioral scientist who blogs at his self-titled site, Peter Ubel and can be reached on Twitter @PeterUbel. He is the author of Critical Decisions: How You and Your Doctor Can Make the Right Medical Choices Together. This article originally appeared in Forbes.
Image credit: Shutterstock.com