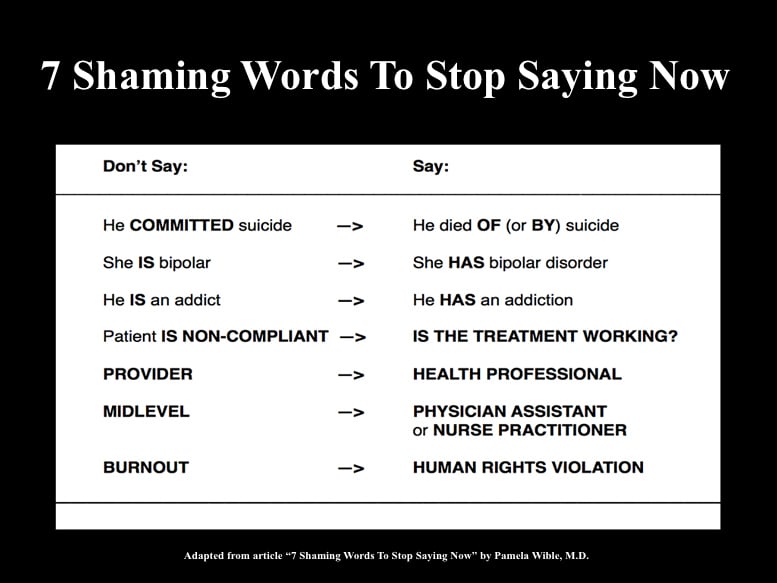 In medicine, our motto is first do no harm. Words matter. Choose them wisely. Here are 7 words that shame, blame, and injure people who need our help.
1. Don't say COMMITTED suicide. Committed implies a crime. Committed rape, burglary, murder. Suicide is not a crime; it's a medical condition that has been taboo for too long. Let's come out of the dark ages and use proper language to discuss the cause of death. It's died OF pneumonia, heart attack, stroke, suicide. Say died OF suicide (or died BY suicide).
2. Don't say she IS bipolar. People are people first. Some get physical and/or mental health conditions. The health condition is not their identity. She HAS pneumonia, heart disease, depression, not she IS pneumonia, heart disease, depression. Say she HAS bipolar disorder (or she is a person WITH bipolar disorder).
3. Don't say he IS an addict. As in #2, people are people first. He is not a disease. He is not a behavior. Thus, he is not a substance abuser or an addict. He is a person who may have an addiction or a substance abuse disorder. Say he HAS an addiction.
4. Don't say patient IS NON-COMPLIANT. Non-compliant blames the patient for not following a plan that she may have not understood or agreed to follow. Maybe she simply did not have money to buy the medication or the recommended treatment. Be precise and accurate with words, especially when placed in a permanent medical record. Don't blame or shame. Be curious and engaging. Ask, "IS THE TREATMENT WORKING?" 
5. Don't say PROVIDER. A provider is a person who provides something. How nebulous. In medicine, a provider is an economic term used to lump all the revenue-generators together into one pile (often to see how much more money can be squeezed out of them). It's a dehumanizing word that lacks precision and, honestly, it's offensive to the people who have spent so many years of their lives to achieve mastery in their chosen profession. Use proper terminology. Say NURSE PRACTITIONER, MIDWIFE, PHYSICIAN. If you must use a collective term, say HEALTH PROFESSIONALS. Sometimes, I say HEALERS.
6. Don't say MIDLEVEL. What is that? Maybe it's when an elevator gets stuck between two floors? Again (see #5) this is a word used by health care administrators to describe revenue generators who are somewhere halfway between a nurse and a doctor (I think). Use proper terminology. Say PHYSICIAN ASSISTANT or NURSE PRACTITIONER.
7. Don't say BURNOUT. Physician burnout is a term of oppression that blames the doctor for not keeping up with an inhumane schedule (30-hour shifts, 120-hour work weeks) in a toxic workplace that may include hazing, bullying, and no time to eat or take bathroom breaks. Even on their so-called time off, doctors may still be working on chart notes at home in bed on the weekends. Burnout blames the victim and deflects attention from the perpetrator. Speak the truth. Say HUMAN RIGHTS VIOLATION or HUMAN RIGHTS ABUSE. Don't say burnout, say ABUSE.
Know of any other shaming words that should be lost from our lexicon? Add your comment below.
Pamela Wible pioneered the community-designed ideal medical clinic and blogs at Ideal Medical Care. She is the author of Physician Suicide Letters — Answered and Pet Goats and Pap Smears. Watch her TEDx talk, How to Get Naked with Your Doctor. She hosts the physician retreat, Live Your Dream, to help her colleagues heal from grief and reclaim their lives and careers.
Image credit: Pamela Wible