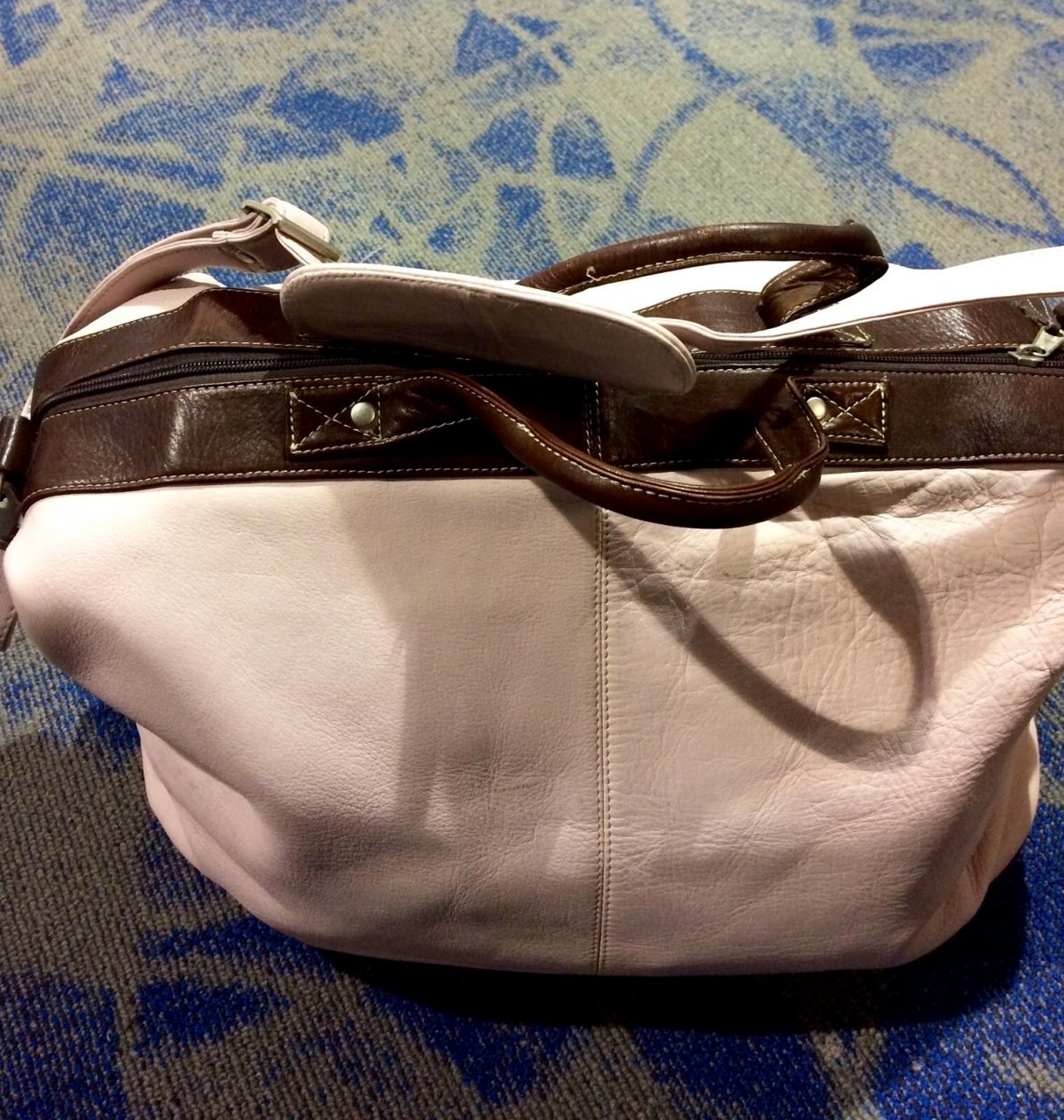 When I graduated from medical school, my dad gave me several hundred dollars with instructions to buy something special. It was a kind gesture, but the pressure to self-select a meaningful gift was almost too much.
I wanted something to commemorate my transition from student to doctor. Books, stethoscopes, and the like seemed so uninventive. I wanted something for residency that would be feminine, useful, and durable. I bought this pink leather bag that I had been eyeing in the J. Jill catalog for myself with plans to make it my "on call bag."
I started my intern year with it as a neurology intern. Dutifully, I packed it with scrubs, deodorant, reflex hammers, and books. I would toss it in a pile in the lounge with all of the black or navy male bags. It stood out, like me. I kept it with me as I realized my error and changed my specialty mid-intern year to internal medicine.
Later, its contents changed as I experienced my first pregnancy. I stuffed the inside pocket with crackers, nausea meds, and vitamins. Those abruptly disappeared when I miscarried that pregnancy in my early second trimester. Back to work just one day later, I was the on-call intern at the VA. It didn't really matter what I packed; I didn't slow down enough that night to even peek inside.
Time passed. Several months later, I became pregnant again and endured some long on-call nights. In the summer, I decided to run for office in our state medical society. Cleared for travel by my OB, I packed my bag for a weekend away. I carefully folded a maternity business suit, placing this in my bag alongside a pair of heels and campaign flyers.
Nearly two hours into the trip, something went horribly wrong. We stopped at a local hospital, and I emergently delivered my first child (a 24 weeker who spent over 100 days in the NICU). I returned to work one week after her birth, determined to blend in with my colleagues. I remember rounding on cardiology and sitting in each patient's room as my attending directed me to do. Call every fourth night was almost unbearable. I would tuck one of her onesies in the side pocket of my bag, along with pictures. I would sit and pray for her in between pages to the ER or ICU.
Next, I packed pumping gear and bottles for breast milk. Working, pumping, and taking call began to take a toll on me. Not long after, I packed Xanax (seriously). When my daughter came home from the NICU, accessorized with an apnea monitor and a portable oxygen tank, I laid my pink bag down. By then, I was nearly paralyzed with the fear that I could never return to the career that I loved. Becoming a Dr. Mom was hard enough, but a Dr. Mom with a special needs child? It seemed impossible, and I had no mentor or role model to guide me.
Two months later, I trekked back to work. I never (well, not really) looked back. I carried that pink bag with me, trip after trip, to the hospital. Some nights I would open it to find a sweet or funny love note from my husband. Some nights I would open it to discover that I had forgotten clean socks or underwear. Again. Most nights I would look at it and wonder if I would even make it through another week of training. How would I keep taking call q4 days and manage to be a mom to a severely disabled child? How would I pay back loans if I quit?
By the second year of residency, things were better. I started moonlighting at a local emergent department to help pay bills. Some nights were awful: ST-elevation myocardial infarctions, emergent intubations, and code blues. Still, my pink bag held all of my essentials such as makeup. Concealer became important as I hid the dark circles under my eyes from a 24-going-on-36 hour shift.
After a long shift, I looked forward to tossing my bag in my car at 7 a.m. and heading to my "day job." Time passed. I completed residency and decided to become an oncologist. Through my hematology-oncology fellowship, aside from overnight moonlighting shifts, I never stayed in house. The bag moved to the back of the closet. Somehow it didn't feel right to take it on "personal" trips. It stayed home when I lived in another state for six weeks after receiving a surprise "we have a baby for you" adoption call. One year later, I was admitted to the hospital in preterm labor with my son. I reached for the blue Vera Bradley instead. The pink bag moved from the back of my closet to the dreaded Rubbermaid tote in the storage room.
Fast forward to my decision to pursue a second fellowship (neuro-oncology) that took me across the country. In order to make this "chance of a lifetime" work, my husband stepped down from his hospital administrator position to stay home with our now 3 (!) kids while I took a moonlighting job on top of an already-tough fellowship at Duke. Much like my intern year, I started packing a reflex hammer in it again for neuro exams. One or two nights per week, I would load my pink bag in my car for an upcoming 36-hour shift away from my loves. My middle child began to learn that the pink bag means no mommy for two days. She would cry when she saw it. On occasion, I would open it at about 2 a.m. and find cute toddler art! After that year, I almost threw it out as I had a visceral reaction to even seeing it.
Recently, while unpacking, I came across it and decided to pull it out for a work trip. My first thought was overwhelming sadness over the recent loss of my father to cancer. I remembered how proud he was of me when I became the first doctor in the family. I opened it to find some sweet memories: 2 small patient gifts, a Maxwell's Quick Medical Reference, cheat sheets for electrolyte replacement, and an old onesie. Again, tonight, I pulled it out to take for an overnight Charleston trip: I have clinic there twice per month. I started thinking about how I wish I could have known what this bag would mean when I selected it 13 years ago.
At the time, I was a young, scared medical student. I thought I would become a marginally good physician at best and set a low bar for myself. Never would I have dreamed that I would practice medicine in two states while juggling a clinical research program, a busy travel schedule, and my family. This bag has been with me through some of the hardest and best parts of my life. So, as I sit in the airport admiring it, I can't help but smile at how far we have come.
Ashley Sumrall is a neuro-oncologist.
Image credit: Ashley Sumrall