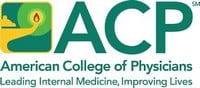 A guest column by the American College of Physicians, exclusive to KevinMD.com.
A couple of months ago I received a Facebook invitation to "like" a page. That was not unusual, and usually the pages are on silly or obscure topics, but this page was different. The name of the page was New Kidney for Stu.
Stuart Himmelstein, MD, FACP, is one of my Facebook friends. Stu is a solo internist in private practice in Delray Beach, Florida. He is also a past Governor of the Florida Chapter of the American College of Physicians (ACP), which is how I met and got to know him. His ACP service is just one of his many contributions to organized medicine and the profession, as he's also been active with his county and state medical societies, serving in many leadership roles.
What I learned from the Facebook page was that Stu Himmelstein also has chronic kidney disease from tuberous sclerosis complex (TSC). He first learned that something was wrong in 2010, when on testing for a life insurance policy he had a creatinine of 2.0. His workup in Florida and the Mayo Clinic in Rochester, MN concluded that he had a rare form of TSC that causes severe scarring of the kidneys.
Stu's renal function declined rapidly over the following years, and he is now on peritoneal dialysis while he awaits a donor kidney. He was put on the deceased donor list in December, 2012, and this spring he expanded his search to include living donors after he met a man who found a living donor using Facebook.
I thought that using Facebook to find an organ donor was an unusual approach, but it turns out that it's not that uncommon. A 2013 study in the journal Clinical Transplantation described the use of social networking websites to identify potential donors. It concluded that "Social networking sites may be a powerful tool in expanding live kidney donation." A discussion with the authors of the study in Scientific American further explored the potential implications of using social media to find organ donors.
According to the U.S. Health Resources and Services Administration's Organ Procurement and Transplantation Network (OPTN), there are 99,562 persons on the waiting list for a kidney as I am writing this column. For those on the waiting list, it can be a long wait:
Waiting time / # of patients
< 30 days / 2,423
30 to < 90 days / 5,516
90 days to < 6 months / 7,421
6 months to < 1 year / 13,024
1 year to < 2 years / 21,947
2 years to < 3 years / 17,621
3 years to < 5 years / 21,171
5 or more years / 15,533
The OPTN database shows that over the last few years, approximately 40 percent of the kidneys come from living donors. Stu was told it could take 4 or 5 years for him to receive a deceased donor kidney matching his O blood type. A living donor could shorten that wait, plus data from the OPTN, while limited, suggests better survival.
Stu's use of social media is an innovative way to get the word out to his Facebook community, but he is getting "old fashioned" support from his professional community, notably his colleagues in the Florida Chapter of ACP. According to Michelle Rossi, MD, FACP, the Chapter's Immediate Past Governor, "In addition to extensive individual outreach, the Chapter has decided to use its social networking and web presence to further disseminate Stu's story.  Subsequently, so that members can learn more in person, information about organ donation and the benefits of live transplantation will be featured at the upcoming annual Scientific Session."
While Stu waits, he's not idle. He continues to practice full-time, though as he puts it "I have let my practice drift down to be less than Grand-Central-Station-at-rush-hour busy." He graciously agreed to let me write about his quest because he wants to increase awareness, not just for himself but for the over 120,000 people who need organ transplants.
You can learn more, including how you can be an organ donor, by visiting the United Network for Organ Sharing website. ACP's Ethics Manual addresses the topic of solid organ transplantation and links to a 2000 ACP-ASIM Observer ethics case study that provides excellent guidance on how to discuss organ procurement with patients.
Yul Ejnes is an internal medicine physician and a past chair, board of regents, American College of Physicians. His statements do not necessarily reflect official policies of ACP.
Image credit: Shutterstock.com