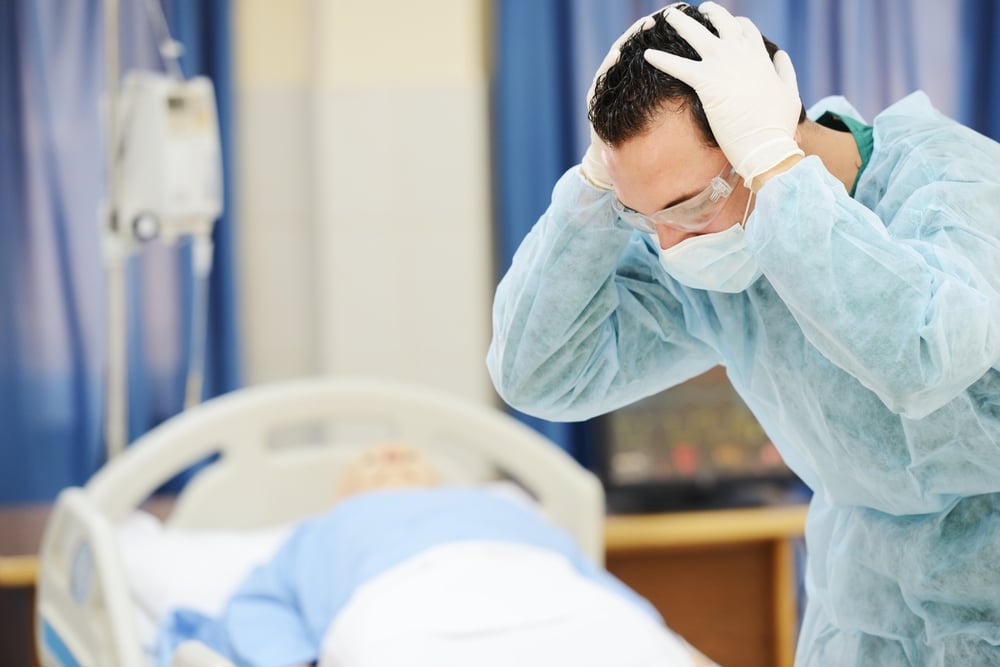 Imagine an institution where the occupants are routinely left immobile, deprived of sleep and fed a diet that is tasteless and nutritionally marginal. Imagine further that they experience the indignity of losing any semblance of privacy and get stuck multiple times a day with needles.
Sounds like a brutal prison, right? Yet the same description could apply to a typical U.S. hospital.
As a consequence of exposure to such inhospitable environments, many patients suffer acute and long-term complications. And the older the patients, the more likely and more severe the problems.
Two conditions in particular damage patients as a result. And both are far too common and frequently preventable: delirium and post-hospital syndrome.
In the case of delirium, physicians have long recognized a common pattern of deterioration. But rather than seeing that sequence of events as avoidable, they accept its inevitability and describe it as "par for the course."
Granted, changing hospital culture is difficult and takes time. And standard operating procedures are long ingrained and matters of habit and tradition. But given our current understanding, there is no excuse not to improve. To avoid making patients who are ill even sicker, we need to address each of the following:
The bright lights in hospital rooms. The frequent interruptions for tests. The beeping machines and unpredictable waits. The mind-altering drugs that cause confusion and the too-strictly-enforced bed rest that undermines strength, stamina, coordination and muscle mass.
In short, illness weakens our bodies and our minds, and the damage often is compounded by what patients experience in hospitals across the nation.
As people live longer, and our population ages, addressing this issue is taking on new urgency.
The question to be answered here, of course, is, "What's the solution?"
Delirium: The psychic, physical and economic costs
Let's start with delirium — according to the Merck Manual, "a mental disturbance characterized by confusion, disordered speech, and hallucinations." It's sudden — typically developing within hours or days — it frequently waxes and wanes and, most important, it's usually reversible.
Delirium can affect up to half of elderly individuals who are hospitalized and as many as three-fourths of those admitted to an Intensive Care Unit (ICU). It's often misdiagnosed as dementia. It can be devastating, doubling the risk of death up to a year after hospitalization. Every year, more than seven million hospitalized Americans suffer from delirium, but the condition goes unrecognized in 60 percent of cases, according to the American Delirium Society. Patients who develop delirium have prolonged hospital stays, with an estimated cost to Medicare of $164 billion dollars annually.
Geriatrician Sharon Inouye, a professor of medicine at Harvard Medical School, calls delirium "very under recognized and under diagnosed."
Here's a representative case in point. An elderly man is admitted to a hospital for surgery, and the procedure goes well. He is admitted to the ICU following surgery and two days post-operatively he becomes restless. His doctor orders a sedative to help him sleep. That night he bolts up in bed, screaming at the top of his lungs. The next night he manages to clamber out of bed, falls to the ground and breaks his hip.
Six months later he's still unable to walk normally, and has no idea what happened to him during those terrifying nights in the hospital.
His story and the secondary problems he experiences are typical for delirium — complications that could have been avoided.
It's different for younger patients. Yes, hospitalization may cause psychological difficulties in twentysomethings, too. But because they're inherently more resilient physically and mentally, they enjoy a buffer of youth and usually steer clear of the danger zone.
The hospitalized elderly, on the other hand, are often frail. And for them the risks of delirium and its associated dangers – devastating events such as falls, pneumonia, urinary tract infections, and pressure ulcers — rise exponentially.
Post-hospital syndrome afflicts newly vulnerable
The term "post-hospital syndrome" came into being only two years ago courtesy of Dr. Harlan Krumholz, a professor of medicine and public health at Yale School of Medicine. The concept highlights the vulnerability patients experience days and weeks after a hospital stay. You leave the hospital recovering from one condition but come back with another.
It's a big problem. Nearly 20 percent of patients over the age of 65 discharged from a hospital in the U.S. are readmitted within 30 days. Surprisingly, for two-thirds of these patients, the reason for readmission is different from the original hospitalization. They may have started with an intestinal issue, but now require treatment for pneumonia, heart failure or a mental health issue.
Let's say an 80-year-old woman undergoes complex surgery, which is deemed successful. She remains in the ICU for ten days. During that time her sleep cycles are disrupted, she is restricted from walking and given intravenous fluids, not regular food. Once home, having gone two weeks without walking, she feels too tired and weak to get out of bed. A week later she is having trouble breathing and is diagnosed as having pneumonia.
The patient's lungs were fine at the time of discharge. But the combination of restricting the patient's exercise and disrupting her sleep while she was in the hospital led to this complication and readmission.
Put healthy twenty-something patients through such a hospitalization and they too could develop a major medical problem. But do it to an elderly individual and it is a formula for failure.
Indeed, according to the American Academy of Nursing, 65 percent of patients over the age of 65 develop weakness in their legs and dizziness on standing within 48 hours of hospitalization. Worse still, one-third of those patients never regain their ability to walk after discharge. The Academy estimates the cost of the additional medical and long-term care from the loss of physical strength and balance to be 26 billion dollars a year.
The keys to prevention
To manage the hospitalized older patient – and speed recovery and healing – implementing an approach that is standardized and structured is essential. A multi-disciplinary team, including physicians and nurses, is required to avoid the onset of either delirium or post-hospital syndrome.
The health care profession needs to maximize awareness. The first step is to train physicians and staff how to prevent, recognize and manage these conditions.
Then identify those most at-risk, particularly patients of advanced age with cognitive impairment or prior history of delirium or post-hospital syndrome.
Finally, improve the hospital environment in the following ways:
1. Maximize caloric intake and, as much as possible, avoid delaying procedures which require patient to take nothing by mouth.
2. Limit the amount of blood drawn every day to what is essential to avoid producing unintentional anemia. In most hospitals, specialists order blood drawing independent of each other, so patients are stuck multiple times, and excess blood is removed.
3. Surround patients with family and friends as much as possible, along with reminders from their homes.
4. Keep the hospital room bright during the day and dark and quiet at night to synchronize with the patients' natural biorhythms. Minimize noise at night and waking patients unnecessarily. As much as possible, dim lights at night and allow patients to sleep for extended time periods.
5. Keep the patient's glasses on and make sure hearing aids are functional and available for those individuals who use them.
6. Help ambulate or walk patients as often as possible, encouraging them to care for their own needs and help them maintain muscle strength and coordination. Leading national hospitals make a point of helping all patients who physically can do so to walk each day, even those with breathing tubes.
7. Manage pain, but whenever possible do so with alternative non-sedating non-opioid medications like acetaminophen. Avoid sedatives, especially benzodiazepines like Valium, and other drugs that affect cognitive and mental function. Consider melatonin, a natural hormone our body makes, as an effective and safer alternative to sleeping pills.
The Semmelweis paradigm
The prevalence and incidence of health care-induced delirium and post-hospital syndrome threaten to increase until we accept how our medical care often makes patients sick.
To understand how difficult this can be, we can look to Ignaz Semmelweis, a Hungarian physician who more than 150 years ago proposed that the most common cause of obstetrical infection was the failure of physicians to wash their hands before delivering babies. For decades, his observations were dismissed, since his recommendations contradicted conventional medical belief and were inconvenient for doctors to implement. Medical practice began to change only decades later, after Louis Pasteur proved that germs were the genesis of infections. Today, Semmelweis is seen as a medical pioneer and hero.
Ideally doctors and nurses will act faster than their colleagues did in Semmelweis's time. They'll see the value in making the necessary adjustments to medical practice and the hospital environment to prevent elderly patients from suffering the consequences of current standard medical practice. But until they do, they will be putting patients at risk.
Robert Pearl is a physician and CEO, Permanente Medical Groups. This article originally appeared in Forbes.
Image credit: Shutterstock.com