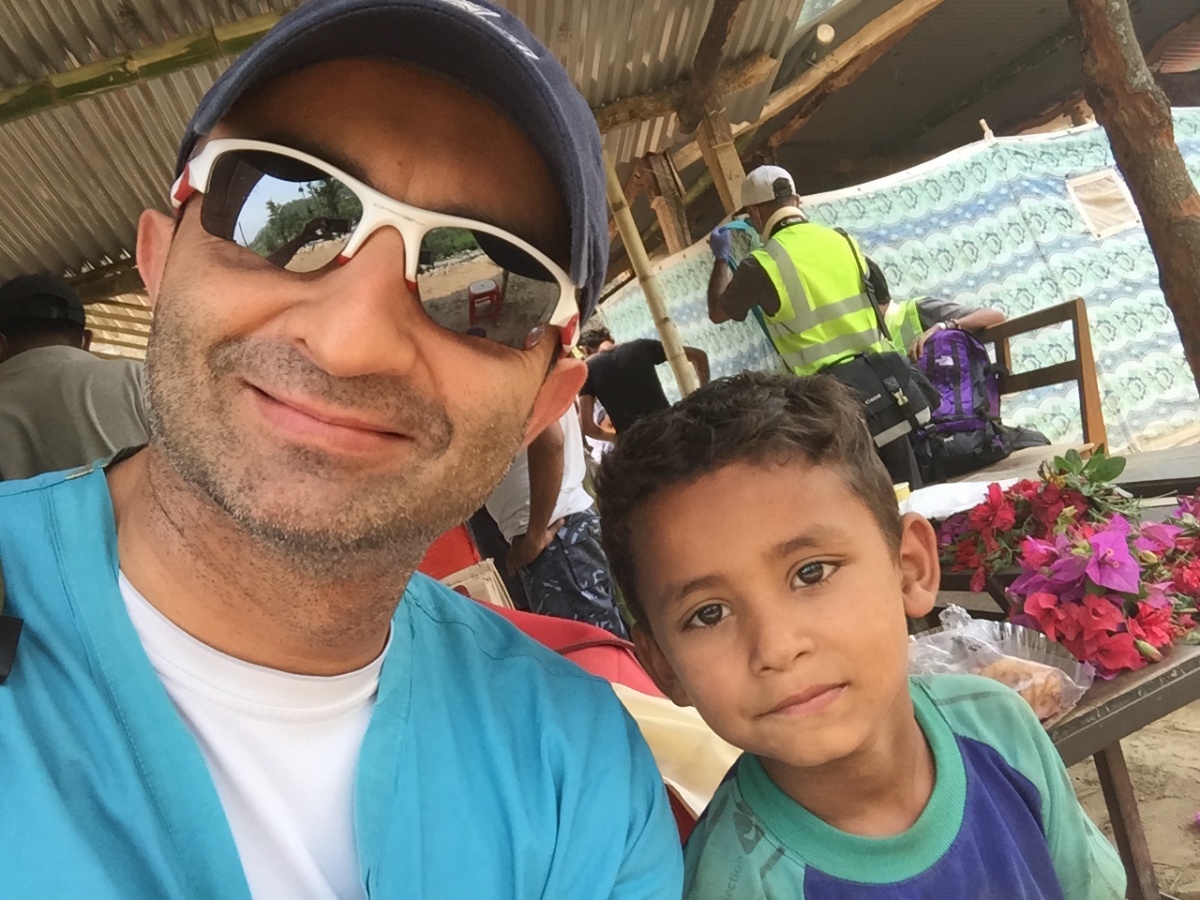 Sitting in a rickety jeep rumbling through treacherous mountainous terrain, on winding unpaved roads full of blind curves and teetering on the edge of cliffs recently ravaged by an earthquake, I began to question my decision to go along on this trip.  We were about 3 hours outside Kathmandu, Nepal heading to a small village along the banks of the Melamchi River.  The driver, who could not have been any older than my teenage son, reassured us that we were almost there.  It would be another hour before "there" became "here"!
Our destination on this day was a school devastated by the recent earthquakes in that country.  Our goal was to assess the children at this school and provide medical care as needed.  I nervously glanced over to my colleague from the American Society of Indian Plastic Surgeons (ASIPS).  A dear friend and a fellow reconstructive plastic surgeon from San Diego, Dr. Batra.  It was as if I could read his mind.  "What the heck are we doing .. we are plastic surgeons..we belong in the operating room NOT rumbling through earthquake ravaged mountains of Nepal!"
The last few days, we were doing exactly that.  Having arrived from the U.S., we were working in a hospital in Kathmandu doing what we do best, reconstructive surgery.  We were in the operating room, our comfort zone where we do our work.  Burn injuries, crush injuries, poorly healing wounds requiring reconstructive surgery, skin grafts, scar contracture releases filled our surgical schedule.  There was plenty to do, so whose brilliant idea was this?  To remove us from our comfort zone and put us in a situation that is about as far from our comfort zone as we can possibly get?  On top of which, we were heading to a place that we could truly proclaim is just beyond the 'middle of nowhere '.
The idea to go to this remote village was, in fact, our own.  Having spent the last few days in Kathmandu, we learned that most of the damage from this devastating earthquake, that left over 8,000 dead and countless injured, occurred in these remote villages.  It was our decision to travel to one of these villages and see how we could help those, who could not travel the distance to Kathmandu to seek surgical care.  As surgeons, we are used to patients seeking us, but in this situation, we were going to them, the ultimate house call.
Our team arrived in a scene of about 200 kids at a makeshift outpost.   A quick walk down a dirt path revealed a temporary school, in place of the old one, which was destroyed by the earthquake.  A cursory visual scan and both Dr. Batra and I were pleasantly surprised to see healthy, happy, smiling go-lucky kids playing and interacting at a school yard.  It was as if, an earthquake had not even occurred.  We treated a number of kids with wounds and minor injuries, but, for the most part, these kids were doing well.
Instead of devastation, I saw life happening.  Instead of helplessness, I saw steadfast resilience.  Warm hugs, not despair greeted our team.  What we saw were contagious smiling faces from these children, not contagious diseases as we expected to find and treat.
As we drove away from this school in the remote village on the banks of the Melamchi River, it became abundantly clear to me that Nepalese people are a resilient and amazingly optimistic folk.  They not only live, but thrive in this rugged landscape in the foothills of the Himalayas.  It has made them rugged in turn.  In this land of treacherous beauty, earthquake or no earthquake, I am certain the Nepalese will rebound, and the world will be there to help.
Bhupesh Vasisht is a plastic surgeon.