If you were a cancer center trying to get patients to come to receive care at your facility, what message would you send them? In other words, what would you as a cancer center director think people would value in choosing a place to receive cancer care?
One way to answer this would be to survey cancer center directors. You could conduct face-to-face interviews or written surveys. You could hold focus groups, if you could get all the directors in a room together.
But Laura Vater and colleagues from the University of Pittsburgh had a much cleverer and simpler way to answer this question, published recently in the Annals of Internal Medicine.
They analyzed cancer center advertisements. They collected national advertisements from U.S. consumer magazines and television networks, dutifully analyzed the topics covered in each ad, and tabulated the results. What they found is telling, if not totally surprising.
For starters, they found that advertisements frequently target people's desire for hope, for miracles, and for a healthcare team that will fight against all odds: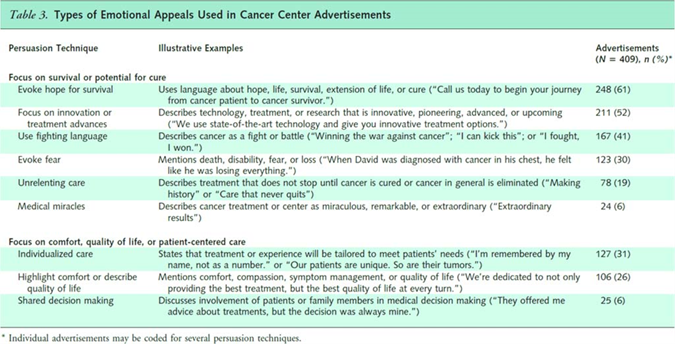 Less often, the ads tout quality of life issues and, even more rarely, emphasize the part of medical care which deserves a much larger role in cancer treatment — shared decision-making. Even worse, only 2 percent of cancer center advertisements mention palliative care: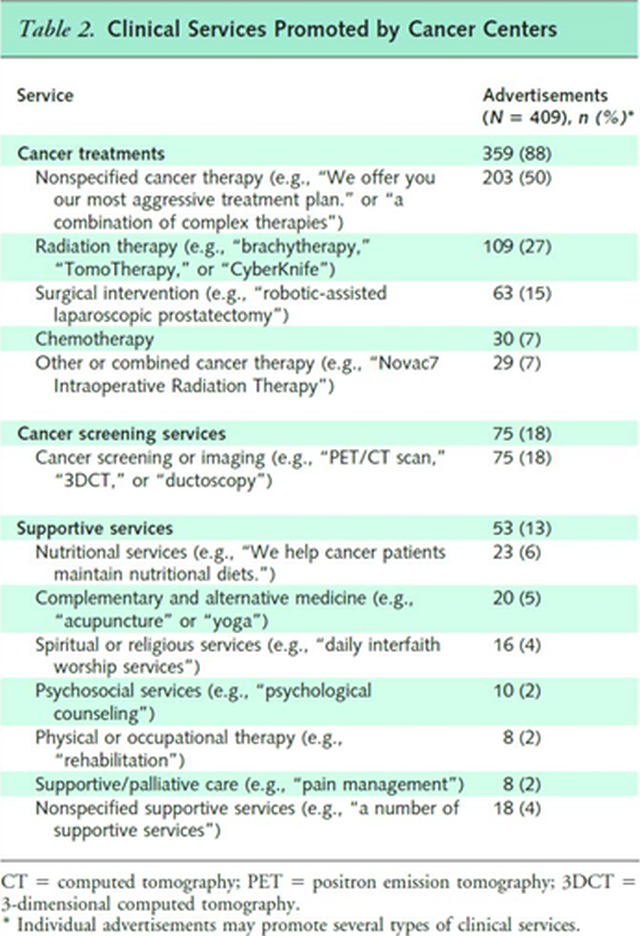 But what do you expect in the U.S. of A., the only country where death is seen as even less certain than taxes?
Cancer centers cannot be blamed for advertising this way to the general public. They need to get patients to come to their facilities for care, and they have learned through experience that advertisements about palliative care don't generate hordes of paying customers. When people believe that death is near, they don't travel long distances to receive palliative care at prestigious cancer centers. They travel long distances in hopes that they can distance themselves from death.
Peter Ubel is a physician and behavioral scientist who blogs at his self-titled site, Peter Ubel and can be reached on Twitter @PeterUbel. He is the author of Critical Decisions: How You and Your Doctor Can Make the Right Medical Choices Together. This article originally appeared in Forbes.