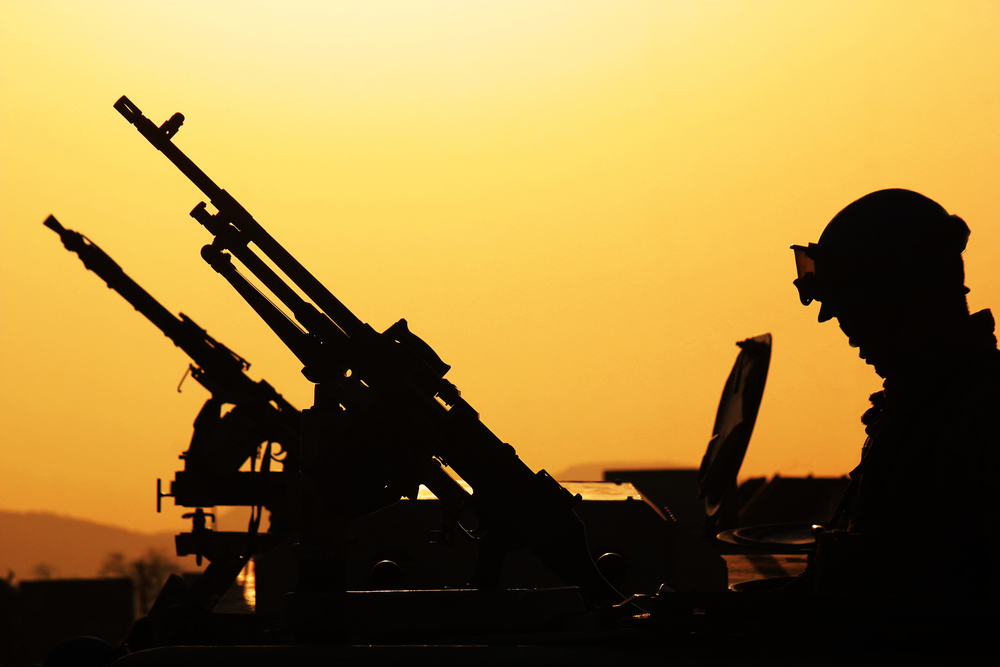 A guest column by the American Society of Anesthesiologists, exclusive to KevinMD.com.
As a physician, you never quite get used to being paged in the middle of the night. The shrill tones emitted via a radio frequency device that seems squarely stuck in the 1980s are almost always the first sign of something gone wrong, especially when serving as a military physician.
That was the case mid-way through my recent eight-month deployment at Kandahar Airfield in Southern Afghanistan, where I was staffing one of the world's busiest combat trauma hospitals — the NATO Role 3 Multinational Medical Unit. Four Alphas, three Bravos. That's all I knew. Alphas were our code for the most badly injured, with Bravos often not being that far behind. Our pagers never went off for Charlies, or the walking wounded.
I grabbed my surgical cap and stethoscope, and headed for the trauma bay. As a physician anesthesiologist, my role was to work with our trauma team to evaluate the most badly injured, administer blood products, manage the patient's airway, breathing and circulation, and if needed, bring the patient safely through surgical procedures in the operating room (OR).
The first patient rolled in, carried on a blood-soaked stretcher by two hospital corpsmen, with a flight medic close behind. He had taken small arms fire, with several high-velocity rounds piercing his shoulder, legs, and abdomen. He would need to go to the OR, once we had evaluated the extent of his injuries.
"Where are you from?" I asked the young soldier as he looked up at me. "Arizona," he responded, and then quickly followed with, "How is everyone else? Are they all OK?" With little concern about his own injuries, and in spite of his obvious discomfort, this soldier, like so many others I have met, was more concerned about his comrades and his mission. After stabilizing his immediate injuries and normalizing his blood pressure, we were off to the OR.
The rest of that night is a blur. Patient after patient arrived. We worked all night, taking the most critically injured to the OR in order of severity. Worried if we would have enough blood to go around, we considered initiating the walking blood bank — taking from pre-screened soldiers and administering directly to wounded personnel. Fortunately, it never came to that.
In those moments, my colleagues and I were presented with extraordinary challenges: limited resources; critical injuries; lives on the line — not to mention the ever-present threats against our own lives. Meeting the needs of my patients and my comrades was only possible because of effective teamwork, clear standards, and high-quality communication.
Teamwork. It doesn't matter whether I am seeing patients in my home practice at Vanderbilt University in Nashville or as a military physician overseas in Afghanistan. Only when we provide patient-centered, physician-led care can we ensure efficient, high-quality, cost-effective care. It has been demonstrated over and over that when physicians and patients are removed from the care delivery process, either because of opaque cost-management practices like pre-authorizations, or the unsupervised practice of underqualified health care workers, costs go up, quality goes down, and patients stop receiving the care they would otherwise choose for themselves. Teamwork is essential to ensuring our patients, our families, our veterans and all Americans receive the care they deserve.
Standards. Our standards define how we function and who we are. Knowing what to expect at any point in the care delivery process is essential to success. Meeting and exceeding standards ensures that everyone is on the same page, and no one is surprised by how decisions are made. While some denounce care standards, pathways and care protocols as "cookbook medicine," adhering to standards is the only way to ensure that we can execute processes in a reliable fashion without having to make it up as we go along. Standards and reliability remove uncertainty and enable teams to perform effectively under the most difficult circumstances.
Communication. High-quality, two-way, closed-loop communication is an equally essential ingredient for success in health care, but often challenging to both establish and maintain. I have witnessed and been a part of teams that practiced both good and poor communication. Good communication has helped me and my teammates stop errors from happening. Poor communication has enabled the opposite effect: causing direct harm to patients and worsening outcomes. I have witnessed medication errors, diagnostic and other types of errors that were clearly and unequivocally the result of poor communication. Ensuring that all parties — our patients first and foremost — understand, acknowledge and respond to us when we are working together toward a common goal is critically important.
During my overseas tour, the dust never quite settled. Along with a thin, grimy film of sand, I was always encased with the uncertainty of when my pager would go off next, when the latest round of casualties would arrive, and when just a few minutes could mean the difference between life and death. As a physician anesthesiologist, I have a comprehensive knowledge of the body and all its systems, and the expertise to know how to react in an emergency and diagnose unexpected complications. My ten years of education and training as a physician anesthesiologist prepared me to serve as both a physician and a service member.
The views expressed in this article do not represent the views of the Department of Defense or the U.S. Navy. They are the personal opinion of Dr. Ehrenfeld.
Jesse M. Ehrenfeld is an anesthesiologist.
Image credit: Shutterstock.com