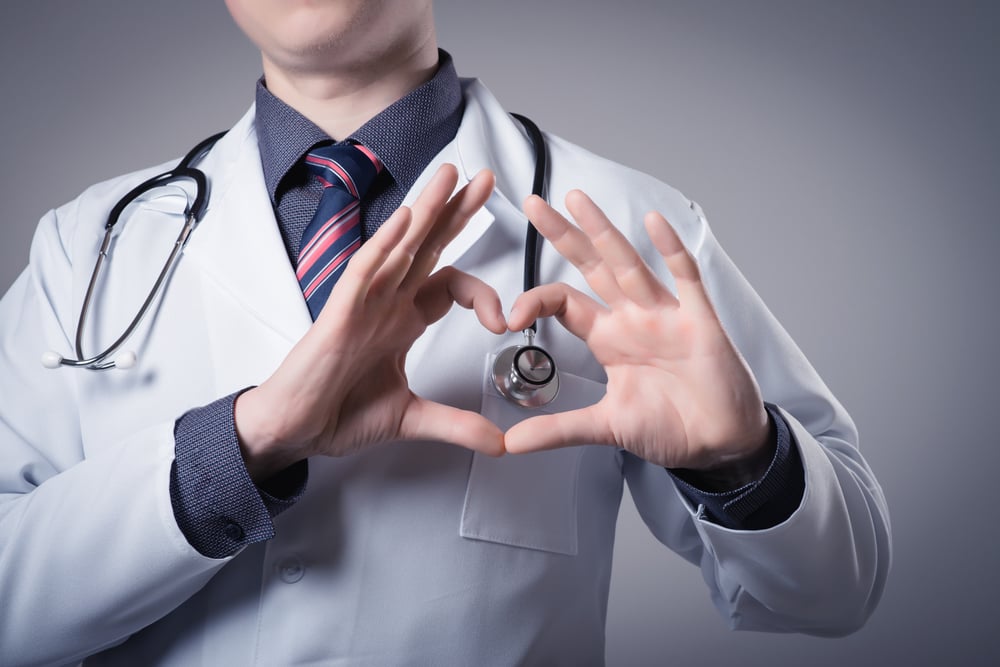 I have been doing emergency medicine for almost ten years — thirteen if residency counts, and I sure think it does.  I face the same issues that cause my work colleagues, physicians and nurses alike, to burnout. I struggle with burnout myself, but I keep coming back.  Many days (and nights), I ask myself why I continue to do what I do.  I work strange hours, weekends, and holidays caring for an onslaught of humanity which is sick, poor, addicted, injured, neglected, and despondent.  It pays well (for now), but that isn't enough to sustain me.
The other day, I spent maybe fifteen minutes chatting with one of my patients.  He was in his seventies, retired, and outgoing.  I learned that he had just moved to my area from Kansas, and worked for over 40 years in two separate careers.  He changed careers after 20 years in order to do something more fulfilling.  He intrigued me, partially because I am looking for new career ideas, but mostly because he had the insight to realize that happiness doesn't land in your lap — you have to go after it.  That's why it says "the pursuit of happiness" in the Declaration of Independence instead of just "happiness."
I wasn't overwhelmed at work when he came in (an increasingly rare occurrence), so we sat and talked like old friends for a few minutes.  That encounter changed the rest of my day.  I tried harder to connect with each of my patients after that, and a strange thing happened — it worked.  I realized that encounters like the one I had with the retired man from Kansas are what refresh and rejuvenate me.
The staff and I talked about him some after he left.  "He was so nice," "just so down-to-earth," "appreciative and witty," were some phrases I overheard.  The interaction inspired me to write this article about patients who sustain those of us in health care — those breaths of fresh air which make us realize why we do what we do.
In that vein, here are some tips and suggestions on how to be a "good" ER patient:
1. Understand that we take you home with us.  I know I am not your personal physician, but I take my responsibility for you seriously.  I have had a patient look me in the face and plead, "Please don't let me die," only to pronounce him dead less than a half hour later, despite heroic efforts by the staff and me.  Those moments don't haunt us every second of every day, but they still haunt us.  I have had a patient's son come and seek me out in order to thank me for "saving his dad's life," after he survived surgery for a massive aortic dissection that threatened blood flow to literally every limb and all of his vital organs.  "If you hadn't figured it out when you did, he would have died," he said as he teared up while the handshake turned into a hug.  All patients should remember that ER workers are people too – what happens to us at work can affect us for a long time.
2. Realize that we are struggling. ER visits significantly increase each year in America, yet the number of ERs falls.  Americans are older and sicker than ever before.  More Americans are insured, yet there aren't enough primary doctors to care for them all.  We are the only place in the world that can't say no to anyone.  This is the recipe for overcrowded, overburdened-burdened ERs.  Of course, we will feel the weight of society's ills first.  We work in an incredibly demanding, high-stress environment.  The three major factors that contribute to career burnout are related to the work environment.  A work environment that is high demand, low control, and low support will burn workers out the fastest.  No other description better fits that of a busy ED.  We need more staff, more beds, and better infrastructure to support the higher volume and acuity, but we aren't getting it.  ERs don't get the support they need since they don't generate huge profits.  This results in long wait times.  We hate it as much as you do.  Many of you don't need to be in the ER in the first place, but we understand why you are there since you can't get timely appointments (if you can get one at all) for sick visits.  We ask for more space, more staff, and more support, trust us.  We want to serve you better.  We wouldn't make anyone wait if we could help it.
3. Take responsibility for your own health. As a physician, I play in a role in your overall health.  However, it is not as big of a role as many of you believe.  I honestly think that 85 percent of your health is determined by the choices you personally make.  When we see an obese, poorly controlled hypertensive diabetic who is continuing to gain weight, we die a little on the inside.  All the king's horses and all the king's men cannot make this patient healthy.  He has to make some lifestyle changes.  He has to take ownership of his own health.  When we see a patient with COPD who continues to smoke riding in on the ambulance struggling to breathe, we die a little on the inside.  It is akin to firefighters attempting to extinguish a house fire while the homeowner sprays gasoline on it.   No doubt that many patients are sick and blameless, as they have developed metastatic cancers or other terminal diseases in spite of good health choices, but believe me when I say that they are the minority.
4. Be courteous to our staff. This is a corollary to number 2 above, but it bears mentioning.  The ER staff works absurd hours, regardless of weather conditions or holidays, so that we can help you.  We wade through vomit, get splashed with blood, go digging for urine and poop, and expose ourselves to countless infectious diseases that we could possibly take home to our families.  If we like you and think you are nice, you will get better service.  Thank us for being there for you at 3am when no one else is.  There is a special place in hell for people who curse, spit at, or assault ER nurses.
5. Lower your expectations. This one sounds trite and mean-spirited, but it is true.  Don't come expecting us to hand you a menu and have you select which tests and medicines you want.  Many of these tests and medicines have side effects and can cause harm.  Over-testing leads to over-treating and over-admitting; this increases complications, morbidity, and deaths.  I regularly see patients who believe that they need an emergency MRI of their painful or injured body part.  My response is typically this:  "When you watch SportsCenter, and a famous athlete like LeBron James gets hurt in a game, what does the reporter say next?  He says, 'Initial x-rays were negative, but an MRI is scheduled for Wednesday.'  If LeBron James doesn't get an MRI on demand, then nobody does."
I hope the coming years bring a better ER experience for all of us, patients and health care workers alike.  I am understandably cynical, considering the trend I have experienced in my career thus far.  But when patients and health care providers are cordial, agreeable, and informed, everyone is healthier after the interaction.
Thomas Paine is an emergency physician.
Image credit: Shutterstock.com