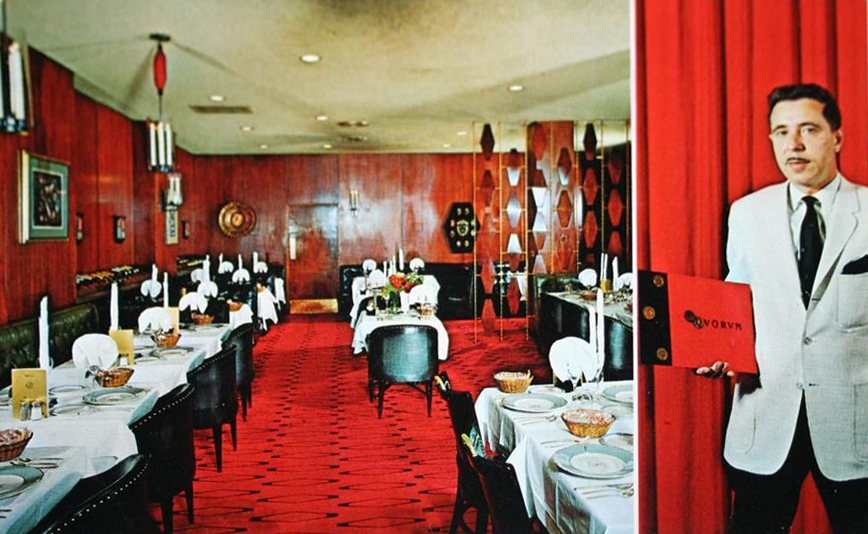 I'm a family doctor working in underserved medicine. My friend Pierre Wolfe was one of Denver's top restaurateurs for decades. When we get together I often think of the parallels between our industries.
A postcard of Pierre's Quorum Restaurant from the 1960s shows Pierre at the front door of his restaurant, holding a menu, and says "Pierre Wolfe himself greets you at the door." This is an assertion of customer service: You should be humbled that the chef would step out from his important work in the back, bypass the cook staff, waiters, cleaners and others, and greet you as you enter.
When I saw this picture, I realized that I run my practice the same way. I designed my office layout from scratch, minimizing the distance between the provider and the front door, not having a back office area, and not having a chest height reception desk. I personally greet new arrivals in the waiting room between each patient. I can't imagine paying assistants, coordinators, and answering services to create barriers between myself and the patients.
Customer service is the foundation of the hospitality industry and should be a foundation of the medical industry. But that customer service focus is sometimes lost, especially in larger practices and hospital-based clinics. In small physician-owned practices, there is a very strong monetary incentive to bend over backwards for the patient.
I have seen this in other customer service industries also: It is critical to create a positive customer service ethic in your staff from the start, and almost impossible to change a poor customer service culture once it is longstanding and widespread. The worst cases of customer services are large businesses that have monopolies, such as Internet service providers in many areas, managed care organizations or federally qualified health centers.
When I worked in a large provider group, I was frustrated when a patient phone call actually got past the front desk to me. And when I was part time in a nonprofit with volunteer docs, I noticed that the front desk was rude to patients, but I was two walls back and not around enough to care.
These days, physicians employed in many settings are compensated partly by customer satisfaction, and this profit motive confounds a pure form of medicine. Still, focusing on accessibility, responsiveness, and positivity can improve customer service, without being pushed over by the patient. Accessibility means having flexible office hours, allowing walk-ins, not having phone trees and allowing emails and texts. Responsiveness means answering all of those systems within hours, if not seconds when possible. And positivity means having an I-can-solve-this-now attitude, rather than looking for excuses to end the visit as soon as possible. For example, the provider shouldn't think they are too good to pick up a phone during the visit if it will help to coordinate care more effectively.
A good waiter keeps the glasses full and the customers content. It is important for us providers to remember who is the customer and who is the servant.
P.J. Parmar is a family physician at Ardas Family Medicine, Aurora, CO, and blogs at P.J.! Parmar.